Enchanted Director Releases Commentary Featuring Never-Before-Seen Storyboards [Exclusive Interview]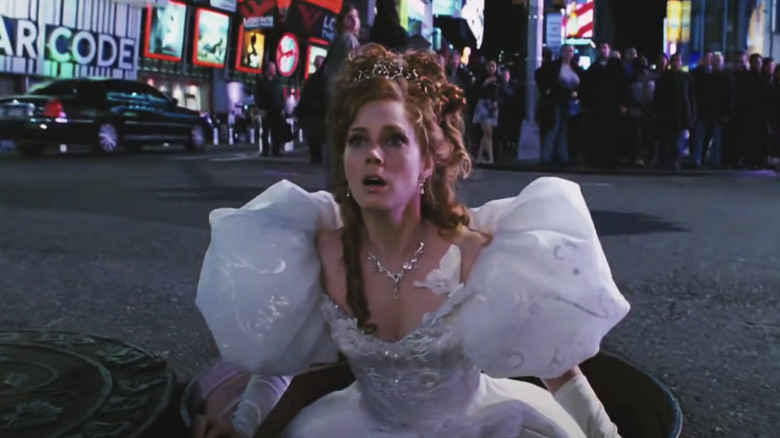 Disney
This year marks the 15th anniversary of Disney's "Enchanted," and between that and the Adam Shankman-directed sequel debuting on Disney+ later this week, original "Enchanted" director Kevin Lima thought it was the right time to do a proper deep dive into the original film. "I've been thinking about this for 10 years, doing something like this," he told me in a recent interview. "They never did a commentary for the DVD, so I thought it's time to talk about it."
Instead of releasing a simple audio track, Lima has published a feature-length watch-along video on YouTube so viewers can get the two screen experience of syncing up their Blu-ray, DVD, or streaming version of "Enchanted" with this video and hearing the filmmaker's insights into the making of the beloved Amy Adams fairytale film.
Lima reunited with his longtime editor, Greg Perler, and a small crew to put this video together, which reminds me of Jamie Benning's so-called "filmumentaries" that were a big deal in the early 2010s. (You may remember them, because /Film covered his take on "Raiders of the Lost Ark" and "Jaws.") But since this is not an officially sanctioned video — "Nobody paid us to do this," he said — Lima avoided the ire of Disney's legal department by not uploading the entirety of "Enchanted" to play in a split-screen manner. Instead, it's largely a two-camera set-up buoyed by his photos, home videos, art, and recollections about the scripting, casting, songwriting, costumes, choreography, make-up, and more.
Check it out below.
Watch the Enchanted director's commentary
"[The movie has] never been talked about in these terms," Lima explained. "Folks have made lists of all the Easter eggs that they've noticed, but no one's really delved into what it was like to make the movie. I have some great behind the scenes footage of rehearsals for the big ballroom scene [...] I have storyboards and development art, things that have never been seen because there was also not an 'art of' book. So there's been no real deep dive into the material."
While fans have indeed spent years dissecting the movie looking for winks and nods to other projects from the Mouse House, "Enchanted" is absolutely bursting at the seams with them, from overt references in the film's early animated section to more obscure ones that may have eluded even the most Disney-obsessed viewer. That's because Lima and his wife, Brenda Chapman, who directed Pixar's "Brave" and the terrific-but-underseen fairytale film "Come Away," have a special connection to big screen fantasies like this. 
"We both come from the same place. We both wanted to work at Disney most of our lives. And we both worked at Disney, so we're really entrenched in that [world]. So it just lives in us. It's natural, and I think, also, people come to us for those kinds of things. So when 'Come Away' was looking for a director, Brenda seemed like the natural match. And when 'Enchanted' was looking for a director, I felt like the natural match at that time."
Happy 15th birthday, "Enchanted." Here's hoping the sequel inspires folks to go back and take a closer look at the original.