Mondo Is Bringing The Shining Vinyl, Godzilla Posters & Collectibles, And More To DesignerCon [Exclusive]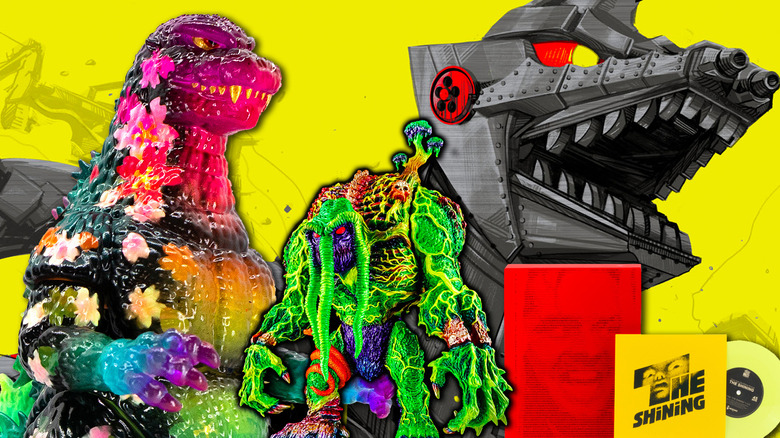 Mondo
It's almost time for DesignerCon! The annual art and design convention is hitting the Anaheim Convention Center in California from November 18 through November 20 with over 300,000 square feet packed with over 700 vendors, art and custom collectible shows, live demonstrations, and tons more. Of course, that's the perfect place for our friends at Mondo to release a bunch of cool new exclusives that fans will want to get their hands on.
/Film is proud to debut every single one of the exclusives that Mondo will be bringing to DesignerCon 2022, including "The Shining: A Visual and Cultural Haunting," a vinyl record and book bundle featuring exclusive essays, original recollections, contributions from cultural luminaries, and art and visual ephemera. There's also plenty for Godzilla fans, including an assortment of collectible figures featuring the King of Monsters and a few of his adversaries from over the years, as well as some fantastic artwork. "Masters of the Universe" and Marvel Comics fans will also find some cool stuff too.
Let's take a look at all the 2022 DesignerCon exclusives coming from Mondo this weekend!
The Shining: A Visual and Cultural Haunting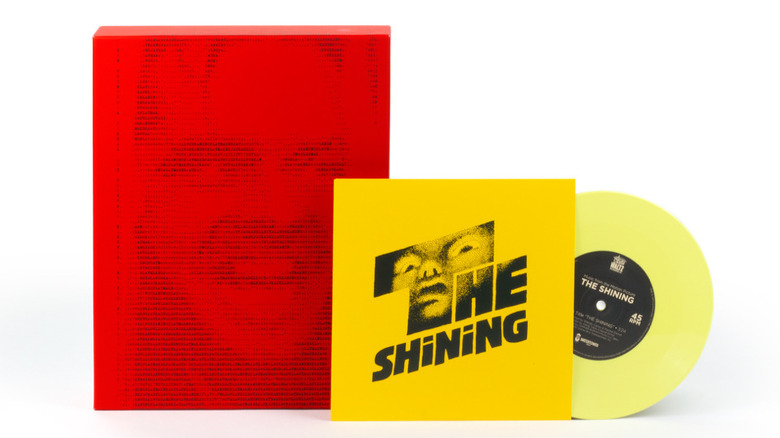 Mondo
Mondo is bringing "The Shining: A Visual and Cultural Haunting" to DesignerCon this weekend. Published by Rough Trade books, this exclusive features a 7-inch vinyl of the main theme from "The Shining" and a loose-leafed book disguised as Jack Torrance's writing project from the Stephen King adaptation. Here's the official description of this cool box set that is limited to just 500 copies worldwide:
THE SHINING: A VISUAL AND CULTURAL HAUNTING is an immersive, multi-dimensional examination of one of the most infamous films in cinematic history. This loose-leafed and beautifully boxed book-disguised as the 'writing project' Jack is typing throughout the course of the film-explores the film's cultural legacy through exclusive essays, original recollections, contributions from cultural luminaries, and art and visual ephemera. Rare, exclusive interviews with lead actors Shelley Duvall (Wendy Torrance) and Dan Lloyd (Danny Torrance), along with a wealth of contributors including Cosey Fanni Tutti, Margaret Howell, James Lavelle (UNKLE), Gavin Turk and John Grindrod re-examine the film through the lenses of music, art, mythology, fashion, gender, and more. Stanley Kubrick was renowned for his rigorous research which inspired our own approach. We will be republishing and reprinting numerous rare texts read by the director in preparation for the production. The book also focuses a contemporary lens on the film to readdress an apparent gap in critique from the perspectives of women, mental illness, domestic abuse and domestic violence.
Matango comes to vinyl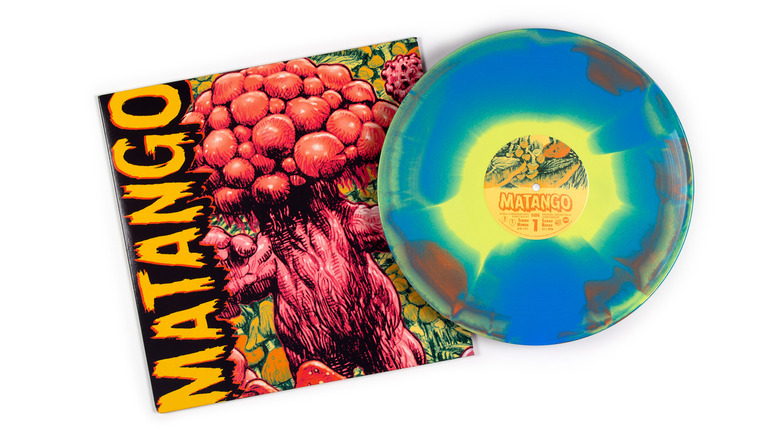 Mondo
Keeping with the horror theme, Mondo is also releasing a vinyl soundtrack for "Matango," the 1963 horror film directed by "Godzilla" filmmaker Ishirō Honda. The film is generally regarded as one of Honda's darker works, as it follows a group of castaways on an island who are unwittingly altered by a local species of mutagenic mushrooms. Adding to that trippy premise is the score by Sadao Bekku, which will be available as a 140 gram vinyl 12-inch LP housed inside a single pocket jacket with a flood print and sticker pack. As for the artwork on the cover and gatefold, that comes from Rockin Jelly Bean. This one is only limited to 2,000 copies, and 100 of them will be available at DesignerCon for $35.
Mondo's exclusive posters at 2022 DesignerCon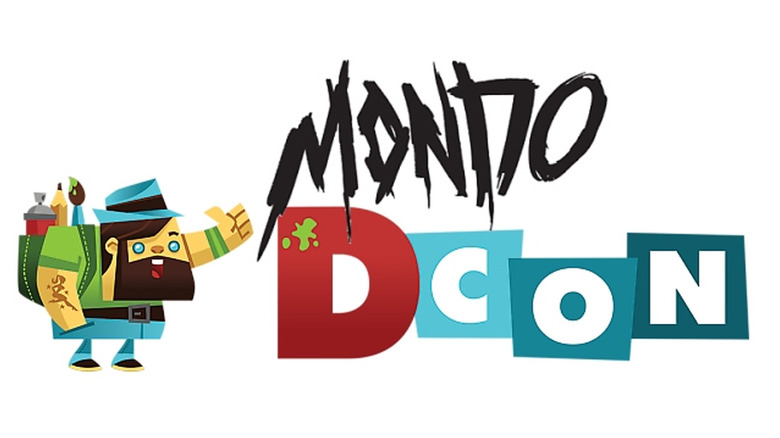 Mondo
It wouldn't be a Mondo show without some exclusive artwork for fans to frame on their walls or store in their flat files. This year, the artwork comes from the "Godzilla" franchise and the space opera anime epic "Robotech."
First up, we've got a Linocut poster from Attack Peter that pays tribute to Rick Hunter and his mecha from "Robotech." What better way to honor the hero of the first Robotech war? Also printed by Attack Peter, there are only 120 of these available, and they cost $100. 
On the kaiju side of things, we've got an English variant of Oliver Barrett's artwork for "Godzilla vs. Mechagodzilla," where the radioactive lizard was forced to battle with a robot version of himself. Printed by DL Screenprinting, this variant only has an edition of 120, and it will set you back $100. 
Then there's also this detailed artwork pointing out the anatomy of Hedorah, the alien pollution kaiju who debuted in 1971 with his own big-screen battle in "Godzilla vs. Hedorah." This print is a DesignerCon exclusive variant with artwork by Mike Sutfin that will have 100 copies printed by DL Screenprinting on individual papers with completely different colors, which will make each print a one-of-a-kind edition. That will make it quite the collector's item for the $100 price tag.
Mothra, Biollante, and Jet Jaguar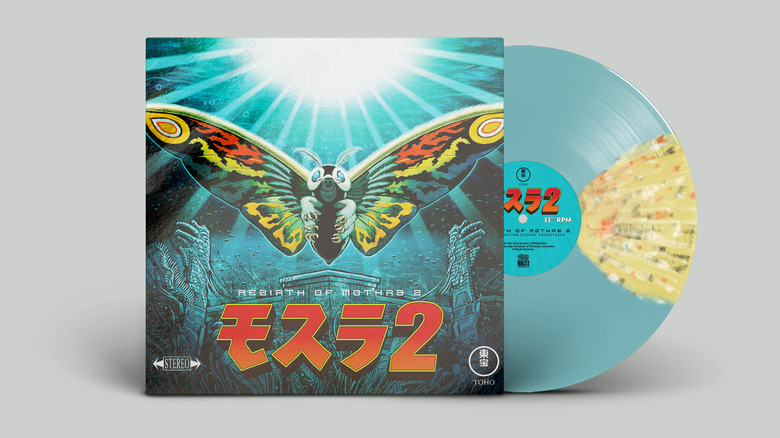 Mondo
But that's not all of the good stuff that will be available from Mondo for all you kaiju fanatics out there. Another vinyl album will be available for purchase, this one featuring the music of "Rebirth of Mothra 2," or "Mothra 2: The Battle Under the Deep Sea," the 1997 Japanese kaiju film directed by Kunio Miyoshi and written by Masumi Suetani.
In case it's not clear, the film is the second in a trilogy of Mothra films, and this one finds two young kids who inadvertently unleash a giant sea creature that is somehow strengthened by the abundance of modern-day pollution. Mothra's keepers, the tiny twins Moll and Lora, quickly rouse the gentle giant in order to combat this latest threat to peace.
Now you can rouse a new vinyl soundtrack, bringing Toshiyuki Watanabe's score to your collection with this single 12-inch LP 140 gram vinyl housed inside a silver reflective laminate jacket with artwork by Florian Bertmer. There will only be 2,000 copies made, and 100 of them will be available at DesignerCon for $30 each.
Kaiju Collectibles
Meanwhile, some of Godzilla's other friends and foes are getting cool Mondo collectibles at DesignerCon, starting with Biollante. First appearing in the 1989 Toho film "Godzilla vs. Biollante," this kaiju is a rose, human and dinosaur hybrid who is said to be a genetically engineered clone of Godzilla. Here he's brought to life in the form of this figure designed by Hector Arce. Labeled as an "Energy Spore DesignerCon Variant," this clear green glitter vinyl version of the figure will be available for pre-order at the con with an edition size of 200 and a price tag of $125.
It's not all Godzilla villains though, because we also have a Jet Jaguar figure on the way. This advanced robot was initially created by Japanese inventor Goro Ibuki, but it was stolen by the Seatopians and used to guide their guardian monster Megalon in his destruction of the surface world from the 1973 Toho film "Godzilla vs. Megalon." However, Jet Jaguar eventually becomes self-aware, alters his own programming, and then recruits Godzilla to help fight against both Megalon and Gigan.
This figure is a "Fire Fighter Variant" designed by Rocom that will be available in person at DesignerCon with an edition of 100, and it will cost $85.
Here comes Godzilla!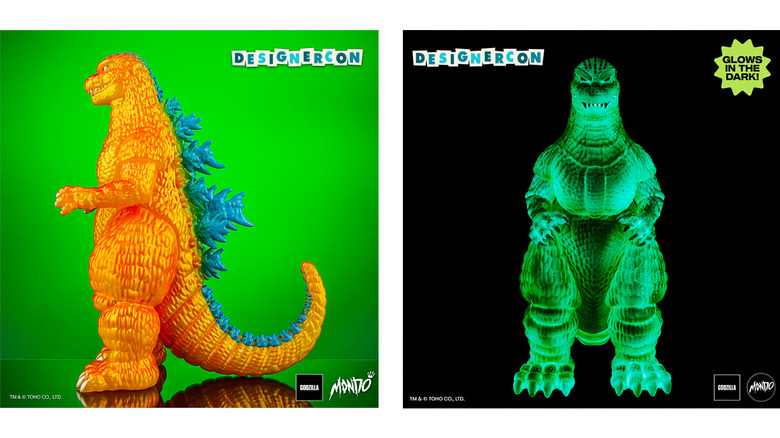 Mondo
Yes, there are definitely some Godzilla figures that will be available at DesignerCon, too. First up, there's a pair of "Godzilla 84" variant figures designed by Hector Arce. Inspired by the monster's design in the 1984 film "The Return of Godzilla," each of these gives the monster a unique color design. Above, you have the "Heat Ray Variant" in clear blue vinyl with iridescent cellophane inside, and below there's the "Sunrise Variant" that glows in the dark.
Both of the figures above will cost $95 each and will be available in person at the convention, each with an edition of 48 figures.
Godzilla and Hedorah in a special raffle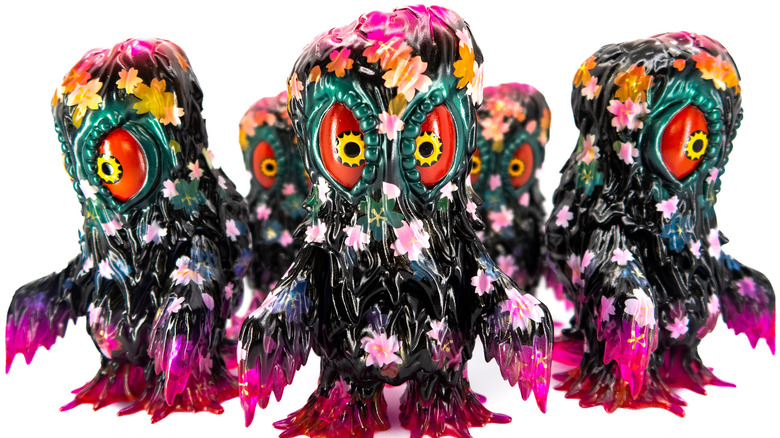 Mondo
Here's one of the more exclusive items that will be available at DesignerCon. Mondo is teaming up with Candy Bolton for a pair of Godzilla and Hedorah soft vinyl figures with exclusive colorways. The only way to get these extremely limited, hand-painted figures is to enter a special raffle at the Mondo Booth #200. If your name is drawn, you'll have a chance to purchase one of only two Godzilla figures or one of just five Hedorah figures. That's right, there are only a handful of these figures available. Each figure will cost $300.
On Friday for VIP Night, there will be one Godzilla and three Hedorah figures available. On Saturday, there will be one Godzilla and two Hedorah figures available. Good luck!
He-Man and Man-Thing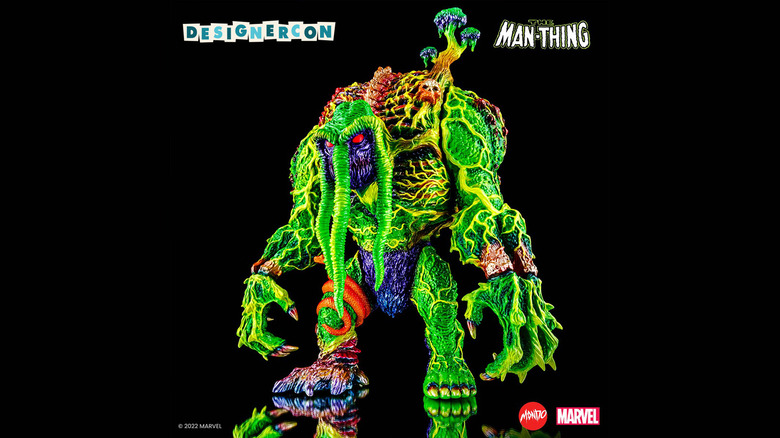 Mondo
Finally, venturing away from the Godzilla collection, we have a couple of other figures featuring a few familiar characters.
First up, we have something for the Marvel fans out there. If you enjoyed seeing Man-Thing in Marvel's "Werewolf By Night," then this "Devils Kaiji Variant" of the character as a figure designed by James Groman might make a nice addition to your collection. This one will be available in person with an edition of 35, and it will cost $275.
Lastly, Mondo is offering the exclusive first chance to order a new limited colorway of their "Masters of the Universe" figure for He-Man. The "Anti-Eternia" He-Man will be debuting at DesignerCon and will be available for pre-order before it's released online to the general public. Designed by Hector Arce, this figure has an edition of 1,500. Whatever is leftover after DesignerCon will go up for pre-order on Mondo's site on November 22. The figure will cost $235.
Happy hunting at DesignerCon!