Tim Curry And Carol Burnett Filmed A Million-Dollar Annie Scene That Didn't Make The Cut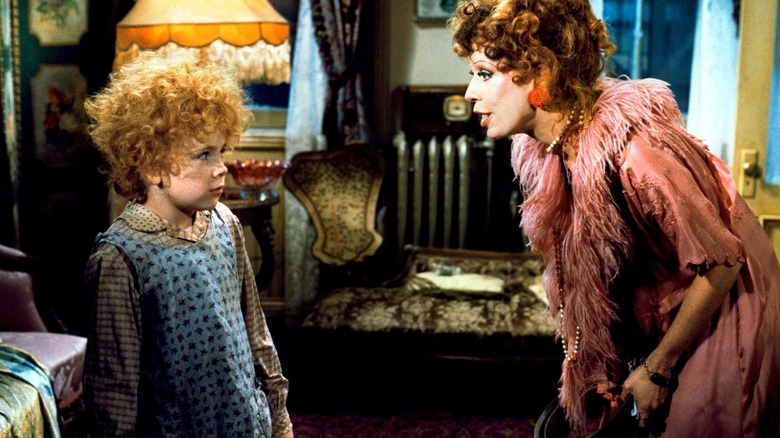 Columbia Pictures
"Annie" goes back a long way. 
John Huston's 1982 musical film version of "Annie" was based on a Broadway show that debuted in Connecticut in 1976. That musical was, in turn, based on the popular newspaper comic strip "Little Orphan Annie" which made its own debut in 1924. Authored by Harold Gray from its start until his death in 1968, "Little Orphan Annie" was a cultural staple for many decades. After Gray's passing, other authors continued the strip's run until its final cancelation in 2010. Gray based "Little Orphan Annie" on a James Whitcomb Riley poem that was first published in 1885. The poem was originally called "The Elf Child," but was later changed to "Little Orphant Annie" (employing a Hoosier dialect on "orphant"). This is all to say, "Annie" has been part of the popular consciousness for over 137 years. 
Annie, as the title of her strip indicates, was indeed an orphan who was adopted by the incredibly wealthy tycoon Oliver "Daddy" Warbucks. She was accompanied on her adventures by her dog Sandy and was known to yell "Yi!" and "Gee whillikers!" By the strip's own mythology, Annie aged only a quarter as quickly as ordinary humans, a mutation she credited to her Leap Year birthday. Some of her adventures reflected the right-wing politics of author Gray, so Annie was occasionally seen breaking picket lines or criticizing Franklin D. Roosevelt's social programs. By the time of the 1982 film, Annie (Aileen Quinn) had evolved into the opposite, meeting FDR (David Herrmann) and complimenting his social programs. 
The film was a massive hit, making $57 million at the box office in 1982 (adjusted for inflation, it made $175 million) on a budget of $35 million (about $114 million, adjusted). 
Easy Street, where the rich folks play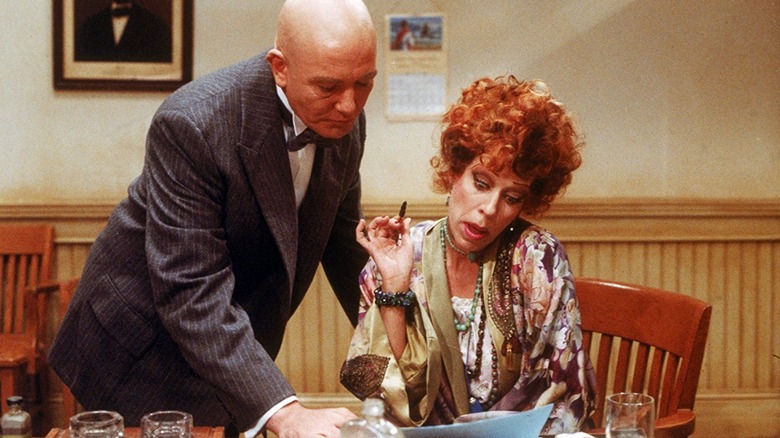 Columbia Pictures
The budget, as it turns out, didn't need to be quite so high. As detailed in a 2020 retrospective in Forbes, if the filmmakers found a way to film the "Easy Street" number correctly the first time, they could have saved a million dollars.
The plot of the movie involves Miss Hannigan (Carol Burnett), the wicked headmistress of Annie's orphanage, attempting to swindle reward money out of Daddy Warbucks (Albert Finney). Annie carries half of a locket and explains that her long-lost parents — whom she believes are still alive — will someday return with the other half. Daddy Warbucks, sympathetic to Annie's dream, offers a $50,000 reward to Annie's biological folks. Miss Hannigan, by coincidence, ends up finding the other half of the locket herself and hatches a scheme with her brother (Tim Curry) and his girlfriend (Bernadette Peters) to have them pose as Annie's parents and collect the reward. When they find the locket, they sing a number called "Easy Street." 
In the original rendition of the song, the three villains danced out into the street. This, Burnett felt, was very much in the wrong spirit. She said: 
"In original Broadway show, it was just the three villains in the orphanage who sang Easy Street. This being Hollywood, they wanted to open it up and make it this huge musical extravaganza, and we went out on the street itself and danced and sang and ran up and down fire escapes, and there was even an organ grinder with a monkey. That had nothing to do with the fact that we're going to be on Easy Street. We found that half of a locket that belonged to Annie's parents, and then suddenly, the plot went out of the window. It was total overkill."
We just had to go with it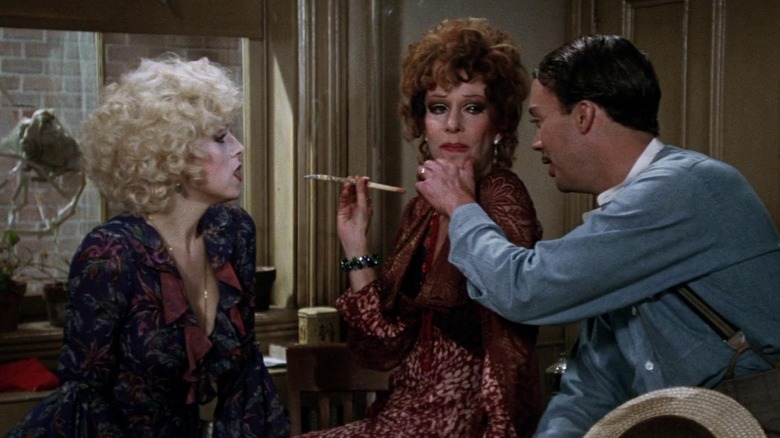 Columbia Pictures
Carol Burnett and Tim Curry both seemed to feel that they could have easily reined in production. But since neither of them was directing, they just did the script as written. Burnett told Forbes that "Bernadette [Peters] and Tim and I were like, 'Well, we just have to go with it.'" Curry remembers only the scope of the number, saying that "I've never seen the finished version of that scene, but it was huge. I don't know if it exists or where it is. I remember there were 150 dancers. There were stunts. It was an astonishing number." 
Burnett knew it was a waste of money, but that the Hollywood mandate was to make productions as big as possible, even if it wasn't logical. Had anyone else shared Burnett's instincts, it would have saved time, money, and grief. Burnett recalls getting the call to return to set for reshoots, and having to re-film "Easy Street," but correctly this time:
"It took a week or so to shoot, and that number cost over a million dollars to shoot. That was a lot of money at that time. [...] I guess they looked at it and realized that it didn't work, but we already knew that. So, about a month later, I got a call from the film's producer, Ray Stark, and he said, 'We're going to reshoot the Easy Street number with just the three of you in the orphanage.' That was terrific news and the way it should have been in the first place. It was so much better with just the three villains."
The finished number is three titans putting out some astonishing work. 
Hollywood, it seems, would do well to remember that bigger isn't always better.