Matthew Modine Had No Idea How Big Madonna Would Be When She Was Shooting Vision Quest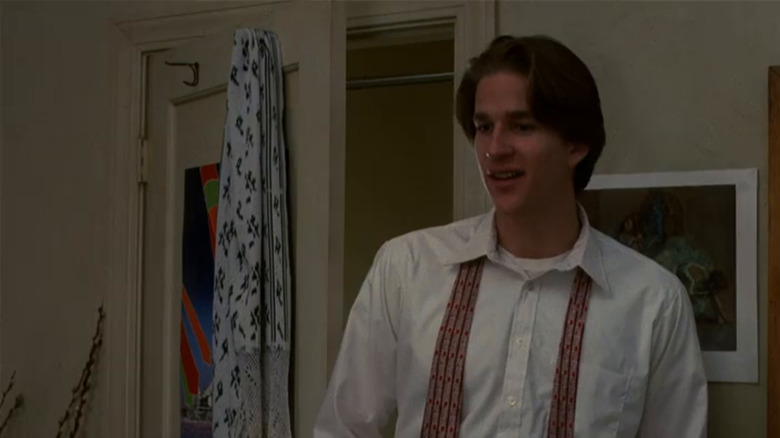 Warner Bros.
World Wrestling Entertainment (formerly WWF) was enjoying a peak Golden Age in the 1980s with primetime spots featuring larger-than-life wrestlers like Hulk Hogan and Ultimate Warrior who were treated like the rock stars of the day. In a peculiar attempt to possibly capitalize on the sports craze, 1985's "Vision Quest" stars Matthew Modine as a high school wrestler who goes through intense physical training to challenge the undefeated state champion. The film has become a sports cult classic but, at the time, Warner Bros. Pictures may have been a little concerned about the mainstream appeal of a story about tournament-style wrestling that really had nothing to do with the entertaining stage fights of the WWF that were dominating the airwaves.
In what now looks like a savvy move, the soundtrack for "Vision Quest" nabbed a handful of songs from Madonna and the film features a quick but memorable cameo of the legendary pop singer showing off her trademark fashion sense just before it became the preferred aesthetic of every teenage girl on the planet. Tangerine Dream, the atmospheric composers behind "Risky Business" and "Firestarter" were already on board, but Madonna's hit "Crazy for You" and Journey's anthemic "Only the Young" managed to push the soundtrack to modest success. 
"Crazy for You" went on to sell over 2 million copies in the U.S. during the '80s, but when Matthew Modine first heard the song, he honestly didn't think much of it and didn't see Madonna's star power quite yet. Thankfully, the producers did. 
'She looked like Boy George'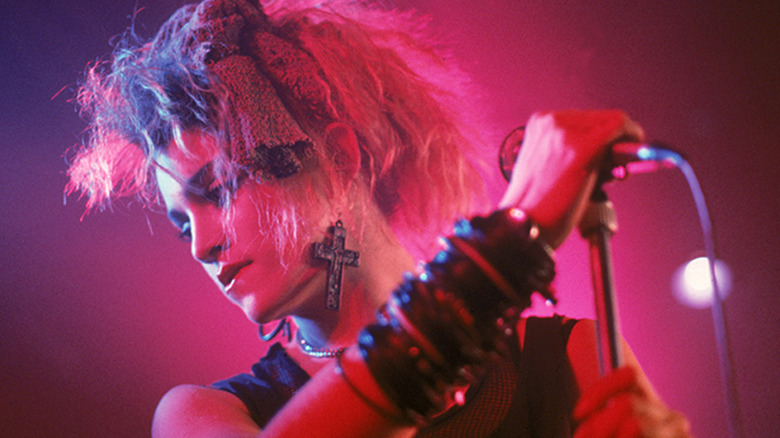 Warner Bros.
The soundtrack to "Vision Quest" also had the instantly forgettable Madonna song "Gambler" on the track listing, and "Crazy for You" doesn't ever come close to showcasing Madonna's raw club energy that "Into the Groove" would harness later in '85 when "Desperately Seeking Susan" came out. Telling Yahoo! in 2017 about his reaction the first time he heard "Crazy for You," Matthew Modine said, "We thought, 'Oh, that's a sweet song.'" 
Not knowing that "Crazy for You" would quickly become the go-to song for awkward side-stepping slow dances among shy suburban kids across the country, Modine also didn't really get Madonna's look either. "She looked like Boy George," Modine thought. "The producers were saying this girl was going to be such a big star, but I remember people not really being impressed." 
In April of 2020, Boy George even joked about being Madonna's stylist in the early '80s on Instagram. The two were actually friends for a short time during the '80s until competition and jealousy led to a long-standing feud. Boy George was already enjoying the spotlight with hits "Karma Chameleon" and "Do You Really Want to Hurt Me" before Madonna's hit factory revved up, so naturally Modine would assume the young pop singer was emulating the new London queer fashion that Boy George was making famous. If anything, Modine should have said that both artists actually looked like London performance artist Leigh Bowery, who heavily influenced both artists.  
Who was the real star of Vision Quest?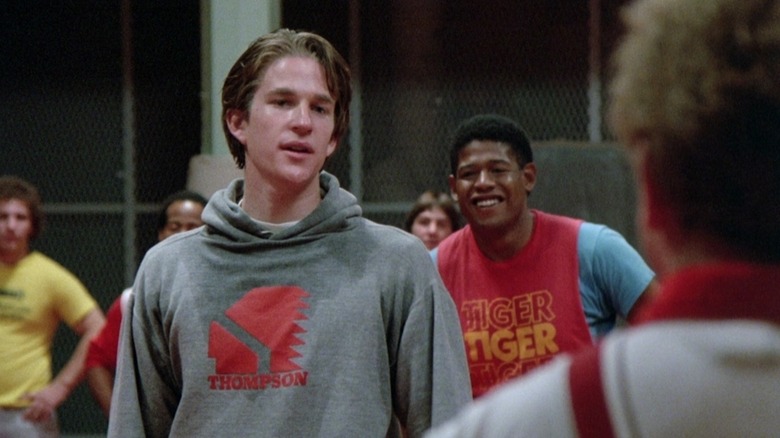 Warner Bros.
Madonna also had the good fortune of running into the French artist Maripol at the legendary NYC club, The Roxy, in Chelsea one night with Fab Five Freddy in attendance. Yahoo! spoke with Maripol in 2018 where she reluctantly copped to her influence on Madonna's fashion choices from jelly wrist bracelets to appearing onstage that night wearing only a bra. "Whatever, yes — I did create a legend," she conceded. 
About a year later after the encounter at The Roxy and Madonna's glorified cameo in "Vision Quest," Matthew Modine was walking down a busy street in Rome when he stumbled on a giant-face poster of the pop singer with the words "Crazy for You" printed in Italian. Looking a little closer, he noticed that the poster was also pulling double duty as a very small advertisement for "Vision Quest." Checking his ego, Modine acquiesced to the fact that maybe Madonna had become a bigger star almost overnight. He recalled to Yahoo!:
"I thought, 'Oh, she must be doing a concert here.' But then I looked at the poster a little bit closer and at the bottom I saw myself [in a scene from the film] with my arms in the air. The movie had gone from being a Matthew Modine movie that Madonna was in, to a Madonna movie that Matthew Modine was in! That's how fate would have it."
Of course, Modine went on to continued success and a career resurgence fueled by '80s nostalgia in "Stranger Things." So where's the "Vision Quest" Easter egg in the Duffer Brothers' hit Netflix show, already?