How The Pivot From Feature To Series Allowed Willow To Honor George Lucas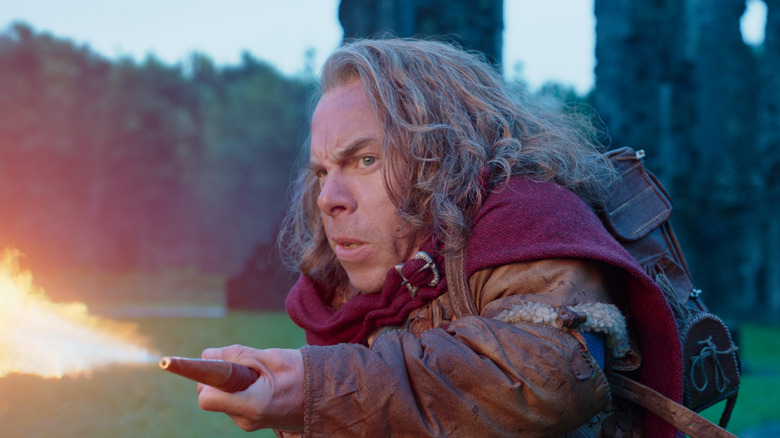 Disney+/Lucasfilm
Few filmmakers have had a run quite like George Lucas did from 1977 to 1990. In those years, he created "Star Wars" and "Indiana Jones," was creatively involved with movies as worlds apart as "Mishima: A Life in Four Chapters" and "Labyrinth," and produced the first-ever Marvel film: 1986's "Howard the Duck" (never forget). He also received story credit for "Willow," director Ron Howard's 1988 fantasy adventure movie starring Warwick Davis as Willow Ufgood, a humble Nelwyn (little person) farmer charged with protecting a baby who is prophecied to bring about the downfall of an evil sorceress.
Co-written by Bob Dolman and starring Val Kilmer as Madmartigan — a rascally swordsman prone to getting chased by his mistress's jealous husband — "Willow" is neither as generally beloved nor widely despised as Lucas's other genre films from the 1980s. But it does have a great hero and an imaginative fantasy setting ripe for further exploration in the Disney+ sequel series, "Where There's a Willow, There's a Way." Fine, yes, it's just called "Willow," but admit it, my title is better.
For much of its drawn-out development cycle, the "Willow" sequel was envisioned as being a film. That all changed when Howard was brought in mid-production to take over directing 2018's "Solo: A Star Wars Story," a movie written by the legendary Lawrence Kasdan ("The Empire Strikes Back," "Raiders of the Lost Ark") and his son Jonathan Kasdan. One thing led to another and before they knew it, Howard and Jonathan Kasdan had reworked the "Willow" follow-up as a streaming series, with Davis returning as the titular character.
During a screening of "Willow" episodes and a Q&A attended by /Film's Jeff Ewing, Jonathan Kasdan detailed how the pivot from film to series actually allowed the sequel to better honor Lucas' original vision.
George Lucas' youthful irreverence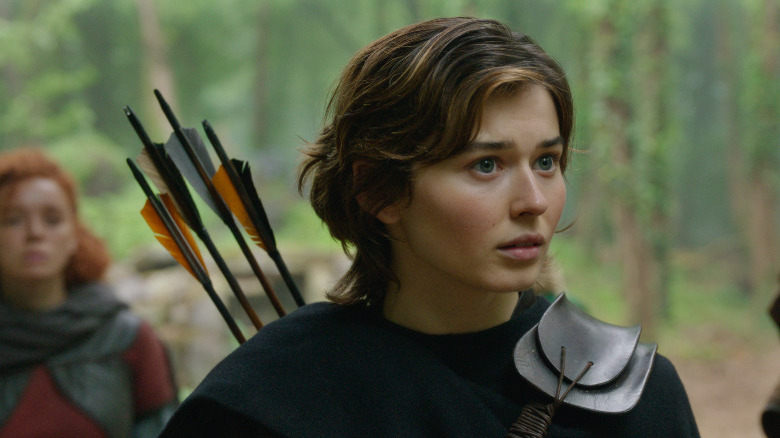 Disney+/Lucasfilm
At one point in the Q&A, a reporter noted that the "Willow" series has a sense of "youthful irreverence" uncommon to a lot of modern fantasy shows. When they asked Jonathan Kasdan if that was baked into the series, he replied:
"I think it's baked into the brand. I think that what's so special about what George [Lucas] created, between '77 and '90, that period, was that he so distilled the fun of movies into these stories. He knew the right pitch between serious and funny and joyful and loose. The fact that my dad [Lawrence Kasdan] is sort of a character in that moment is a crazy thing. But he's always incredibly articulate about how the tone of it was what set George's work apart from all the other attempts to do those genres during that period. And it was so specific and we just wanted to honor that tone."
Kasdan is right about the tone of the original "Willow." It's a unique film among 1980s fantasy movies in that it's neither especially dark and depressing — unlike "The NeverEnding Story" and "Return to Oz" — nor zany like "Labyrinth" or geared towards adult viewers à la John Milius's "Conan the Barbarian." There are times when it resorts to what you might call proto-Jar-Jar-Binks-style juvenile humor (poop jokes, the kids love 'em!), but, for the most part, it aims for the vibe of an old-school swashbuckler. This also leaves room for some risque comedy and grown-up romance amidst all the fantasy spectacle and derring-do.
'Well, s***, that's a lot more stuff'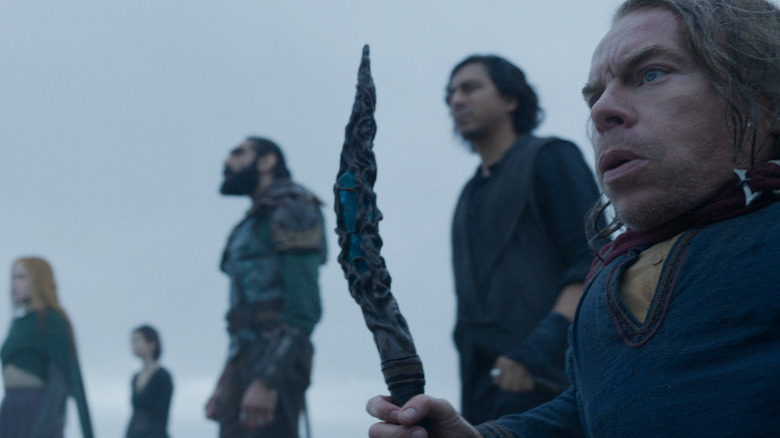 Disney+/Lucasfilm
Arguably, one of the reasons "Willow" didn't catch on the way "Star Wars" and "Indiana Jones" did in the '80s was, save for Willow and Madmartigan, the film's characters aren't exactly memorable in terms of their personalities. Of course, that's largely because the film doesn't actually pause long enough to develop them, with much of its 126-minute runtime devoted instead to (admittedly, often thrilling) sword fights, chase scenes, and what were, back in '88, stunning visual effects by Industrial Light & Magic.
Jonathan Kasdan even alluded to this during the Q&A. He admitted that one of the benefits of the "Willow" sequel being a series rather than a film is that it's now better able to focus more on fleshing out its characters, be they new or returning like the warrior Sorsha (once again played by Joanne Whalley):
"When I first envisioned this as a movie, I was thinking, like, well every 15 minutes there'll be a big action sequence and it'll be over in 90 minutes and you'll never know what hit you. And when Ron [Howard] said, 'This is going to be a show,' my first thought was like, 'Well, s***, that's a lot more stuff. How are we going to do that?' I think what happens in that transition is that character becomes a much bigger part of it than maybe even was true in the movie. The movie had so much real estate to give to Willow and to Madmartigan and perhaps not enough to Sorsha or to other supporting characters, and in television, you get the opportunity to build out a full group like this."
We shall see if the pivot to streaming was truly for the best when "Willow" premieres on November 30, 2022, on Disney+.