The Sopranos Crew Thought The Show Might Be 'Too Good' To Succeed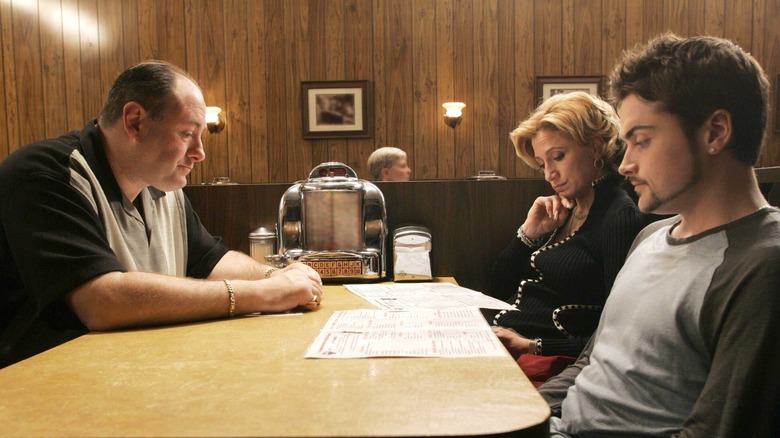 HBO
I think we can all agree that "The Sopranos" is one of the best television series of all time — cast and crew included. Everyone that worked on the show loved it from the very beginning. It had a much more cinematic edge than other shows on television at the time, giving it a unique and undeniable flair. The show was so good that it had no equal, so there was no telling whether or not it would be a hit. In fact, some people on the production team thought that the show was so excellent that it would fly over the audience's heads. It was so fun to make and had so much promise that the series creators worried it might be too good to last. Luckily, they couldn't have been more wrong.
"The Sopranos" first aired in 1999 at a time when network television was extremely formulaic, but series creator David Chase was determined to break the mold. "I was just trying to make a show that I would want to watch and that my friends that I respected would want to watch, that you hadn't really seen on network TV," he explained in Woke Up This Morning.
Chase had worked in network television for years with shows like "Rockford Files" and "I'll Fly Away." He enjoyed working on these series at the time, but he was fed up with the system's rigid constraints. "I just wanted to get out of network," the creator revealed. "Every show followed a twenty-two episode structure — that is, until HBO emerged."
HBO totally changed the game, but it was still relatively new on the television scene in the '90s, having only emerged one decade prior. "The Sopranos" was promising, but it was definitely not guaranteed success.
Shows aren't supposed to be that fun to make — are they?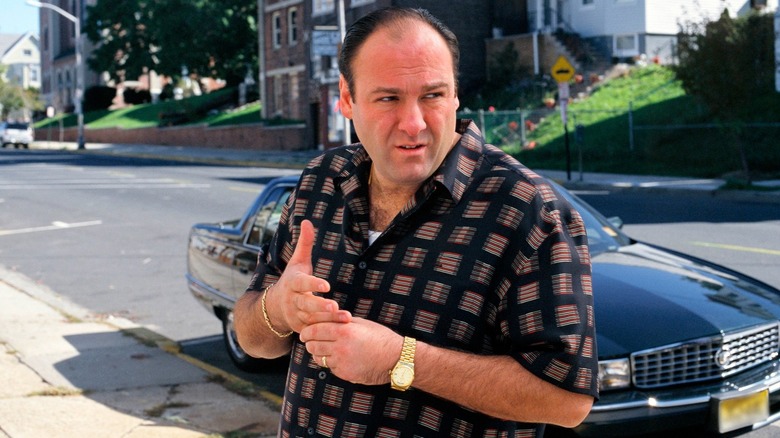 HBO
Breaking out of network television came with a price for "The Sopranos" series creator. "In the beginning, you take a big pay cut because you're used to making twenty-two episodes, and now you're making thirteen. I didn't care," he explained. The artistry was always more important to him than making a profit, which is why he wasn't afraid to experiment. He didn't make "The Sopranos" because he knew it would take off — the endeavor was purely artistically driven.
"It was not obvious that this was going to be a hit," said Allen Coulter, who directed several episodes of the show starting in Season 1. He wasn't worried about the quality of the series though — quite the opposite. "I remember thinking, 'It's too good. It's not going to succeed,'" he recalled.
Unlike most network television shows, "The Sopranos" wrapped its first season before a single episode had aired. Michael Imperioli, who plays Christopher on the show, remembered the anticipatory feeling of wrapping Season 1. "We all went home, knowing we'd done something incredible, and having not the slightest idea if anyone out in the world would feel the same way," he wrote. "We had a long time to ponder that, to go off and work on movies and live our lives and know there was this possibility, hanging out there in the universe, that this might be the start of something big."
The series creator made other plans after Season 1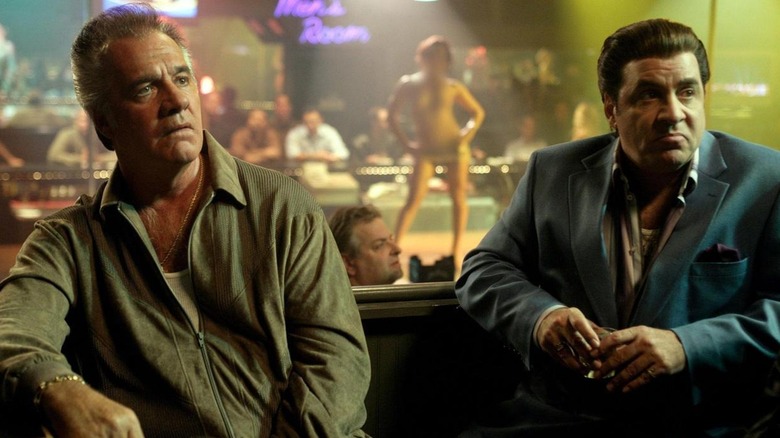 HBO
"The Sopranos" was one of Imperioli's first big jobs as an actor, but Chase and Coulter had both been working in television for quite some time. Having worked on several series that never took off, they were much less optimistic than Imperioli about the future of the show — especially since it was such a blast to make. "I thought... like most TV shows, we're not going to come back," Chase remembered. "It was so much fun; it was so great. I talked to Edie [Falco] about it and I said, 'No. I don't think they think its supposed to be fun. We probably won't be coming back.'"
Coulter and Chase even made other plans after the first season wrapped. "David and I were standing out there and I said, 'What are you going to do?' He said, 'I don't know. If the show's a flop, maybe I'll go to France and write novels,'" the director recounted, adding: 
"I said, 'I'll probably go back and do some s***** television.' That was it. It wasn't like, 'I can't wait until this is a big smash hit.' Basically, the vibe was, it's not going to work. This has been great, but we're going to have to go on with our lives."
And go on with their lives they did — Chase even went on vacation to Europe. "I came back, and everybody in America was talking about, 'Where's Pussy?'" the creator remembered. The show was a huge success, and Chase knew where to start writing the next season. "Obviously, that's a big question, and he should be the focal point of Season Two," he thought.
The show went on to win 21 Emmys and the hearts of viewers everywhere. "The Sopranos" may have been a creative risk, but it was one of the best risks ever taken.