The Black Panther Movies Gave Wakanda's Architecture The 'Voluptuous' Curves Of A Woman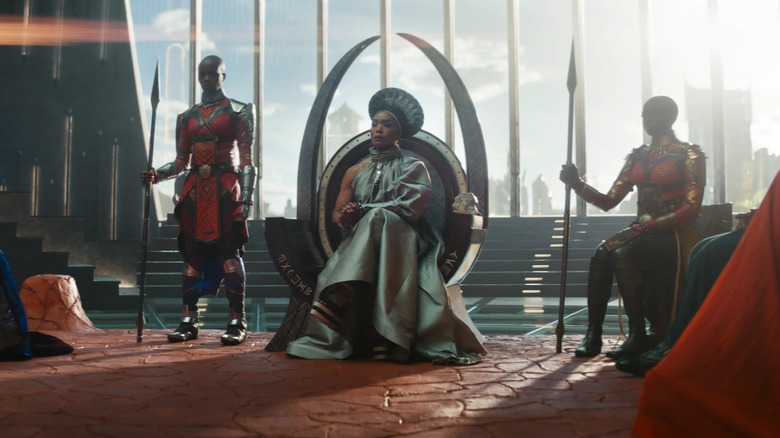 Marvel Studios
Hannah Beachler is, as fans of her work may recall, the Academy Award-winning production designer for Ryan Coogler's 2018 film "Black Panther." Beachler has worked with Coogler on all of his films to date, starting with "Fruitvale Station," as well as the Beyoncé music video films "Lemonade" and "Black is King." She worked with Steven Soderbergh on his 2021 crime film "No Sudden Move" and with Todd Haynes on his downbeat legal thriller "Dark Waters." She has most recently returned to do work on the Marvel sequel "Black Panther: Wakanda Forever." 
The fictional nation of Wakanda is one of the more impressive creations of recent fantasy cinema. The country is, by the conceit of the film, located on top of the world's only known supply of vibranium, a miracle element that allowed the rapid invention of high-tech devices like force fields and flying saucers. Wakanda is a high-tech paradise that bears the aesthetics and design trappings of ancient central-African history. Wakanda, it should also be noted, was never colonized by another nation, leaving their culture room to evolve without conquerors committing crimes against humanity. 
"Wakanda Forever" takes place after the death of the Black Panther — the film opens with his funeral — and focuses on the characters who knew him most closely, notably his sister Shuri (Letitia Wright) and mother Queen Ramonda (Angela Bassett). Over the course of the film, a whole team of newly assembled superheroines will team up to fend off an attack from an undersea kingdom of merpeople.
In a recent interview with Shondaland, Beachler pointed to the film's many women characters and the overwhelming feminine energy of both "Black Panther" films.
Zaha Hadid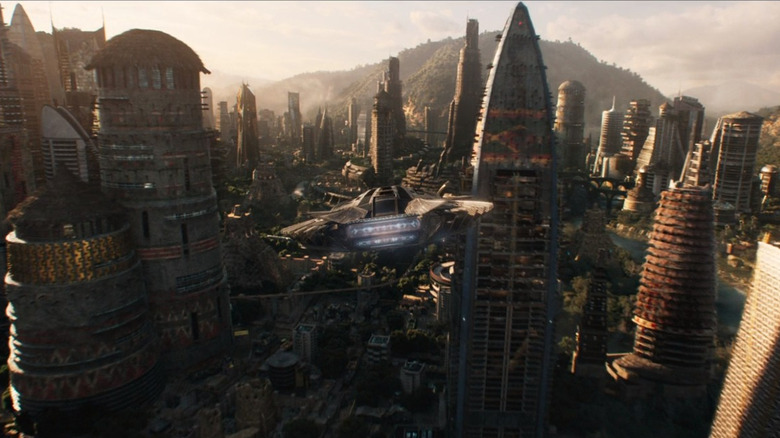 Marvel Studios
Interviewer Rebecca Theodore-Vachon noticed, quite astutely that "Wakanda Forever" possessed a notable feminine energy. When asked, Beachler pointed out that Coogler had made a conscious effort to make his movies skew away from the superhero genre's tendency toward maleness. Indeed, Beachler points out, the architecture of Wakanda — seen in glorious establishing vistas in both "Black Panther" movies — featured a lot of shapes and curves that deliberately evoked traditional feminine bodies. In her words: 
"Ryan always says that women are better filmmakers because of the way they tell stories. When I first started doing designs for 'Black Panther,' I would show them to him, and he'd say, 'This really feels like a woman.' One of my biggest influences is Zaha Hadid, an architect who passed away about a year before we started filming. A prolific architect. You look at her work, and it's very voluptuous. I was very influenced by the curves. It reminded me of your auntie's side when you only come to her waist-high and you have that curve. Those are the experiences that I had. So, that's what aesthetically I see as beautiful."
Zaha Hadid was an Iraq-born architect whose style was notable for blending the art schools of Suprematism and the Russian avant-garde. Her notable buildings include the Riverside Museum in Glasgow, the Sheikh Zayed Bridge in Abu Dhabi, and the Guangzhou Opera House in China. A look over a collage of Hadid's work sees a lot of flowing curves, laid gracefully next to harder right angles. Her buildings look like they are the extremes of a chain of evolution, and you can see a little bit of Wakanda in them. Hadid passed away in 2016.
'I can challenge somebody without it being a threat'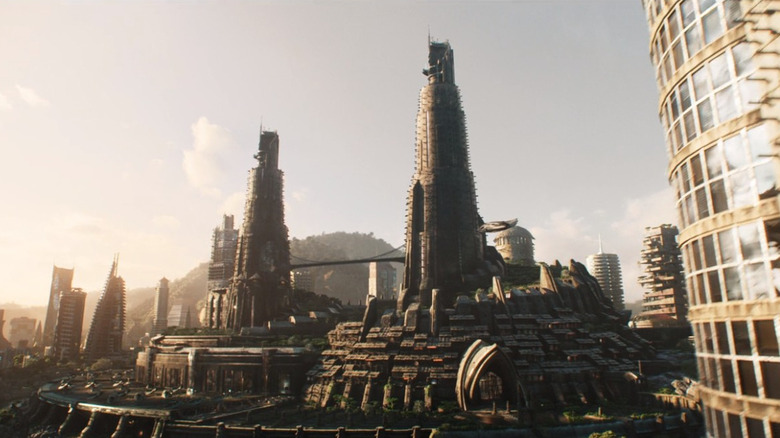 Marvel Studios
Beachler described her own Wakandan designs as being voluptuous. She also noted that Coolger picked up on her intentions right away, a signal of their good working relationship. Beachler was elated to have a director that let her push the bounds of her own creativity, a push that not only increased her comfort levels as a designer but one that made for a great deal of striking cinematic beauty. Her work on "Black Panther" netted her not only an Oscar but nine additional prestigious design awards besides. Beachler put it thus:
"It's part of nature, so it also works itself into this beautiful environment. The curves of a woman, the voluptuousness of architecture in that way. Ryan noticed it right away. He gave me that permission in a sense, a silent permission if you will, to push further with it. Bring your whole self. He said, 'Hannah, put yourself in it.' Being around him is a place for you to be not just resilient and strong, but vulnerable, scared, funny, and humorous without it being entertainment. That's who you can be around Ryan. For the first time, I can challenge somebody without it being a threat."
Beachler's work for "Wakanda Forever" was doubly impressive. Not only did she create the buildings and interiors for Wakanda, but the fantastical, Mesoamerican-inspired undersea kingdom of Talokan overseen by the protective Namor (Tenoch Huerta Mejía). To show her range, she also designed the garage and dorm room belonging to Riri Williams (Dominique Thorne) a college student destined to become a rocket-powered superheroine of her own. 
Between the mundane and the fantastical, Beachler has proven overwhelmingly skilled.