15 Shows Like Vikings That You Really Need To See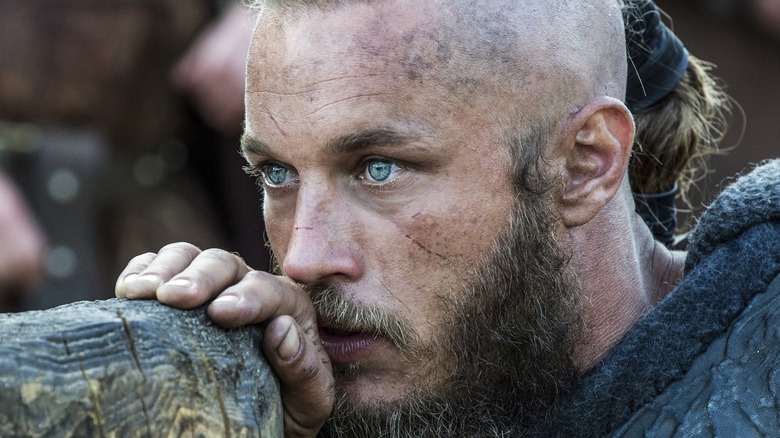 History
Making its debut on History back in 2013, "Vikings" delivered a visceral, bone-crunching journey to the eighth-century Scandinavia and the age of the Vikings. The gritty, violent saga told the story of Ragnar Lothbrok (Travis Fimmel), a farmer who became a warrior and, ultimately, a king. Another part of the series' ongoing storylines involved his first wife, the shieldmaiden Lagertha (Katheryn Winnick), their son Bjorn (Alexander Ludwig), and various other characters who were introduced over the course of the show's six seasons. 
As "Vikings" creator Michael Hirst explained to Looper, the writer enlisted a Viking historian to explore some of the most notable figures from that era. He wound up honing in on Ragnar because he was "the first great Viking leader to emerge from the myth and legend, and that was perfect in many ways because it was the beginning of the Viking age." While the series concluded in 2021, fans looking for similar shows to binge have no shortage of options; here are 15 shows like "Vikings" that you really need to see.
Vikings: Valhalla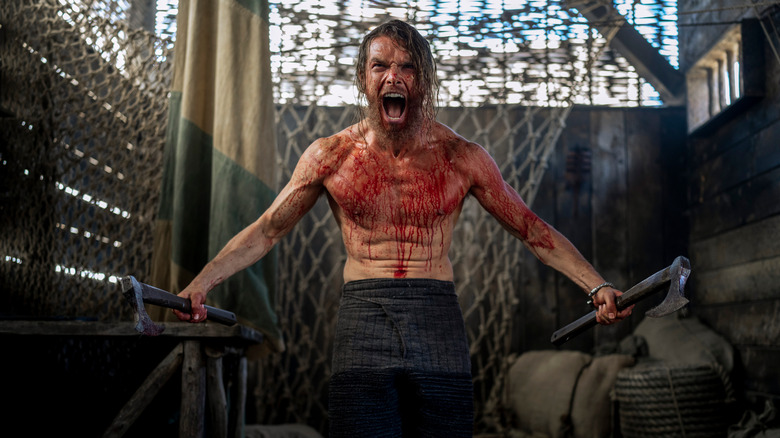 Netflix
Before "Vikings" completed its run, Michael Hirst teamed up with Netflix for a spinoff series, "Vikings: Valhalla." The new series was set a century after "Vikings," telling the origin stories of legendary historical figures like Leif Erikson (Sam Corlett), Freydis Eriksdottor (Frida Gustavsson), Harald Sigurdsson (Leo Suter), and others. "I am beyond excited that we are announcing the continuation of our 'Vikings' saga," said Hirst in a statement, promising that showrunner Jeb Stuart "will bring new storylines and a powerful visceral vision to stories about some of the most famous Vikings known to history." 
At the very heart of the show is the relationship between Leif and Harald, who share a warriors' bond that Suter compared to that of Butch Cassidy and the Sundance Kid. "I think there's a yin and yang element to these two characters," he explained in an interview with The Wrap. "They complement each other quite well. They come from two different ends of the Viking world. And Leif brings like a stillness and a composure that complements Harald's brazen brashness." Meanwhile, it's no surprise that Suter's character has become a fan favorite, given Harald's "berserker" style of combat and the mark he left on history. "Someone described him ... as 'The Thunderbolt of the North' — a chronicler at the time," added Suter. "So yeah, he was a big deal."
Barbarians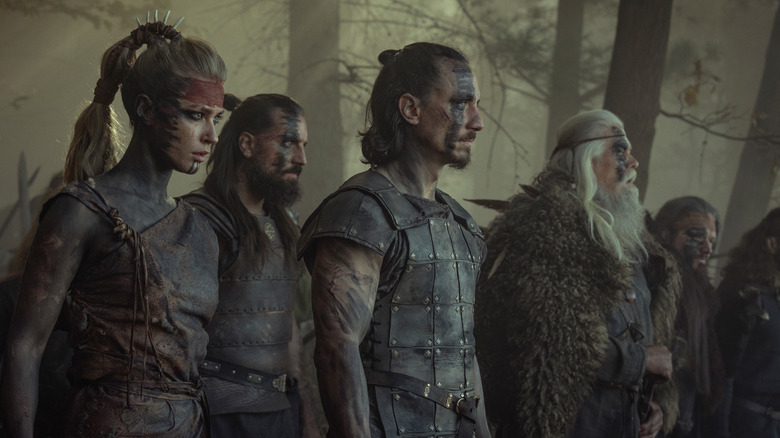 Netflix
Making its debut in 2020 on Netflix, German television drama "Barbarians" filled the void for fans of "Vikings" when that show ended its run. Treading similar ground, "Barbarians" is set in the year 9 CE during the Roman occupation of Germania, leading to the Germanic uprising led by Roman soldier Arminius (Laurence Rupp), who was ripped from his Germanic tribe as a child and given to the Romans, who raised him to be a warrior. As a review in Entertainment Weekly pointed out, "Barbarians" follows the "Vikings" model of melding history with fiction, adding plenty of creative license and brutal, bloody battle sequences. While Arminius is clearly the protagonist, another key character is Thusnelda (Jeanne Goursand), princess of her tribe and a formidable warrior in her own right.  
The first season concluded with the Battle of Teutoburg Forest, a decisive conflict that ended Rome's occupation of what would eventually become Germany. Interestingly, the show's depiction of this 2,000-year-old battle dragged "Barbarians" into controversy. As the New York Times explained, the battle was seen as an "ideological rallying point" for the Third Reich, and continues to fufill that function today for German nationalists and neo-Nazis. However, "Barbarians" showrunner told the Times that his intention was to reclaim that historic battle from the far right. "We didn't want to be scared away and leave the subject to those forces we detest," he declared.
Norsemen
Being a Viking was about more than berserker battles. The Norwegian series "Norsemen," for example, delves into comedic aspects left unexplored by "Vikings." Set in the eighth century, "Norseman" follows the lives of the residents of a Viking village as they grapple with highly relatable 21st-century issues like power struggles, sibling rivalries, and gender equality. Taking a page from "Monty Python and the Holy Grail," both the show's characters and its humor boast a modern sensibility, while the historical setting is portrayed in all its gritty, grimy, ultra-realistic glory.
As series creator Iver Helgaker revealed during an interview with What's on Netflix, he got the idea for "Norsemen" after watching Taika Waititi's brilliant horror satire "What We Do in the Shadows." "And that made us think about the History Channel's 'Vikings' and 'Game of Thrones,' where everything is about the big historical and life-changing events. We thought it would be funny to focus on what happens in between all of that and just take on the everyday stuff," he explained.
The Last Kingdom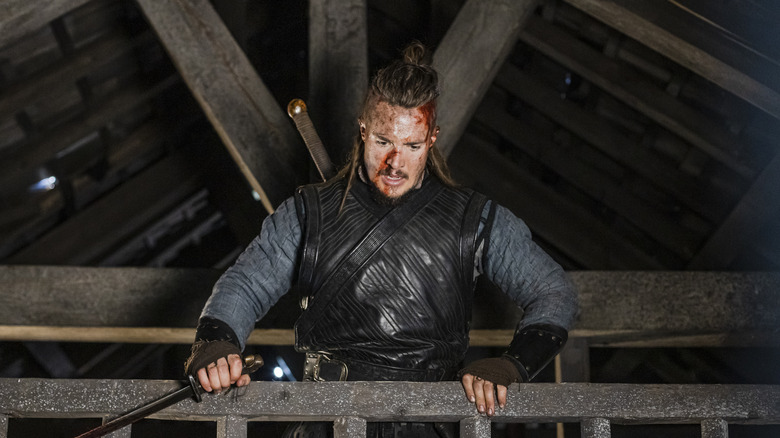 Netflix
The story told in "The Last Kingdom" is similar to the one in "Vikings," but with an added twist. Set in the ninth century, the series is based on the historical novels of Bernard Cornwell. Its protagonist is Norse warrior Uhtred (Alexander Draymond), who was born a Saxon but raised by Vikings, as he leads his people against the Saxons while striving to reclaim his birthright. In an interview with The Carousel, Draymond admitted that he was flattered by comparisons between "The Last Kingdom" and "Game of Thrones," but hastened to explain why the two shows are fundamentally dissimilar. "I think 'The Last Kingdom' is a bit grittier and dirtier, and then it's based in history — I think it's a very different show," he said.
While "The Last Kingdom" ended its run after five seasons, Variety reported that the series finale wasn't the end of the tale, and that the show would be followed by a feature film, "Seven Kings Must Die," to wrap up the storyline. "It's been such a privilege to tell Uhtred's story for five seasons," Dreymond said in a statement regarding the film, which will stream on Netflix at some point in 2023. "It's going to be an epic end to a wonderful journey."
Knightfall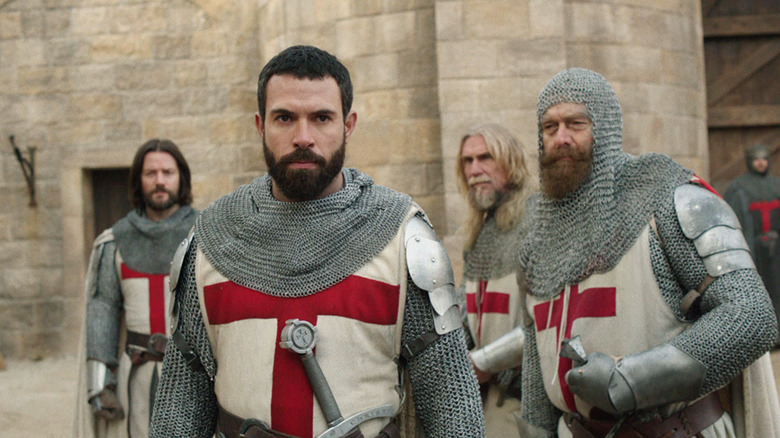 History
While there are no Vikings in "Knightfall," the battles are no less bloody and barbaric than the ones in Michael Hirst's historical epic. Although it also hails from History, "Knightfall" is set in the early 1300s, and recounts the rise and fall of the Knights Templar. The series' protagonist is the fictional Templar leader Landry du Lauzon (Tom Cullen), who leads his knights on a quest to retrieve the legendary Holy Grail. The series received a big shot in the arm in its second season when "Star Wars" icon Mark Hamill joined the cast as Master Talus, a veteran Templar charged with training initiates. 
While the series only lasted two seasons, there's no denying that the show was developed with an eye towards capturing the same audience who grew to love "Vikings." In an interview with Fansided, Cullen shared his excitement about being part of such a vibrant historical drama. "The show, in terms of the epic scale, is something that really, really thrilled me," he said. "It's something that I've dreamt of being in since I was a kid. I used to run around Wales with a wooden sword and shield with my mates, and I've always been really influenced by films like 'Gladiator' — I think I saw 'Gladiator' seven times in the cinema — and 'Prince of Thieves' and 'Braveheart,' so that was a real dream, to be part of something as big as that."
Black Sails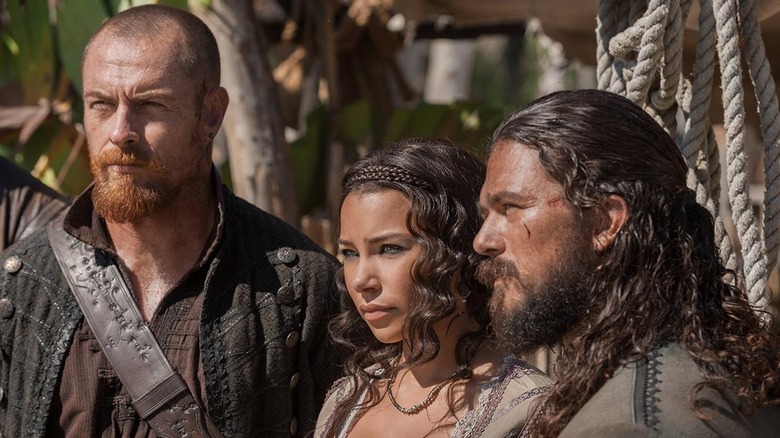 Starz
"Black Sails" offers up all the action and adventure that "Vikings" does, but substitutes Vikings with pirates on the high seas. Produced by action-movie maestro Michael Bay, the series is set in the world created by author Robert Louis Stevenson in his literary classic "Treasure Island," but takes place 20 years before the events of the book. It centers on Captain Flint (Toby Stephens) and his crew of buccaneers, who seek treasure and protect their home base of New Providence Island in what is now the Bahamas.
Asked how "Black Sails" compares to Disney's "Pirates of the Caribbean" movies, Stephens delivered a definitive response. "It is an epic TV series about piracy in the 18th century, the golden age, but it's character driven so it's very satisfying from that point of view," he told Digital Spy. "You get sucked into these characters you really enjoy ... They're complex, but at the same time you get all this amazing adventure stuff like battles, sequences when we're raiding ships and all that stuff." Stephens added, "For me, the texture of it is really good, it feels more like a really gritty western than your 'yo ho ho and a bottle of rum' stuff."
Rome
HBO
Making its debut in 2005, HBO's "Rome" was as lush and lavish a historical drama as one would expect from a show that was, at the time, the most expensive in television history, with the first season budgeted at $100 million. As a review in the New York Times put it, "Rome" offered viewers "the television equivalent of Cecil B. DeMille extravagance" in telling the story of two humble Roman soldiers (Ray Stevenson and Kevin McKidd) whose lives intersect with iconic historical figures (including Julis Caesar, played by Ciarán Hinds) during the historical events that transformed Rome from republic to empire.
While the show became popular with fans and received rave reviews, the high costs of making "Rome" proved to be its undoing. HBO pulled the plug after season 2 when its accountants apparently figured out there was no possible way for such an expensive show to turn a profit. However, as series creator Bruno Heller told Den of Geek, no series in history, before or since, managed to recreate that historical era with the same degree of historical detail. "Walking out there at dawn into the Forum and seeing this world created, it was just magical," Heller said. "It gives me goosebumps now thinking about it, seeing a hundred [Gaul] tribesmen on horseback with great furry helmets charging down a hillside yelling, that sort of thing. No one makes things like that anymore."
Spartacus: Blood and Sand
Loosely based on Stanley Kubrick's classic "Spartacus," which dramatized the tale of a slave-turned-gladiator who led his fellow slaves to revolt against their Roman masters, the Starz series "Spartacus: Blood and Sand" starred Andy Whitfield in the title role. As a review in The Guardian confirmed, the series became instantly renowned (or, depending on one's viewpoint, notorious) for its frequent and copious bloodshed. While reviewer Phelim O'Neill wasn't incorrect when he described "Spartacus" as "clearly the goriest thing ever on TV," he readily admitted that he "wasn't expecting what came next: 'Spartacus: Blood and Sand' is a terrific show — compelling, smart, intentionally funny." 
After the first season, Whitfield was diagnosed with non-Hodgkins lymphoma; in order to give him time to deal with his illness, the show went on an extended hiatus while producers instead created a whole other show: "Spartacus: Gods of the Arena," a six-episode prequel that focused on the gladiatorial adventures of other characters. Sadly, Whitfield died at age 39 just 18 months after being diagnosed. After Whitfield's death, Liam McIntyre stepped into the lead part for the subsequent two seasons.
The Spanish Princess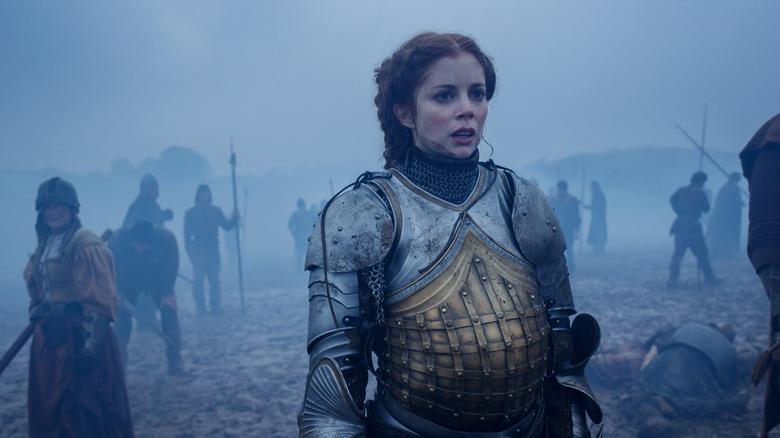 Starz
A follow-up to the earlier Starz series "The White Queen" and "The White Princess," "The Spanish Princess" presents a dramatic recreation of the life of Catherine of Aragon (played by Charlotte Hope), first wife of King Henry VIII. While Britain's Tudor era took place hundreds of years after the events of "Vikings," the themes of conquest and power are timeless, as seen here.
In order to present a rousing and exciting series that would attract the type of viewer who enjoys "Vikings" and similar dramas, "The Spanish Princess" took plenty of dramatic license when it came to historical accuracy. "This show is ultimately a fiction," Hope told Town & Country. "Catherine didn't go to war in armor, but she did give a really rousing speech. And I think that it was really important in our story for us to have the visualization of that power on the battlefield."
Reign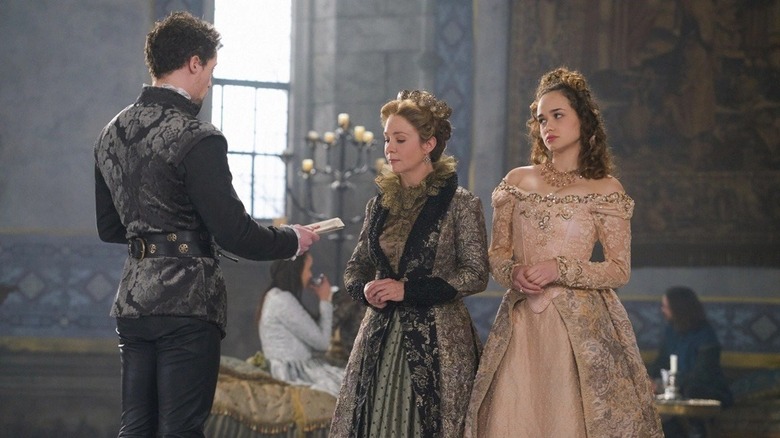 The CW
Tudor family history continued unfolding in The CW's "Reign." Premiering in 2013 and continuing for four seasons, "Reign" dramatized the formative years of Mary, Queen of Scots (Adelaide Kane) as she rose to power as queen of France following her wedding to Prince Francis. Megan Follows also starred in the series as Mary's scheming mother, Catherine de' Medici.
While "Reign" takes a far soapier approach to historical drama than "Vikings" does, it should appeal to fans of the genre. "The CW series does a fairly effortless-looking job of combining a 16th-century setting with a fluid, modern dynamic," The Wrap declared, while also listing several reasons why "Reign" is worth watching. "Those reasons include sumptuous production values, a fast pace, and a modern spin on the story of Mary, Queen of Scots," the review noted. However, it's the lead performance that really ties everything together. "The best reason to watch is Mary herself, played by star-in-the-making Adelaide Kane," The Wrap said.
Marco Polo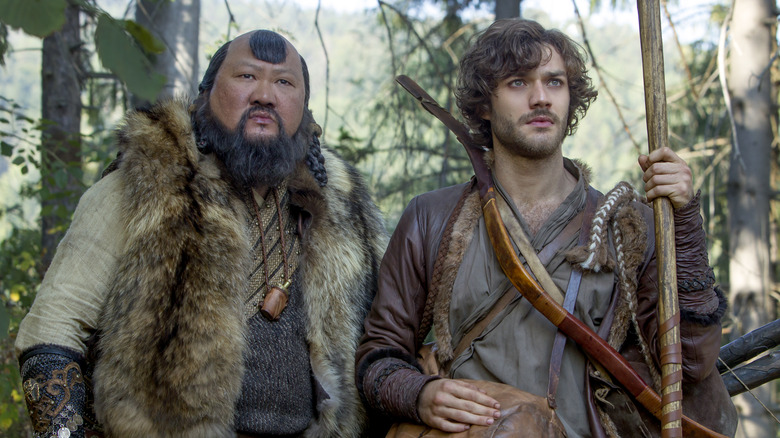 Netflix
"Marco Polo" arrived on Netflix in 2014, following the adventures of the titular Venetian explorer (Lorenzo Richelmy), who finds himself enmeshed in the court of legendary Mongol leader Kublai Khan (the Marvel Cinematic Universe's own Benedict Wong). Kahn is attempting to go head-to-head with the Chinese army, placing Marco smack-dab in the midst of the conflict. 
Ultimately, "Marco Polo" — which ran for just two seasons — had its pros and cons. On the positive side, notes The Review Geek's Greg Wheeler, are the show's "gorgeous cinematography and keen eye for visuals," which do much of the heavy lifting when it comes to transporting viewers to 13th-century Mongolia. On the flip side, a review in Vulture found "Marco Polo" to be "vacant and uninspiring," a sentiment echoed in Time's write-up, which described the show as a "gorgeous but ludicrous saga."
Given the series' massive budget (it reportedly cost about $90 million per season), no expense was spared in recreating those historic battles. "My best moment was when we were in the middle of this set with 300 extras fighting each other, and I was on my horse, riding as fast as I could down the valley, where I would shoot three arrows and enter into the war," Richelmy recalled in an interview with Collider.
Rise of Empires: Ottoman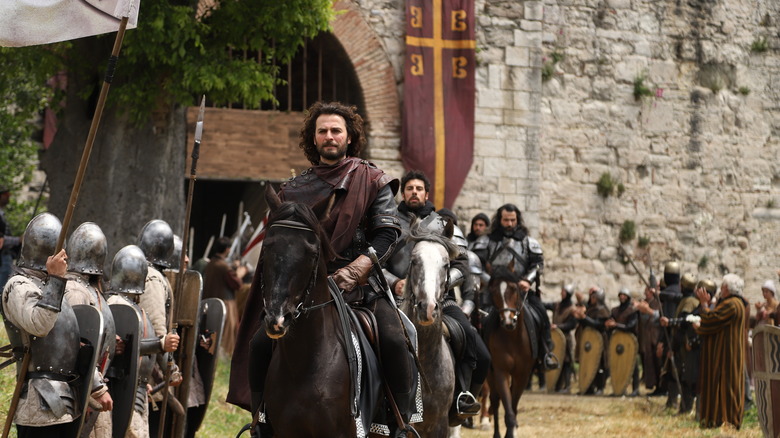 Netflix
A Turkish production, "Rise of Empires: Ottoman" chronicles the saga of Sultan Mehmed (Cem Yiğit Üzümoğlu) as he leads his army on a mission to capture the Roman-occupied city of Constantinople, ultimately leading to the establishment of the Ottoman Empire. What makes the series stand out from other historical dramas is its depiction of warfare in the 15th century. The series takes viewers on a deep dive into the brilliant military strategies employed by the ruler who would come to be known as Mehmed the Conqueror.
While "Rise of Empires: Ottoman" may appear to be just another historical drama to the casual viewer, it's also part documentary, with historians chiming in to share their insights about the dramatic re-enactments. The show's secret weapon, however, is its narration; that comes courtesy of British actor Charles Dance, who's known to fans of "Game of Thrones" as the scheming Tywin Lannister.
The Real Vikings
Conceived as a companion series to "Vikings," "Real Vikings" takes fans of the flagship series on a journey into the actual history behind the show, providing a healthy dose of context for the show's characterization of Ragnar Lothbrok and his exploits. Featuring commentary from top Viking historians and archeologists, the series combines documentary filmmaking with footage from the show. In addition, actors from the series, like Clive Standen, Maude Hirst, Alyssa Sutherland, and Katheryn Winnick, appear to help guide viewers through the surprisingly complex history behind their characters' quasi-fictionalized stories. 
Given that the original "Vikings" has a tendency to play "fast and loose with recorded events," as The Guardian so succinctly put it, this informative and fascinating addendum offers fans the opportunity to become better versed in real Viking history and lore, which definitely results in a deeper appreciation of the main show.
Vinland Saga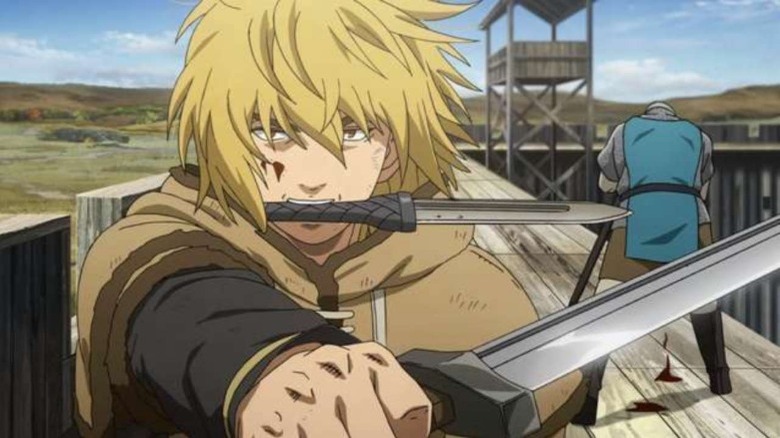 Netflix
"Vikings" viewers who are partial to animation are in for a treat. Based on a Japanese manga, "Vinland Saga" follows the journey of a boy named Thorfinn. When his beloved father is murdered by a vicious mercenary named Askeladd, Thorfinn joins Askeladd's crew — without revealing his true identity, of course — in order to take out his father's killer and get some revenge. However, the plot takes a number of unexpected twists and turns, and winds up being much more than just another revenge story.
According to CBR's review, "Vinland Saga" is "a must-watch anime series" that will undoubtedly appeal to fans of "Vikings." In fact, Polygon goes a step further by describing the anime series as "a violent and bloody good time with exquisite action scenes, fleshed-out characters and an intriguing story about coming of age in a cruel world that takes enough from real life to satisfy history buffs."
Game of Thrones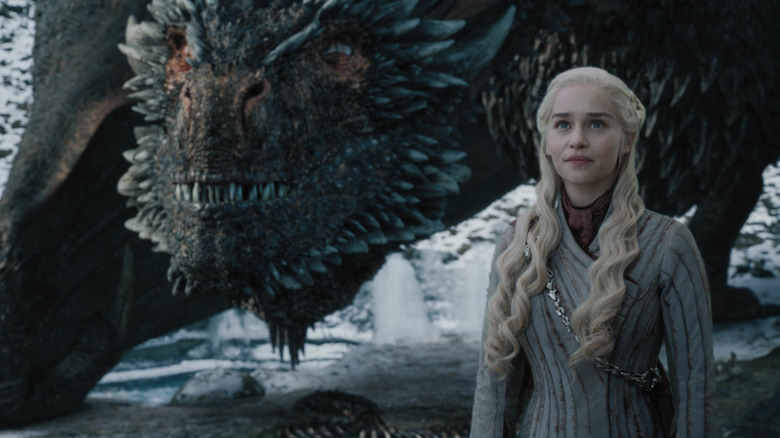 HBO
Over the course of its run, "Vikings" was continually compared to "Game of Thrones" — an understandable connection, since they were both on the air at the same time. Obviously, there are some key differences between the two shows. The biggest and most obvious is that, while "Vikings" is a scripted drama, it's rooted in actual Nordic history. "Game of Thrones," meanwhile, is set in a make-believe world created by author George R.R. Martin that features fire-breathing dragons, ice zombies, and other fantasy elements.
While it was inevitable that the two shows would go head-to-heda in the media, "Vikings" star Clive Standen felt that it was "a bit unfair" to compare them. "['Game of Thrones'] all comes from the imagination of one man's mind. Whereas 'Vikings' is a historical drama," Standen told Fox News. "It's documented in history. It's a very, very broad spectrum of history. But ... these are all real characters that lived and breathed and walked the earth. They're all worthy of the history books."