The Daily Stream: Spartacus Is A Wild And Bloody Ride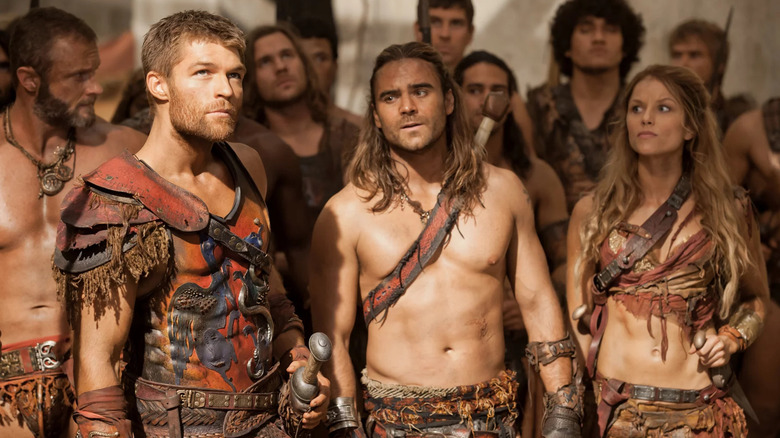 Starz
(Welcome to The Daily Stream, an ongoing series in which the /Film team shares what they've been watching, why it's worth checking out, and where you can stream it.)
The Series: "Spartacus"
Where You Can Stream It: Starz
The Pitch: Looking for an R-rated action series with so much heart that you'll sob, cheer, and yell at your screen? At first glance, the Starz series "Spartacus" might look like a sword and sandals series with lots of nudity — and yes, it 100 percent is that. It's also a powerful story of fighting for people who can't fight for themselves and taking down a cruel power structure. It gives you a sense that even the bad guys sometimes have their reasons, but you can still hate them, even as you understand them. 
"Spartacus" is the story of a Thracian man (played by Andy Whitfield in the first season, and Liam McIntyre in the second and third) who is taken captive and forced to fight as a gladiator for the corrupt Batiatus (John Hannah) and his wife Lucretia (Lucy Lawless). This comes to us from Steven S. DeKnight and Rob Tapert, and friends, it is a glorious ride. I fell in love with this series after the first episode, and I've now rewatched it several times. 
Yes, "Spartacus" is set during the height of the Roman Empire, but it is full of powerful women. Lucretia is a character for the ages, and even through the horrific things she does, you'll find yourself rooting for her despite yourself. Part of her development comes from the prequel series, "Spartacus: Gods of the Arena," which was made to give star Andy Whitfield time to recover from his cancer diagnosis — and what better tribute to an actor than the fact that an entire prequel miniseries was made in the hope that he'd be able to return. Though Whitfield ultimately passed away, he gave his blessing to a recasting in future seasons of "Spartacus," and McIntyre did an admirable job stepping into the role.
Why it's essential viewing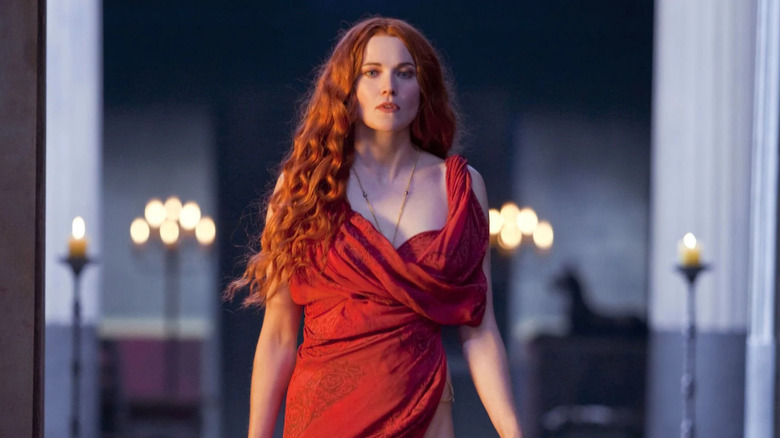 Starz
It is a rare series that combines juicy plotlines, powerful storytelling, deep character development, and a real message, but "Spartacus" does just that. That sounds big and heavy, but it's not. This is a fun show, full of plot twists and beautiful moments. It's also full of cruelty, murder, amazing fight choreography, and very, very fit people. I even have a drinking game for you, if you so desire: Any time someone says "absent" instead of "without," you drink. (Actually, maybe eat pasta first. It happens a lot.)
This series has Shakespearean stakes, from Spartacus' focus on the loss of his wife, to the beautiful love story between gladiator Argon (Dan Feuerriegel) and freed slave Nasir (Pana Hema-Taylor), to the powerful rivalry between Lucretia and Ilithyia (Viva Bianca) that involves murder — it's over the top in all the best ways. 
I don't want to give away any plotlines, because they're so good, so I'll just say that this show is incredibly bingeable. The costumes are gorgeous, the fighting is so good that you'll want to pick up a sword and swing it at people (don't), and there are no emotional punches pulled. You might even learn a thing or two about history. 
I will leave you with this caveat though: This is absolutely not for the kiddies. Maybe don't watch it on a plane. It's very spicy, and sexy, and very, very violent. Mostly what it is, though, is absolute unadulterated fun. Enjoy!