Chevalier: Release Date, Cast, And More About The Biopic From Watchmen Director Stephen Williams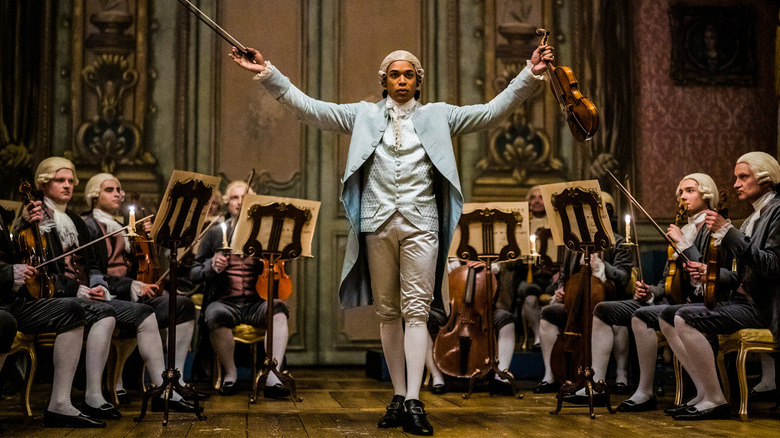 Searchlight Pictures
(Welcome to ...And More, our no-frills, zero B.S. guide to when and where you can watch upcoming movies and shows, and everything else you could possibly stand to know.)
Kelvin Harrison Jr. has been on quite the biopic tip of late. For the record, I'm not complaining. Since breaking out in "Waves," Harrison has proven his mettle as one of the most exhilarating young actors working today. Watching him in anything is a total treat because no matter the project, no matter the character, Harrison always brings an exciting, earnest perspective.
After appearing as B.B. King in Baz Luhrmann's "Elvis" — and before transforming into the "Radiant Child" himself, Jean-Michel Basquiat, for "Samo Lives" — Harrison is set to star in the classical music biopic, "Chevalier." The film has already garnered fresh interest after debuting a trailer in November, so here's everything you need to know about the forthcoming film and more.
Chevalier release date and where you can watch it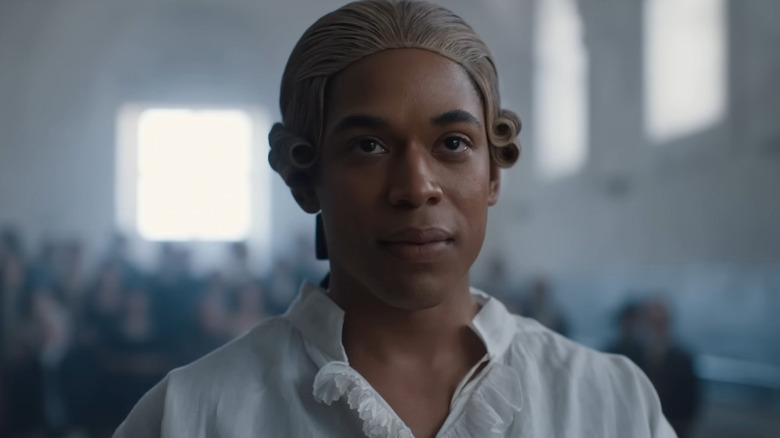 Searchlight Pictures
"Chevalier" is slated for a theatrical release on April 7, 2023. That's quite a ways removed from its premiere at the Toronto International Film Festival in September 2022, but hey — good things take time, right?
Here's what Chevalier is about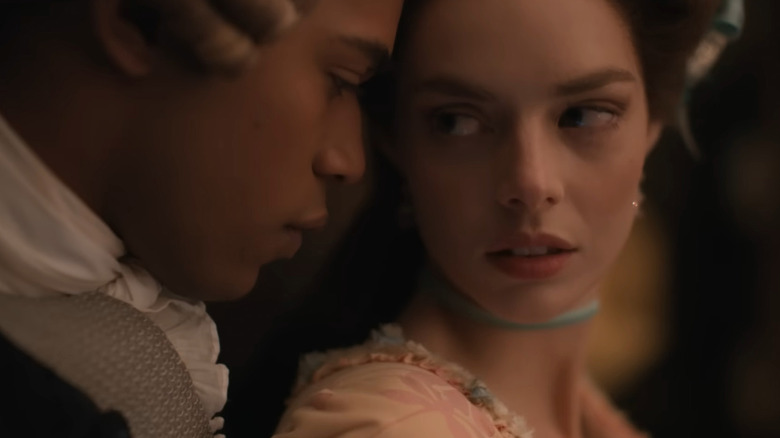 Searchlight Pictures
"Chevalier" follows the incredible (and forgotten) true story of Joseph Bologne, Chevalier de Saint-Georges. Like his contemporary, Mozart, Bologne was a rock star of his era. He was born the illegitimate son of a French plantation owner and an African slave — and while he was an out-and-out musical prodigy, the color of his skin obviously made life in 18th-century France difficult. Still, that didn't stop him from rising through the ranks and dominating the Paris Opera as a violinist and composer. Before his death in 1799, Bologne was appointed Chevalier (the French equivalent of a knight) to Queen Marie Antoinette, engaged in a scandalous affair with a married actress, wrote his own opera — which has since, sadly, been lost to time — and led the first all-Black regiment of soldiers in the French Revolution.
Obviously, Bologne lived a storied life, and "Chevalier" will cover his rise in the French court, falling out with Marie Antoinette, and participation in the revolution alongside his career in music.
The Chevalier director, writer and more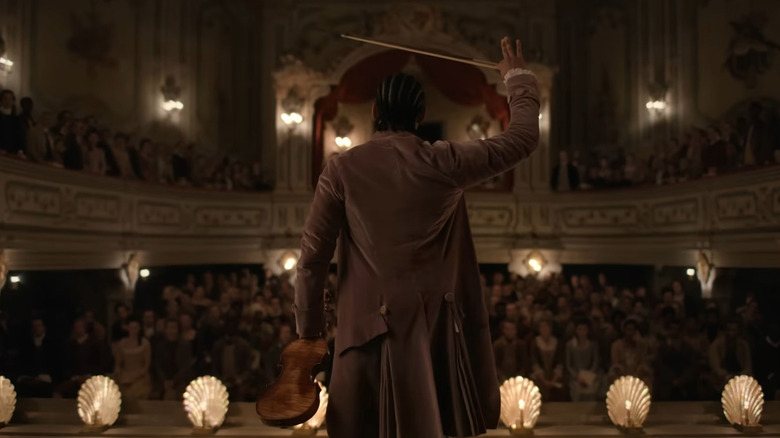 Searchlight Pictures
After decades of directing and producing for television, "Watchmen" director Stephen Williams returns to the big screen with "Chevalier." He's joined by screenwriter and six-time Emmy nominee, Stefani Robinson ("Atlanta," "What We Do in the Shadows"). Robinson is also a producer for the film, alongside Ed Guiney, Andrew Lowe, and Dianne McGunigle. 
The original score for "Chevalier" was composed by Kris Bowers ("Bad Hair," "Monsters and Men"), and the film's musical performances were produced and arranged by Michael Abels — who's served as composer for all three Jordan Peele films. Safe to say, Bologne's show-stopping concerts are definitely in good hands.
The cast of Chevalier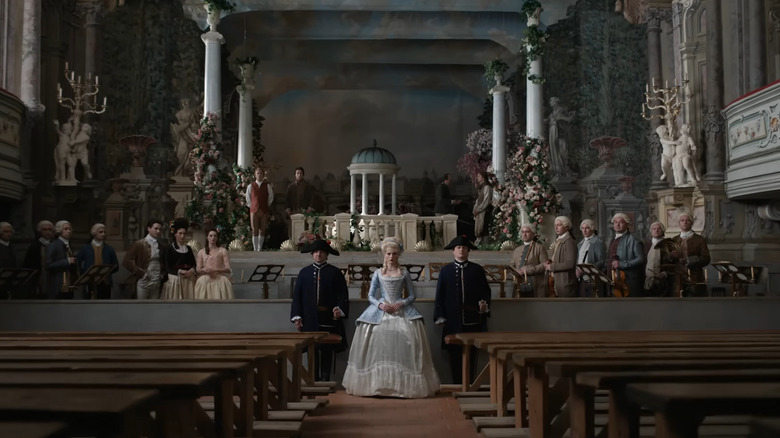 Searchlight Pictures
Kelvin Harrison Jr. is joined in "Chevalier" by Samara Weaving ("Ready or Not") as Marie-Josephine, the other half of Bologne's ill-fated love affair. Lucy Boynton ("Bohemian Rhapsody") is playing Queen Marie Antoinette, and Minnie Driver ("Rosaline," "Beyond the Lights") is Marie-Madeleine Guimard, the infamous performer who butts heads with Bologne at every turn. Rounding out the cast are Marton Csokas, Sian Clifford, Ronkẹ Adékoluẹjo, and Alex Fitzalan.
Harrison is no stranger to musical films: in addition to "Elvis," he co-starred as Christian in Joe Wright's recent adaptation of "Cyrano." He recently spoke to /Film's Shania Russell about his approach to playing real-life figures like B.B. King and Bologne:
"I think the process was very much like, 'Well, I'll take what I can from the information that's been presented in front of me about Joseph.' But I would tell Joseph and B.B., before I would start filming those days, I'd be, 'Listen, dog, I know you existed, but this is going to be Kelvin's interpretation of your life. We good with that?' So, you try to honor it as much as you can, but what serves the story is the job."
Check out the Chevalier trailer here
You can watch the trailer for "Chevalier" above, and here's the official synopsis from Searchlight Pictures below:
The illegitimate son of an African slave and a French plantation owner, Joseph Bologne rises to improbable heights in French society as a celebrated violinist-composer and fencer, complete with a love affair and falling out with Marie Antoinette.