Did Gandhi Deserve To Beat E.T. At The 1983 Oscars? An Investigation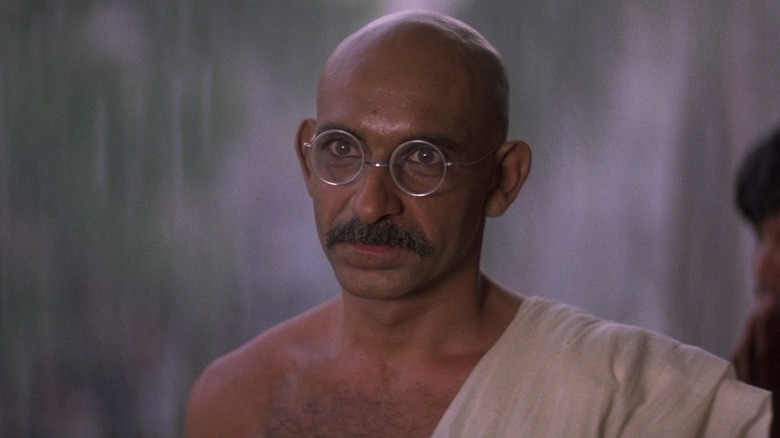 Columbia Pictures
(Welcome to Did They Get It Right?, a series where we take a look at an Oscars category from yesteryear and examine whether the Academy's winner stands the test of time.)
1982 was a crucial year in Hollywood moviemaking. The New Hollywood that brought the auteur-driven boom of the 1970s had firmly ended, with the financial calamity of Michael Cimino's Western epic "Heaven's Gate" the previous year placing the final nail in that coffin. Look at the box office of 1982, and you see a fascinating melange of prestige dramas like "An Office and a Gentleman," sex comedies like "Porky's," and the onset of the franchise filmmaking that will come to dominate today's Hollywood with "Star Trek II: The Wrath of Khan" and "Rocky III."
The hit among hits, the king among kings, of 1982 was Steven Spielberg's "E.T. the Extra-Terrestrial," which just enjoyed an IMAX re-release to commemorate its 40th anniversary. To put its dominance in perspective, "Tootsie" was the number two film at the box office that year, grossing $177 million. Meanwhile, "E.T." made $359 million, making it the highest grossing film of all time at that point. Adjusted for inflation, that's $1.1 billion, not even including international box office. Also, it was beloved by audiences and critics alike and obviously remains an enduring classic to this day.
But it didn't win Best Picture at the Academy Awards. No, that honor went to Richard Attenborough's "Gandhi," the biopic epic about the Indian revolutionary. In fact, "Gandhi" took home a whopping eight awards that night, including Best Director and Best Actor for Ben Kingsley. While as praised as Spielberg's film contemporaneously, the succeeding 40 years haven't been as effusive, with the film often being cited as stodgy Oscar bait these days. Is that just a reaction to it winning Best Picture or the truth?
The curse of Best Picture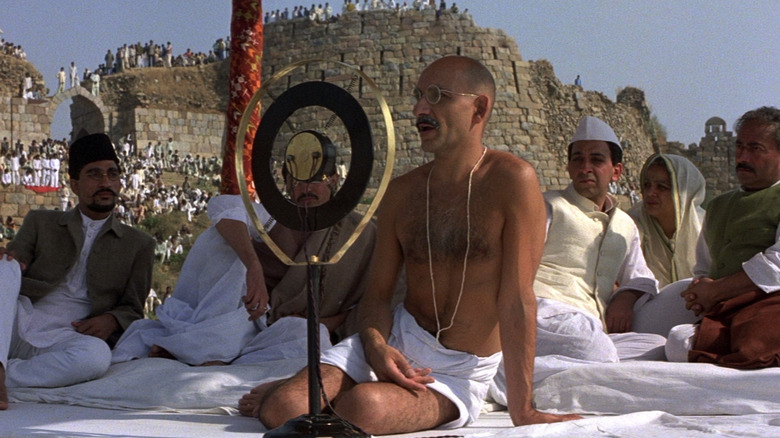 Columbia Pictures
Oftentimes, a film winning Best Picture at the Oscars is the worst thing for its reputation. Sure, it will always keep the film in the public consciousness, but it places an undo burden on a film to meet a certain expectation. Someone arriving at a Best Picture winner comes in with their arms crossed, waiting for it to prove its worth. It automatically becomes the barometer by which all other films of that year are judged, and if you prefer another film to that winner, the Academy becomes insane for choosing this subpar film over the obvious (to you) better one.
"Gandhi" is an impressive film. The scale astounds. During its over three-hour running time, you cannot fathom a filmmaker attempting to wrangle the scope. Scenes will often have hundreds, if not thousands, of extras enraptured by every word Ben Kingsley's Mahatma Gandhi speaks, whether he is trying to command an audience or not. Even with its grandiosity, the entire film hangs on the shoulders of Kingsley, who often imbues Gandhi with an understated sense of embarrassment as people conflate his cause with his ego. "Gandhi," the film and screenplay, presents the man in a overly hagiographic light, but Kingsley plays a man who so many see as a saint as a true human being.
If I was an Academy voter, I wouldn't have selected "Gandhi" as my Best Picture winner, but that shouldn't discount its many sterling qualities. In a vacuum, most people wouldn't find much wrong with "Gandhi," but pitting it against the highly emotional, imaginative "E.T. the Extra-Terrestrial" only makes "Gandhi" appear to be a choice the Academy made to seem important, instead of indulging their childlike wonder (which we are so willing to do today).
Did E.T. need to win?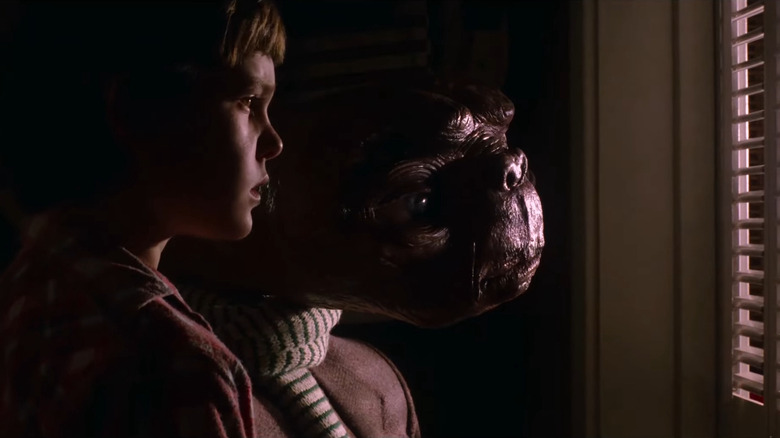 Universal Pictures
It took quite awhile for Steven Spielberg to finally take home some Oscars. Famously, he missed out on a Best Director nomination for "Jaws," a moment that will live on forever with Spielberg hilariously bemoaning, "I got beaten out by Fellini!" Two years later, he received that nomination for "Close Encounters of the Third Kind" (my personal favorite of his work), but it didn't receive a Best Picture nomination. It wouldn't be until "Raiders of the Lost Ark" that he managed to get both categories, which he would repeat the next year with "E.T. the Extra-Terrestrial." But still no win. That wouldn't happen for another 11 years with "Schindler's List" taking home both awards.
For many, "E.T." is the director's crowning achievement, the urtext of who he is as a filmmaker. The whimsy, the wonder, the divorce trauma, and the pulling on the heartstrings all perfectly come together in a tale that makes its audience weep uncontrollably no matter how many times they see it. In many ways, it makes sense to award it Best Picture over "Gandhi." Given those two options, I would choose "E.T." That being said, what else would the film gain from winning that award?
"E.T. the Extra-Terrestrial" was already the highest grossing film of all time at that point. It captivated audiences from every generation and continues to be a favorite for those who weren't alive to see it originally. When AFI did their "Top 100 Films of All Time" special in 1997, they ranked it the 25th greatest film of all time. A decade later, it rose to 24 when they redid the list. The status of "E.T." as one of cinema's bonafide classics has been cemented. It didn't need a gold statue for that.
There were more than two nominees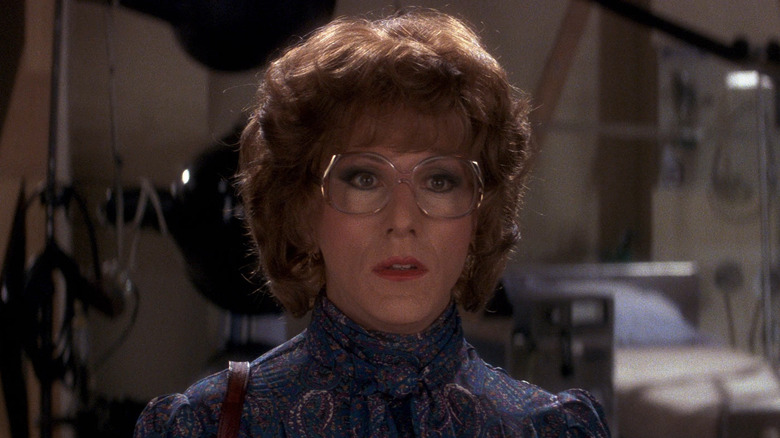 Columbia Pictures
As is the case with every other Academy Awards ceremony, the Best Picture race was not just between two movies. Five movies were nominated. Actually, four out of the five were amongst the 12 highest grossing films of 1982. Sydney Pollack's cross-dressing showbiz comedy "Tootsie," Sidney Lumet's courtroom drama "The Verdict," and Costa-Gavras' Palme d'Or-winning "Missing" rounded out the Best Picture field. This slate of nominees is nothing to shake a stick at.
While I find "Tootsie" to be a rather tough sit today due to its truly bizarre gender politics, it was quite a phenomenon upon release and still beloved by many today. Remember those AFI lists? When they did their list of the best comedies of all time, "Tootsie" was number two, right behind Billy Wilder's "Some Like It Hot." This was a comedy — a genre the Academy usually ignores — that received 10 nominations. Even if I'm not the film's biggest fan, I am thrilled that a picture like "Tootsie" could perform so well at the Oscars. It flies in the face of Oscar convention, which is always welcome.
"The Verdict" and "Missing" are films that more generally appeal to the academy. In "The Verdict," you have a courtroom drama with a sensational lead performance by one of Hollywood's signature stars in Paul Newman, and with "Missing," you have another Hollywood legend in Jack Lemmon at the center of a story of U.S. government participation in Latin American coups. These are perfect examples of films that today would either be made into limited series or have drastically reduced budgets. They may not be transcendent movies, which is why they didn't exactly have a chance against "E.T." or "Gandhi," but nobody should look back at these nominees as missing the mark.
The maleness of Best Picture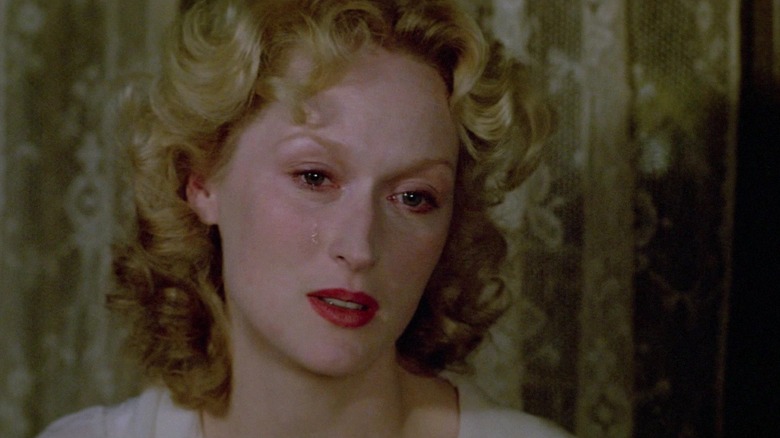 Universal Pictures
Four of the five nominees for Best Picture also received nominations for Best Actor. The sole exception was actually "E.T. the Extra-Terrestrial," as children aren't the Academy's favorite. The correlation between Best Actor and Best Picture has long been much stronger than Best Actress, which shouldn't be all that surprising considering Hollywood's patriarchal system. In 1982, the only crossover between the two categories was Sissy Spacek for "Missing," but even with that film, she is a co-lead with Jack Lemmon and is certainly 1B to his 1A.
Three of the other nominees for Best Actress were in movies that received quite a few nominations that year. Blake Edwards' "Victor/Victoria," starring Julie Andrews, garnered seven, which is more than either "The Verdict" or "Missing," but it couldn't get in there for Best Picture or Best Director. Similarly, "An Officer and a Gentleman" got six and missed out on the top two prizes.
Then you have the winner for Best Actress. Meryl Streep in "Sophie's Choice" is a towering performance and what took her from being one of the most exciting young actors of her generation to full-on master of her craft. It was her second Oscar in the span of three years, and not a soul could deny her talent. The film itself is no slouch either, coming from Alan J. Pakula, director of "All the President's Men" and "Klute." "Sophie's Choice" was made with as much craft and care as any of the nominees and recognized with nominations for its screenplay, cinematography, and score, yet it couldn't make it over the edge. I think all the films that were nominated wore perfectly worthy of it, but swapping out one of those male-driven movies for "Sophie's Choice" would have made the slate look a little better in retrospect.
The eternal want of popularity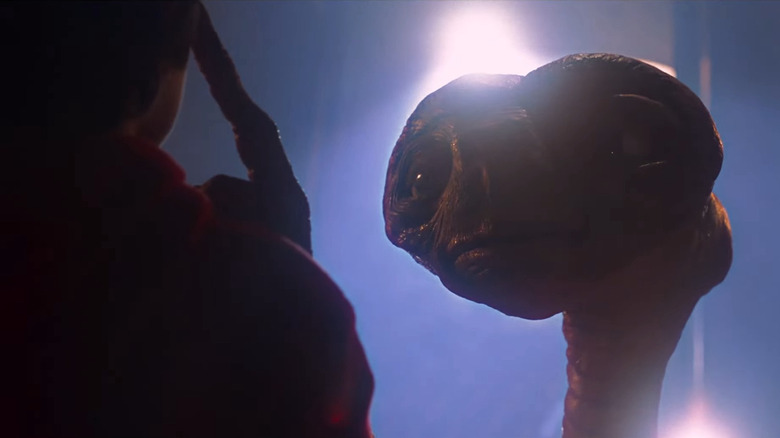 Universal Pictures
At the very first Academy Awards, Best Picture was essentially split into two different categories. On the one hand you had "Outstanding Picture," which was awarded to William A. Wellman's exciting romantic war film "Wings." This is generally regarded as the first Best Picture winner. However, that year you also had "Best Unique and Artistic Picture," an award that never appeared again. That prize was given to F.W. Murnau's dreamy romance "Sunrise: A Song of Two Humans."
Ever since these two categories were combined into one, there has been great consternation about what kind of film deserves Best Picture. Should the winner represent the medium's connection to the greater moviegoing public, or should it recognize a film that strives for a greater artistic achievement beyond populism? This manifested just last year when there was an uproar that "Spider-Man: No Way Home" didn't get nominated for Best Picture.
The "Gandhi" vs. "E.T. the Extra-Terrestrial" debate fits squarely into this struggle for what it means to award something Best Picture. Obviously, "E.T. the Extra-Terrestrial" is the populist pick, the one that captured the imaginations of millions upon millions of people. "Gandhi," meanwhile, is the more formal achievement, looking to speak about important topics concerning the horrors of colonialism in the world. They are emblematic of the eternal battle of what should win an Academy Award, and that battle shows no sign of ending anytime soon.
If I picked the winner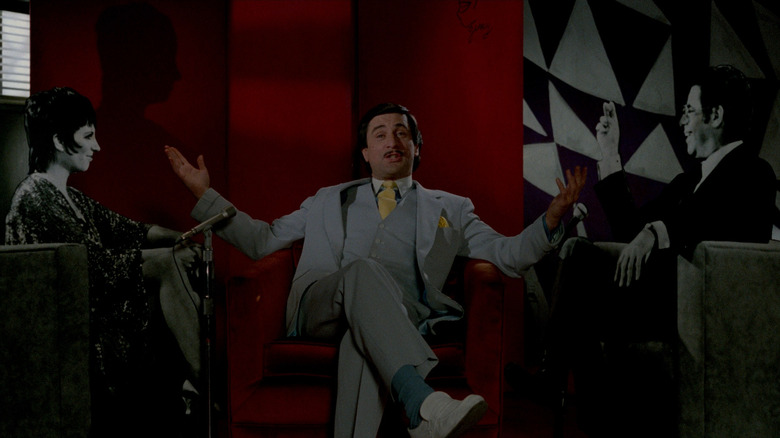 20th Century Fox
As for who I would choose as the Best Picture winner of 1982, you have to go beyond "Gandhi" and "E.T." In fact, you have to go beyond the Academy Awards nominations as a whole. You even have to go beyond films that were successful that year. My winner for Best Picture that year is Martin Scorsese's "The King of Comedy." This film single-handedly ended Scorsese's ability to get whatever film he wanted made. It made a paltry $2.5 million at the box office on a $19 million budget. However, I find it to be one of the director's finest films, and considering the films this man has made, that is quite a statement.
This tale of a sociopathic wannabe comedian (a truly outstanding Robert De Niro) obsessed with a late night talk show host (a surprisingly intimidating Jerry Lewis) may have served as one of the chief inspirations for Todd Phillips' "Joker," but don't hold that against it. "The King of Comedy" is as sharp a satire on American media consumption and 1980s entitlement as you can find. It's equal parts hilarious and unnerving, taking Scorsese's penchant for stories about disillusioned men in a whole new direction. Coming off the heels of the titanic "Raging Bull," this film didn't exactly get a fair shake upon release, but time could not have been kinder to it. "The King of Comedy" is my Best Picture of 1982.