The Santa Clauses Review: A Surprisingly Good Series That Avoids The Legacy Sequel Curse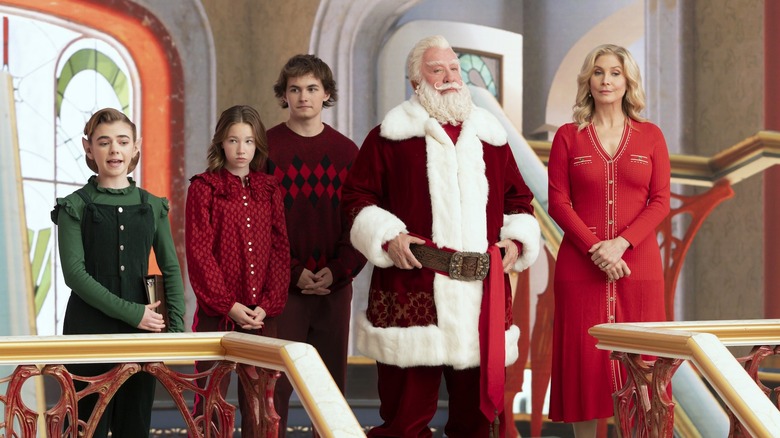 Disney/James Clark
When I discovered Disney+ had a sequel miniseries in the works for the "Santa Clause" Christmas movie series, dread stirred deep in my inner being. So far, I did not have much luck with these properties: "Home Sweet Home Alone" was painfully unfunny, while the "Diary Of A Wimpy Kid" 2021 animated reboot was inconsequential and — dare I say? — boring (a fatal flaw in any kids' film). I had come to accept that Disney+ was where the 20th Century Studios franchises went to die. Thankfully (if surprisingly), that does not appear to be the case for "The Santa Clauses" miniseries — at least not based on the two episodes provided for review. 
"The Santa Clauses" is a direct sequel to the beloved "Santa Clause" trilogy. Scott Calvin (Tim Allen), aka Santa Claus, is nearing his 65th birthday, and it's clear the Christmas magic is starting to wane. This leads him and his wife, Carol (Elizabeth Mitchell) — a reluctant Mrs. Claus — to consider hanging up the ol' toy sack and handing the sleigh reins to a successor, freeing them and their grown children a chance to enjoy the "real world." It's a simple premise perfectly in keeping with the original hit film's ethos and works surprisingly well — both for playing to Allen's strength as a comedian, but also for updating the tone, structure, and humor for young audiences in 2022.  
Often, it feels like we're in the age of nostalgia farming, with previously successful IPs constantly getting drudged up for a cash-grab do-over. Yet, despite how popular reboots and legacy sequels have been of late, they've proven difficult to pull off. How many reboots have actually been satisfying?  At best, most attempts feel like fun, if forgettable, dessert after a really satisfying meal.
I think "The Santa Clauses" might be the rare exception.   
A new Santa Clause for Gen-Z (and beyond)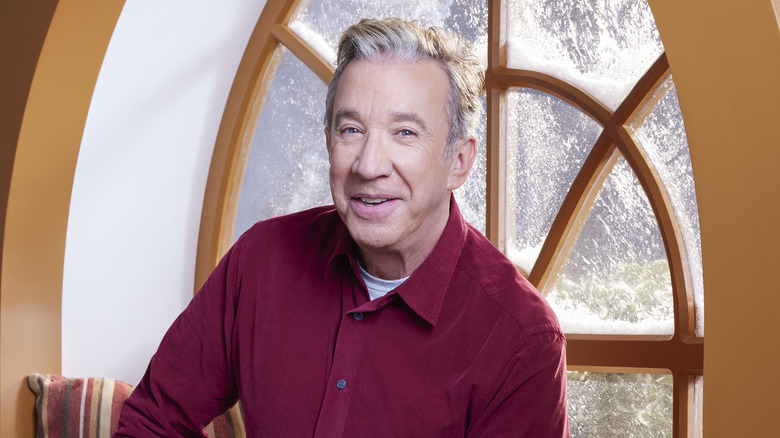 Disney/Justin Stephens
Unlike many legacy sequels (especially of the direct-to-streaming variety), "The Santa Clauses" genuinely feels like it has been updated for the next generation of families. Apart from two flashbacks to the original movie and various references (arguably, necessary for context), the miniseries isn't derivative. Creator Jack Burditt made the smart choice to center the project on Scott entering a new chapter in life, which is both ripe for comedic potential and also a natural progression for the franchise, 28 years after it began.  
I'm not saying "The Santa Clauses" is better, or even as good, as the original. I'm not sure I could even be an objective critic of the 1994 Christmas movie at this point — it was such a huge part of my childhood holidays. When we weren't sipping eggnog and watching "It's a Wonderful Life" on TV, we were watching "The Santa Clause" on VHS (we switched over to the more risqué "National Lampoon's Christmas Vacation" when I was older). I will say though, when viewed objectively and independently on its own merit as a holiday miniseries, "The Santa Clauses" is pretty darn good.
Allen is definitely in his wheelhouse here as Scott, for better or for worse. More than once, I laughed out loud at a line that was only funny because of his delivery. Allen serves as an executive producer, alongside Burditt; Burditt was the showrunner of Allen's sitcom "Last Man Standing," and has been involved in a number of recent comedy hits — from "Modern Family," to "30 Rock," to "Unbreakable Kimmy Schmidt," and even "Frasier" back in the day. Not everything in "The Santa Clauses" landed — the actor lets his sometimes more unsavory political leanings show, and this came through in the writing. The bits poking fun at "wokeism" in particular felt out of place and forced (more like, Kris Cringe-l, amirite?). 
Not a one man show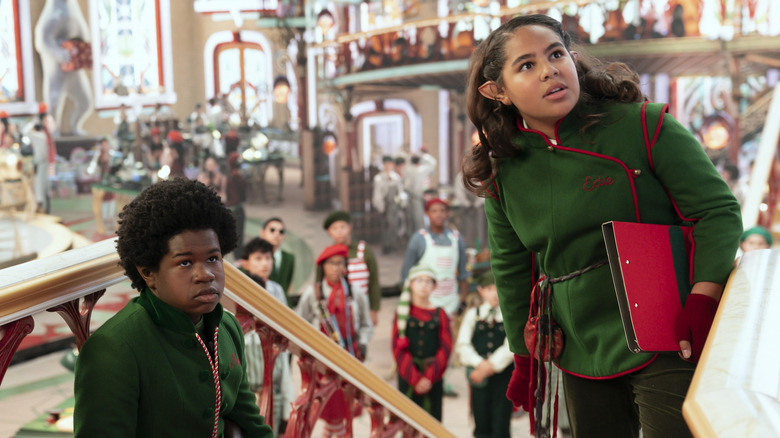 Disney/James Clark
Thankfully, the majority of the comedy in "The Santa Clauses" is less "Last Man Standing" and more "Unbreakable Kimmy Schmidt." No doubt this is thanks to a diverse writing staff and cast. Episode 2 was written by Katy Colloton & Katie O'Brien (known for penning the series "Teachers"), and for me, this second outing had the bigger laughs. It helps that supporting characters like Noel (Devin Bright) and Edie (Isabella Bennett) bring a lot of energy into their scenes. 
Allen isn't the only seasoned funnyman on screen: Kal Penn plays Simon Choksi, a tech guru who seems destined to follow in Scott's footsteps (no spoilers here — I'm only guessing). The first two episodes are focused on Santa Claus and the North Pole, so Penn's screen time is limited; however, I do have two observations. One, Penn's chemistry with Rupali Redd (who plays his daughter, Grace), is very sweet. Two, he has one of the funniest fop-sweat scenes in recent memory. If the subsequent episodes feature more Kal Penn awkward antics, I am here for it. 
Watching "The Santa Clauses," I definitely felt affection for the original film — but more so, I felt the urge to watch the series with my kids. I have two young children, and they really do believe in the "magic" of Christmas. And it's not just about gifts for them; pre-Covid, we brought my eldest to meet the local mall Santa every year. It was always the same man, and he was every bit as sweet and gentle as "the real deal." Those are treasured memories.
The kiddos lost a lot during the pandemic. We've had to cancel family plans two years in a row now, and the "magic" of the season gets diminished among talks of vaccines and rapid tests. In that regard, "The Santa Clauses" feels like the miniseries we need right now — in parts, sharp yet sentimental, funny yet sincere. It's an age-appropriate holiday miniseries that has something for every member of the family. 
And I'm looking forward to sharing it with them. 
"The Santa Clauses" premieres Wednesday, November 16, 2022, on Disney+.