Heath Ledger Channeled Showgirls And Fred Astaire For 10 Things I Hate About You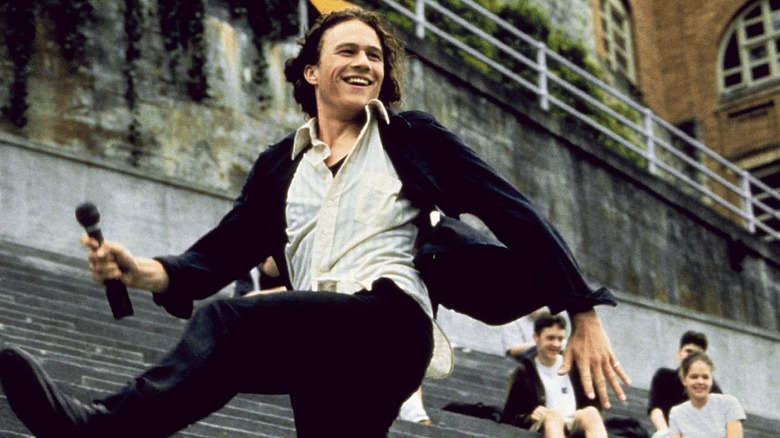 Touchstone Pictures
"10 Things I Hate About You" has its fair share of timeless moments, one of its finest being when Heath Ledger's snazzy, uber-cool Patrick Verona crashes the school's soccer practice to sing and woo Julia Stiles' Kat Stratford. It's so over the top it's almost extraordinary. It's memorable in the most endearing way. Ledger exuded the charm and goofiness necessary to make this scene one of the most classic displays of romance in film over the decades.
When director Gil Junger and his team envisioned the scene, they were inspired by "Showgirls" and Fred Astaire and hoped that Ledger could capture the magnetism for which the late dancer was famous. It wasn't an easy task: Ledger was no dancer, but he did have copious amounts of charm.
An unforgettable rendition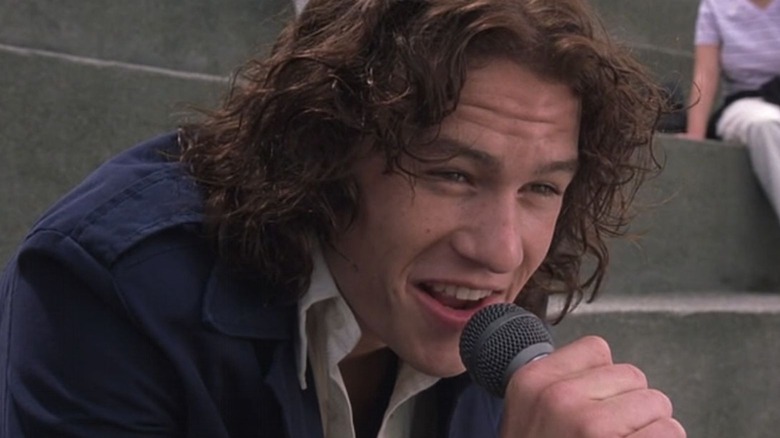 Touchstone Pictures
In an interview with HuffPost for the film's 20th anniversary, filmmaker Gil Junger, actress Julia Stiles and the rest of the "10 Things I Hate About You" crew reminisced over Ledger's performance, and his singing and dancing on the school's bleachers. The young actor was beyond graceful and performed with an ease that made his rendition of Franki Valli's "Can't Take My Eyes off You" stand the test of time over 20 years later.
The scene begins with Ledger pushing the volume up on the school's speakers before he steps outside and slides down a pole. As Junger describes, the actor was "effortlessly charismatic," and the first few moments set the tone for the rest of the scene. Marguerite Derricks, who choreographed the performance, credited Paul Verhoeven's "Showgirls" with inspiring her to add a pole to Ledger's dance number.
Junger praised Derricks for creating "a beautiful sense of movement," and the multi-award-winning former ballerina explained how she came up with the scene's concept for Ledger.
"At that time, just because of "Austin Powers," all of a sudden, I became the go-to girl for movies. I had a meeting with Gil Junger, and then we decided to do the movie together. I was sent pictures of the location, and through those, I came up with the idea of how Heath would move. He was my Fred Astaire!"
Heath Ledger mirrored Fred Astaire's ease and charm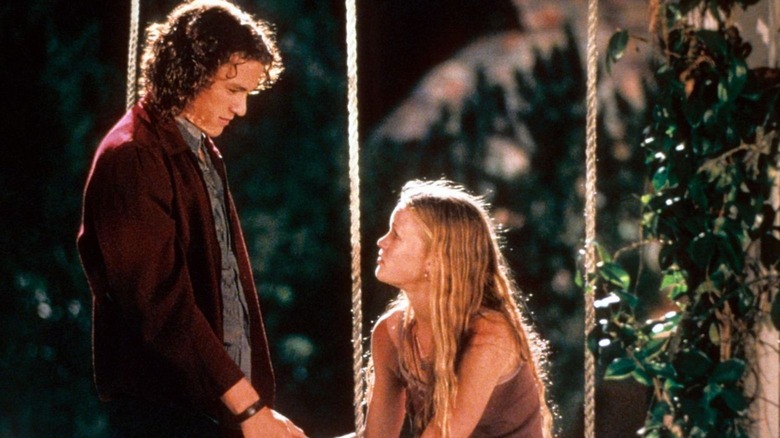 Touchstone Pictures
Junger, too, hoped Ledger could mirror the "ease and charm" displayed by Astaire in his movies. Thankfully, the actor was on the same page as his team: Ledger was prepared to work towards the moves that were reminiscent of Astaire, and he was fearless in his pursuit. Derricks explained how the two worked together:
"I talked to Heath about Fred Astaire and just the couple of little moves that he does — the slides to the side and that long-pass grapevine. It would take an actor like Heath, who was fearless, to not be worried about how he was going to come off, not to worry that it was old-school."
Steve Alexander, who was Ledger's agent at the time, revisited the actor's perspective toward the scene. He wasn't a dancer, so he wasn't well-prepared, but he pulled it off anyway. It's not supposed to be a professional performance; it's just a guy trying to win a girl.
"He knew he wasn't great, and I think that's the charm of that scene, of course, that it's bad. I think he probably went for it in that way, really not being prepared but being as goofy as he could be, running around in the bleachers doing his thing."
Ledger appears to have filmed the scene several times. Junger confirmed that he was surprised at the actor's "athleticism while singing" and his ability to run up and down the steps, take after take. The actor was immensely talented — and his crew knew it — so they did everything in their power to make the scene as unforgettable as it had the potential to be. The rest, of course, is history.