Peaky Blinders Creator Steven Knight Had A Very Personal Goal For The Series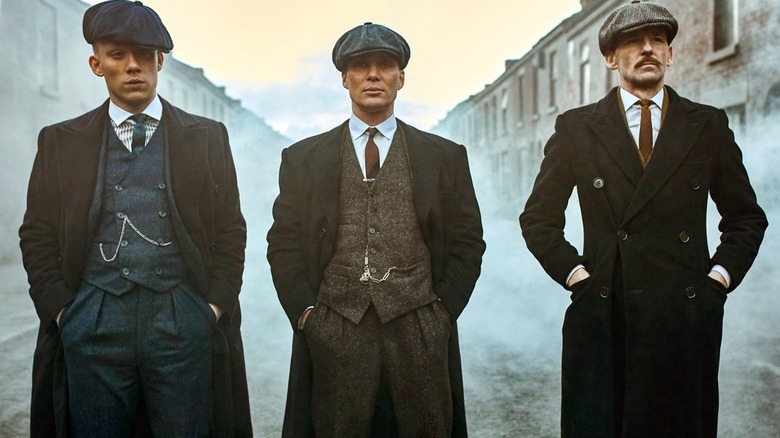 Netflix
Most fans know that Steven Knight's "Peaky Blinders" is primarily inspired by a real-life street gang, but you may not know that Knight's connection to the Birmingham-based criminal gang runs deeper. Though the filmmaker would not pen "Peaky Blinders" for decades, ideas for the British crime drama were planted early in his childhood when Knight's parents told stories about the family member that walked around with razors sewn in his caps. 
While the creator of the series wanted to tell an authentic story about a mafia family's rags-to-riches tale in the aftermath of the First World War, Knight also had a personal goal in place. To tell their story meant to mythologize the accounts shared by his parents, and it's something he took seriously.
A family affair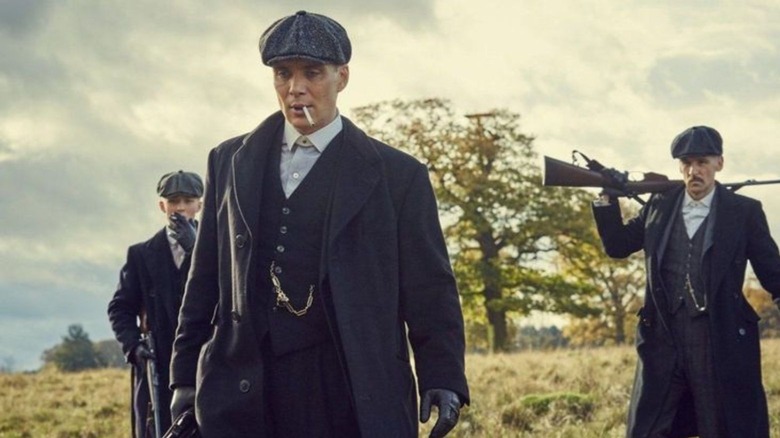 Netflix
Born in Birmingham, Steven Knight had family ties to the Peaky Blinders: the screewriter has said that his father's uncles were members of the Sheldon gang, and one of them was the direct inspiration for Tommy Shelby. Growing up, Knight's parents narrated stories of their illegal activities and, albeit reluctantly, shared photographs of gypsies, horses, and men dressed in "immaculate suits" in 1820s Birmingham. Knight told History Extra in 2020 that his mother worked for a bookmaker when she was just nine years old, and his dad delivered messages to gangsters and witnessed quite a sight upon one such delivery: 
"One of the first stories that inspired me was of my dad when he was a little kid, sent to deliver a message. There was a table, covered in money and guns, surrounded by blokes, beautifully dressed, drinking beer from jam jars. You didn't buy glasses. You only spent money on clothes."
One of the biggest reasons for the success of "Peaky Blinders" was that it mythologized the working class in a way that had never been done on television before. For Knight, it was imperative to showcase that Birmingham, England, which was known to be an impoverished area of the country, could be a place where money, power, and politics could all coexist. Knight wanted the show to have an underlying message throughout its six seasons: that we're all in charge of our own destinies.
'To be in charge of one's own destiny'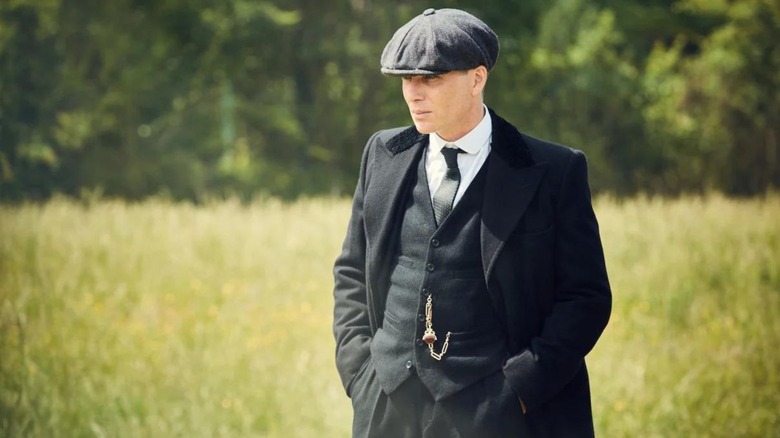 Netflix
In a 2019 interview with Observer, Knight talked about his fascination with gangsters and how they controlled Birmingham in the past. Gangsters had both money and power, and they changed the city forever.
"I think it was ... to be in charge of one's own destiny is what played the biggest role. At the time, gangsters became attractive. It had become a place of poverty and hardship, where one did not have control over one's own life, you know? People who were gangsters seemed to be in control. They had money, they had power, they had politics. So I think that is what made them celebrities of their age."
"Peaky Blinders" stars Cillian Murphy as Tommy Shelby, a former decorated British soldier-turned-gangster determined to move his family up in the world. His ambition often results in violent clashes with members of rival gangs and politicians who wield too much power. All six seasons of the critically-acclaimed series are currently streaming on Netflix, with a spin-off movie set in the same universe presently being written.