Empire Of Light Trailer: Finding Connection In Cinema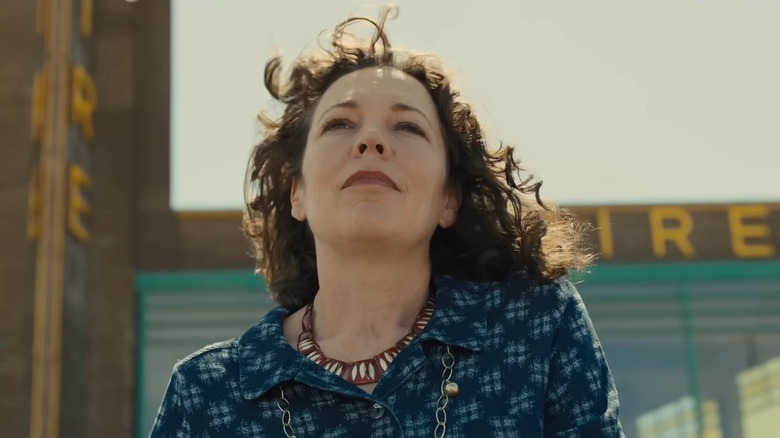 Searchlight Pictures
Today Searchlight Pictures has released a new trailer and poster for the upcoming Sam Mendes film "Empire of Light." It's a story about how cinema and community can connect us, as two people come together while working at a seaside movie theater. Written and directed by Academy Award-winner Mendes, the film premiered at the Telluride Film Festival in September 2022. "Empire of Light" will be the fifth collaboration between Mendes and Academy Award-winning cinematographer Roger Deakins ("1917," "Skyfall").
Mendes says of the inspiration for the film:
"For me, that was the late '70s and early '80s: the music, the movies, the pop culture of that period generally formed who I was. It was a period of great political upheaval in the U.K., with a great deal of very incendiary racial politics – but at the same time, an amazing period for music and for culture generally – very creative, very politicized, very energized."
The idea for "Empire of Light" came out of the pandemic, and Mendes said it allowed him to come to terms with memories from childhood to see "if I could unlock anything interesting." 
Watch the Empire of Light trailer
With actual movie theaters still struggling to recover after the pandemic and directors like Steven Spielberg talking about his thoughts on cinema as a communal experience versus streaming and watching things at home, perhaps this will reawaken some of the love that people have for the movie theater and watching things with other people. 
/Film's own Sarah Milner reviewed the film and said that Colman "gives an unforgettable performance as Hilary — possibly a career-best, and that's saying something."
"Empire of Light" stars Academy Award-winner Olivia Colman ("The Favourite"), BAFTA-winner Michael Ward ("Blue Story"), Toby Jones ("Tinker Tailor Soldier Spy"), Tanya Moodie ("Motherland"), and Academy Award-winner Colin Firth ("The King's Speech"). Atticus Ross and Trent Reznor provided the score. 
Set in a coastal town in Southern England against the social turmoil of the early 1980s. Empire of Light is an intimate and moving story about love, friendship, and connection. Hilary (Olivia Colman), a woman with a difficult past and an uneasy present, is part of a makeshift family at the old Empire Cinema on the seafront. When Stephen (Micheal Ward) is hired to work in the cinema, the two find an unlikely attraction and discover the healing power of movies, music and community.
"Empire of Light" will hit theaters on December 9, 2022.