Smile! The Happiest Horror Movie Of 2022 Is Streaming On Paramount+ Very Soon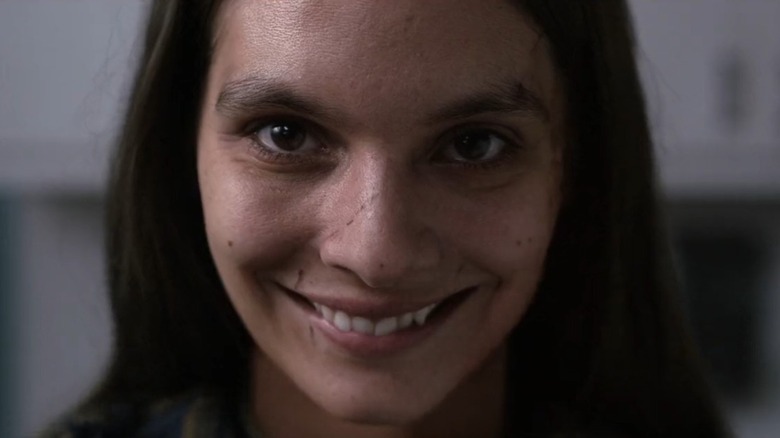 Paramount Pictures
In news that is sure to make gorehounds grin, Paramount+ and Paramount Home Entertainment have announced that the year's biggest original horror movie, "Smile," will be available to stream and purchase digitally in the U.S. and Canada this Tuesday, November 15, 2022. The film will also hit 4K Ultra HD, Blu-ray, and DVD on December 13. "Smile" hit theaters on the last day of September and just recently crossed the $200 million mark at the worldwide box office, and the latest numbers indicate (via Box Office Mojo) that it's just shy of the $211 million haul of China's "Nice View," currently the year's highest-grossing original film. 
Of course, "original" is a somewhat subjective term, but we'll get to that. One thing that is certain is that "Smile" has brought the bacon, not just money-wise, but in the sense of upholding the horror tradition of the Bacon family. The film stars Sosie Bacon, the real-life daughter of Kevin Bacon and Kyra Sedgwick, as a psychiatrist who starts seeing people grinning evilly everywhere and must confront everyone's favorite horror theme — trauma — before it's too late. 
After a month and a half, "Smile" is now headed to home media, so for anyone whose preferred method of watching movies is to put on a pair of headphones and fire up your laptop in the dark (not unlike Bacon's character in the image below), get ready to do the opposite of frown and, well, smile, or at least smirk.
It follows It Follows (and other such fright flicks)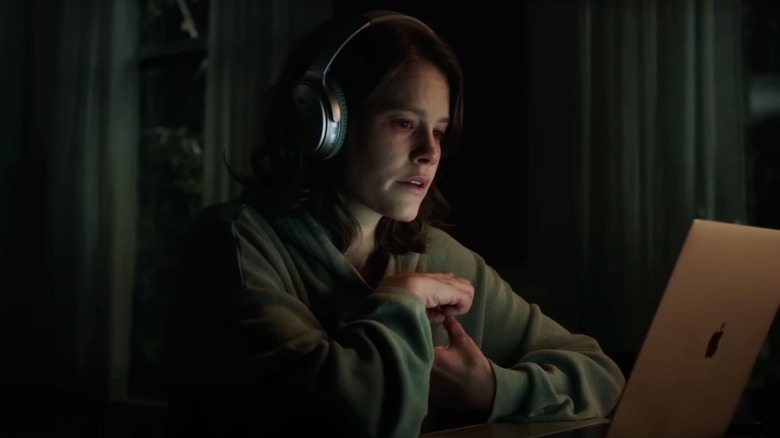 Paramount Pictures
Our own Chris Evangelista's review of "Smile" out of Fantastic Fest, where the film made its world premiere, called it "somehow both effectively creepy and almost comically derivative." He listed off other horror movies like "The Ring," "The Grudge," "Oculus," "It Follows," and "The Night House" as examples of some of the influences "Smile" wears on its sleeve. /Film's Jacob Hall was slightly more positive in his appraisal, saying that what "Smile" lacks in originality, it makes up for by being "the best kind of pretty good, a horror movie that follows a well-trod formula but follows it so well that its predictability acts as a comfort."
On Rotten Tomatoes, meanwhile, "Smile" shows a rare bit of agreement between audiences and critics, who have left it with an aggregated review rating of 78% and 79%, respectively. If you're like me and don't live near a theater where "Smile" has played yet, you can finally check out what all the hubbub is about when the movie goes digital this week. Here's the official synopsis of "Smile" via Paramount Pictures:
After witnessing a bizarre, traumatic incident involving a patient, Dr. Rose Cotter (Sosie Bacon) starts experiencing frightening occurrences that she can't explain. As an overwhelming terror begins taking over her life, Rose must confront her troubling past in order to survive and escape her horrifying new reality.
"Smile" hits Paramount+ and digital platforms in the U.S. and Canada this Tuesday, November 15, 2022. It will be available across most international Paramount+ markets in 2023.