Michael Bay Didn't Give Anthony Mackie Much Time To Prepare For Pain & Gain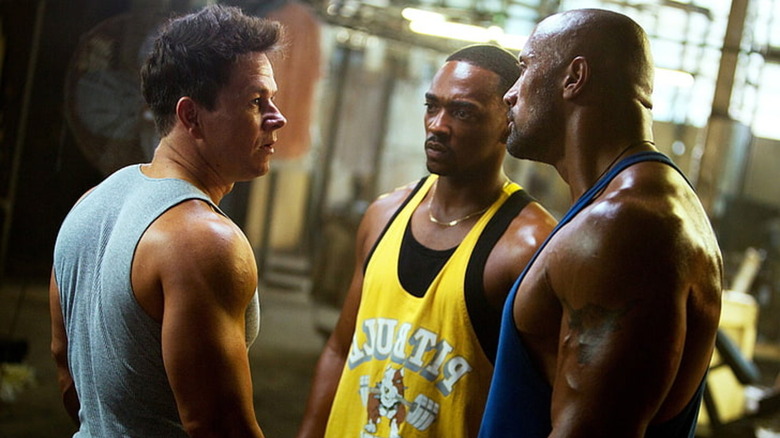 Paramount Pictures
Anthony Mackie manages to keep a strict diet and workout plan for his "Captain America" roles; we expect nothing less than tip-top shape from our superheroes. But years before Mackie took over as Captain America, he found himself rushing against the clock to bulk up for Michael Bay's 2013 action comedy flick "Pain & Gain."
In the movie, which is set in Miami, Mackie is no hero. He plays Adrian Doorbal, a gym rat who suffers from steroid-induced erectile dysfunction and shrinkage. When he learns an injection that would cure his below-the-belt troubles is too expensive, he joins Daniel Lugo, a formerly incarcerated fitness trainer who puts his second chance at freedom on the line by concocting a plan to kidnap and extort one of his wealthy clients, Victor Kershaw (Tony Shalhoub). Together, Daniel and Adrian recruit Paul Doyle (Dwayne 'The Rock' Johnson), another formerly incarcerated bodybuilder and born-again Christian with a cocaine addiction. 
Based on a true story from the '90s, the movie's stranger-than-fiction plot is like "Hustlers," but with beefed-up muscleheads doing the scamming instead of glamorous pole dancers. When Mackie got the part of Adrian, he had little to no time to celebrate. "I only had three weeks before I started shooting, Mackie told the Chicago Tribune in a 2013 Q&A. "So I did a pretty intensive workout." His regimen, however, didn't quite measure up to those of one of his co-stars.  
Anthony Mackie challenged The Rock and lost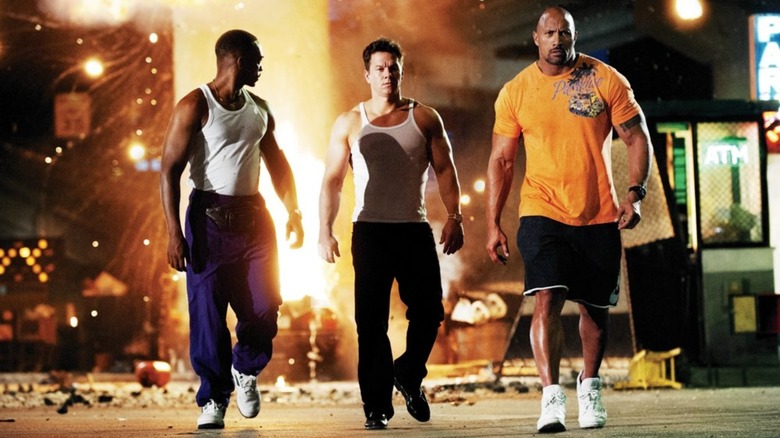 Paramount Pictures
In the movie, when Daniel and Adrian recruit Paul to be their third and final accomplice, Adrian inspects Doyle's body in awe and peppers him with questions: "How many grams of protein do you eat? ... Amino acids after you work out or before? ... Do you do like fruit smoothies or just like soy milk?" Mackie should've asked The Rock those questions in real life. Dwayne Johnson went out of his way to help his "Black Adam" co-stars shine, so I'm sure he would've done the same for Mackie. But "The Falcon and the Winter Soldier" star didn't ask for help. Instead, he issued a challenge. He told the Chicago Tribune:
"So I see Dwayne, I go up to him, I'm like, 'What's up, man?' He goes, 'Yo, what's up.' I'm like, 'I just signed onto 'Pain & Gain."  He's like, 'Oh, good for you.' 'Oh, good for me? Good for you.' [Laughs.] He looks at me and I was like, 'Yeah, I'm hitting the gym, kid. I'm going to be bigger than you when I show up to set, so get ready.' And he goes, 'All right, man, good luck with that.' [Laughs.] I'm like, 'I'm going to give this dude the business!'"
Though he gained 17 pounds of muscle, give The Rock the business he did not. "I got up to 213 pounds. I show up to set and dude is like 250," Mackie said. "Put it this way: Standing next to Dwayne, a friend and I made a joke: If he's the Rock, my nickname is the Pebble."
Challenging The Great One is never a good idea, especially not during the year when he's training for a WrestleMania showdown with The Peacemaker John Cena. What was Mackie thinking?