The Talented Mr. Ripley Was A 'Life-Changing' Role For Jude Law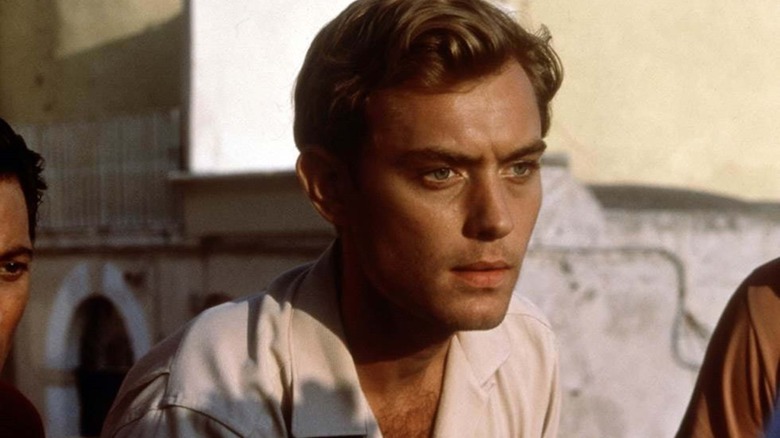 Paramount
Anthony Minghella's 1999 film "The Talented Mr. Ripley," based on the novel by Patricia Highsmith, is one of the best films of its year. Its title character, played by Matt Damon, is an intelligent, impulse-driven nerd who finds that lies can sometimes get him small things in his life. Soon, he learns that he has a talent for impersonation, fakery, and crime. He takes no glee in what he does, and spends the bulk of the film panicked and guilty, but manages to keep his wits enough to elude capture. By the end of the movie ... well, perhaps one should watch the film to find out. 
The thing Tom Ripley wants more than anything is the company of Dickie Greenleaf (Jude Law) an old schoolmate who he wasn't friends with. Dickie's father (James Rebhorn) has hired Tom to find Dickie, who is currently wasting his father's fortune and generally being prodigal on the beaches of Italy. Tom more or less falls in love with Dickie, something Dickie's girlfriend Marge (Gwyneth Paltrow) seems to have picked up on. The relationship between the film's two central male characters is by turns friendly, antagonistic, fraternal, distantly sexual, and ultimately quite dark. 
Law had already appeared in a dozen films when "Mr. Ripley" was released, including "eXistenZ" for David Cronenberg, "Midnight in the Garden of Good and Evil" for Clint Eastwood, and "Gattaca" for Andrew Niccol. He was well on his way to being one of the most ubiquitous actors in Hollywood. In a 2016 interview with Esquire, however, Law said that "Mr. Ripley" marked a turning point in his career. Nothing, he said, brought him quite as much attention.
Dickie Greenleaf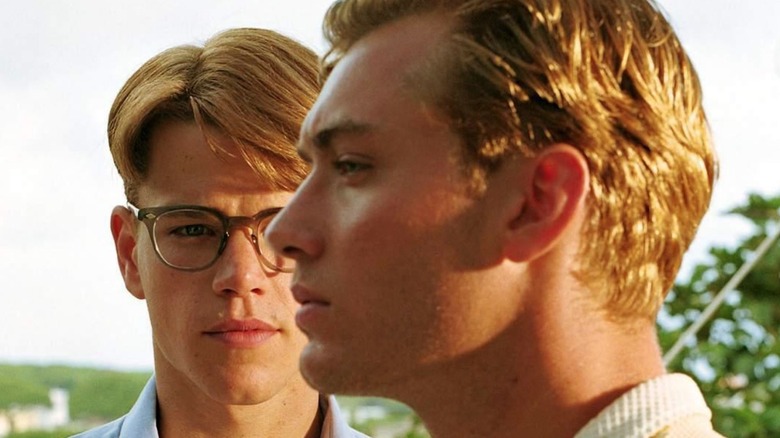 Paramount
To elucidate further for a moment, Dickie Greenleaf is the ultimate Bohemian. His hair is frosted blonde by the Italian sun, he lives well (on his father's money), and believes in freedom and hedonism. He is a daring and aspiration figure for the 1950s, and it's easy to see why Ripley would become so obsessed. Law doesn't just play a role, but embodies a certain form of upper-class luxury that, darn it, is insanely appealing. Dickie was the real-life version of the character one sees in ads for $10,000 wristwatches. Law saw that audiences were reacting to his character that way. He said:  "People thought I was Dickie Greenleaf. They assumed I was on a yacht, playing a saxophone. Me and Simon Le Bon [of Duran Duran]."
Law felt, with Ripley, he was surrounded by some of the biggest, most award-winning-est crowd out there. He called the film:
"Life-changing. Just in terms of the scale of the attention, the caliber of the people I was suddenly rubbing shoulders with in the business: Anthony had won nine Oscars, Matt had just won an Oscar, Gwyneth was about to, Cate [Blanchett], Philip [Seymour Hoffman] ... All of them had a lot of attention and I was in with them. And it intensified the spotlight on me. Work-wise it was extraordinary: suddenly all these directors who you hope to work with one day are calling you because you're the new person on the block. You're fresh meat."
In the next ten years, Law would work with Steven Spielberg, Sam Mendes, David O. Russell, Mike Nichols, Martin Scorsese, Wong Kar-Wai, Kenneth Branagh, Terry Gilliam, and Guy Ritchie. He would become part of the Marvel Cinematic Universe as well as Harry Potter. 
Law, it seems, now lives Dickie's glamour for real.