Studio Ghibli Gives Us Another Reason To Love Baby Yoda With Zen - Grogu And Dust Bunnies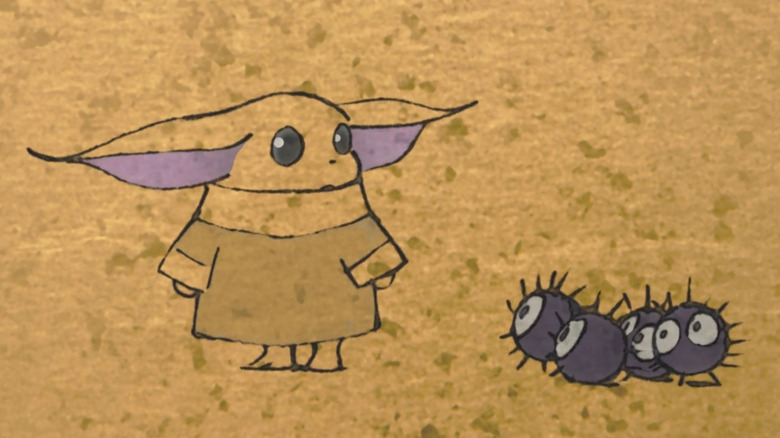 Lucasfilms
How much cuteness can a three-minute short contain? Yesterday, the answer to that question might have been different, but then two very powerful studios (each with a long history of characters known to inspire plushies) decided to surprise us with the world's most adorable collaboration. 
Earlier this week, Studio Ghibli took to Twitter to tease a team-up with Lucasfilm. After triple checking the legitimacy of said tweet, the internet got overhyped on speculation. Thank God they only let our imaginations run wild for a couple of days, otherwise the reality might have been a major letdown. It turns out the actual announcement was much simpler than we realized: a three-minute short to mark the three year anniversary of "The Mandalorian."
While it's not the large scale collaboration that fans envisioned, "Zen – Grogu and Dust Bunnies" does tick many of the boxes that we hoped this dream team would achieve. Longtime Ghibli director and animator Katsuya Kondō ("Kiki's Delivery Service," "Ocean Waves") has waded into the wondrous world of "Star Wars" through the eyes of Grogu aka the beloved Baby Yoda. The little guy's childlike innocence is a perfect match for the whimsical hand-drawn animation. It may be minimalist, but it's full of life. Even the music feels like the perfect marriage of the two studios, twinkling on in the background as Grogu meets his adorable match: the fuzzy, black Susuwatari (soot sprites).
The beginning of a beautiful friendship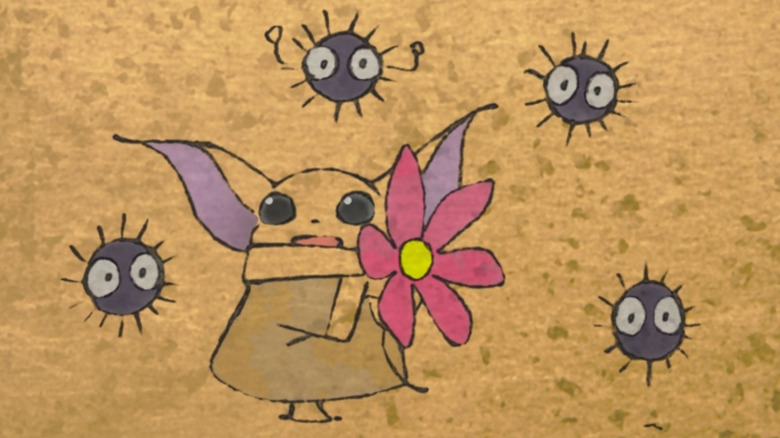 Lucasfilm
As expected, "Zen – Grogu and Dust Bunnies" is short and simple. But in typical Ghibli fashion, there's beauty in that simplicity. The short sees Grogu trying to meditate in peace, unaware that he's caught the attention of some very curious and bouncy dust bunnies. Maybe they're fascinated by his connection to the Force. Maybe they realize that they've somehow crossed over from one cinematic universe to another. Or maybe, like a good chunk of the world, they just can't resist how cute Grogu is. Whatever the reason, a soot sprite lands atop Grogu's head.
While Grogu initially finds their presence alarming — walking, then running away — the misunderstanding is quickly resolved. It turns out the soot sprites just wanted to gift the little green Jedi with a beautiful flower. Are you crying yet? Well you should be, because the world is routinely terrible and this is an unquestionable source of joy. Between Kondo's animation and Ludwig Göransson's music, this short is criminally sweet.
I can say this for sure — the Grogu naysayers who see the little Jedi as an excuse for merch are not gonna like this one. Now it's two times the trouble: Grogu and his new soot friends are bound to make the masses squeal with joy. Every single still from this short is just begging to inspire a laptop sticker, new tattoo or a cozy sweatshirt. Luckily, "Zen" is just wholesome enough to make me ignore the bleak implications of yet another brand crossover from Disney+. There's no time for pessimism when Grogu is onscreen!
More of this, please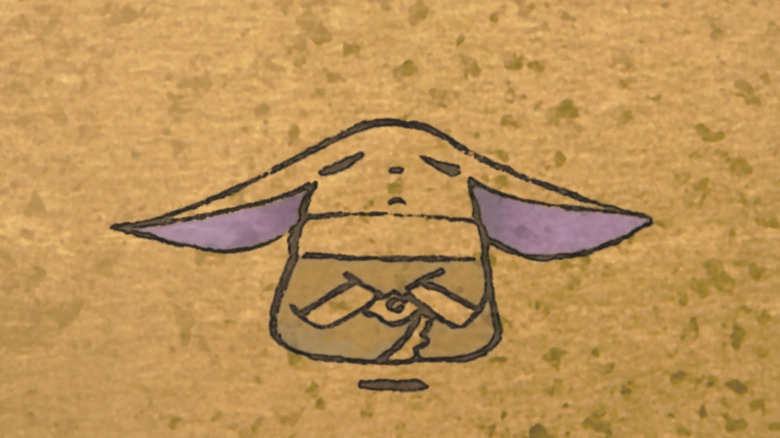 Lucasfilm
If nothing else, "Zen – Grogu and Dust Bunnies" is a short and heartwarming Saturday morning cartoon — though you'll get through it before you can even make a dent in your cereal bowl. But if we're very lucky, this is just the first chapter for something much bigger. Perhaps this animated short will open some doors for the future. Now that these two grand entities have shared a table to forge a friendship between Mando's little green guy and Chihiro's dusty buddies, maybe there's even more looming on the horizon — like the "Star Wars: Visions" episode that everyone assumed this team-up would be. Or even the feature-length animated "Stars Wars" movie of our dreams. A girl can hope, right?
Until then, Grogu will return to our screens some time in 2023, for "The Mandolorian" season 3.