A Wounded Fawn Trailer: A Killer Cat-And-Mouse Game With A Surrealist Twist Hits Shudder In December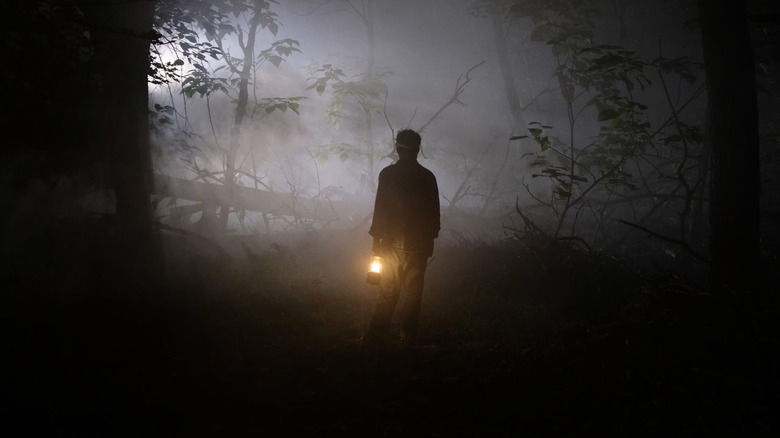 Shudder
If you haven't already noticed, Shudder has been on a roll with its original acquisitions this year. From "Mad God" to "Resurrection" and everything else in between, it has proven itself as the premier horror speciality streamer. Now, it looks to add to its increasingly demented collection with Travis Stevens' surrealist rollercoaster "A Wounded Fawn."
You think you might know where this movie is going based on the first half of its new trailer. An obviously creepy man (Josh Ruben) lures an art collector named Meredith (Sarah Lind) to his secluded cabin in the woods. When she realizes that he may have sinister motivations, their dangerous cat-and-mouse game commences. However, there's something much more sinister going on behind this conventional plot, if the bizarre imagery involving demons and snakes throughout the trailer proves anything.
"A Wounded Fawn" had its world premiere earlier this year at the Tribeca Film Festival before screening at Fantastic Fest and FrightFest London. /Film's Chris Evangelista called the film "wholly unique and wonderfully disturbing" during this festival run, and if that doesn't get you hyped, then what will?
Watch the trailer for A Wounded Fawn below
Yeah, count us in for this wild ride. Stevens is mostly known for producing such movies as "Jodorowsky's Dune" and "Buster's Mal Heart," but he's made some big strides in his directing career. Although his directorial debut "Girl on the Third Floor" is a bit divisive among horror fans, his second film, last year's "Jakob's Wife," is a delight. Here's hoping he knocks it out of the park this time around.
Joining Ruben and Lind on this venture are Malin Barr, Katie Kuang, Lakshmi Hedemark, Tanya Everett, Neal Mayer, Leandro Taub, Marshall Taylor Thurman, and Nikki James. In addition to directing, Stevens co-wrote the film with Nathan Faudree, as well as serving as one of its producers. Other producers include Joe Barbagallo and Lee Forsyth. The film's eerie score, which was previewed in the trailer, was composed by Vaaal.
"A Wounded Fawn" hits Shudder on December 1. In the meantime, check out the streamer's official synopsis below:
"A Wounded Fawn" follows the story of Meredith Tanning, a local museum curator who is dipping her toe back into the dating pool, only to be targeted by a charming serial killer. When a fateful romantic getaway between the two becomes a tense game of cat and mouse, both must confront the madness within him.