Ron Howard Rescued Jason Bateman From A Career Slump In More Ways Than One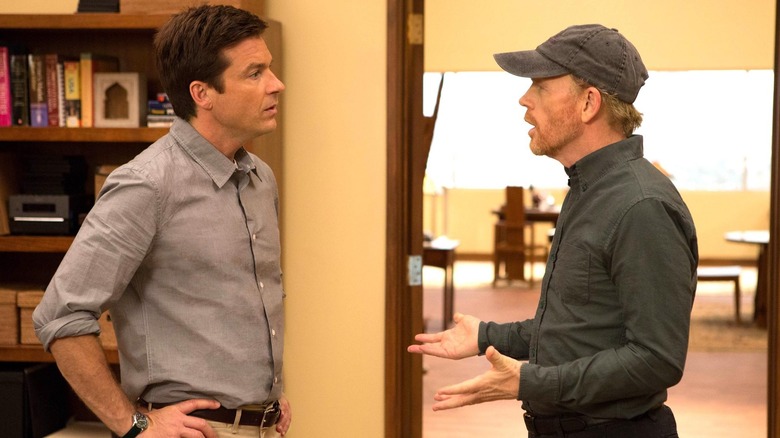 Netflix
Hollywood is an unforgiving place for children and teens, and there are plenty of cautionary tales that serve as evidence. For every Neil Patrick Harris, there seem to be a dozen who struggle. It's been proven time and time again: Hollywood is not a place where children thrive.
Fortunately, the statistics can be overcome. Director Ron Howard might as well be the flagbearer for child stars who transitioned to successful, well-adjusted adults in Hollywood. He might have had a leg up as both of his parents were in the industry, but Howard made his onscreen debut at the tender age of 1 in the film "Frontier Woman." As a child actor with a distinct mop of red hair and a freckled face, he was best known as Opie Taylor on "The Andy Griffith Show" and Richie Cunningham on "Happy Days."
As an adult, Howard would transition to behind the camera, becoming a revered writer, producer, and Oscar-winning director. Though as Jason Bateman can attest, Howard's most important work might be providing a successful model for young actors to follow.
'I'd go in there and I'd be acting twice'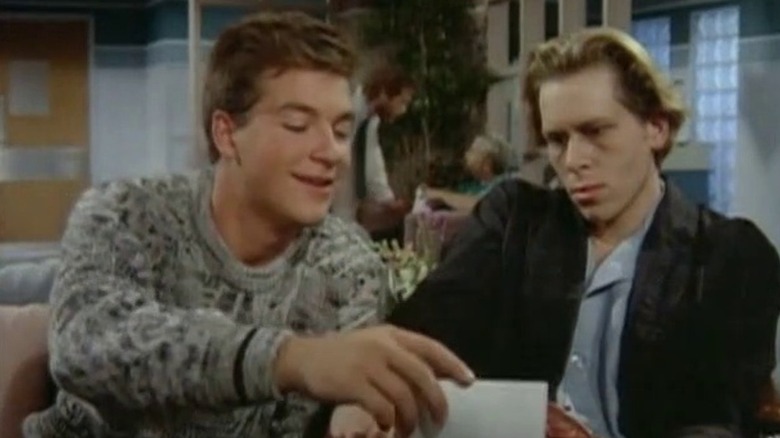 NBC
Like Ron Howard, Jason Bateman had Hollywood in his blood (his father Kent was a producer on "Teen Wolf Too") and made an early name for himself through television. He first broke into the industry with spot appearances on "Little House on the Prairie" and "Silver Spoons," and then nabbed a starring role in the NBC sitcom "The Hogan Family." But after his early TV success, Bateman found himself struggling with auditions. He told GQ in 2013:
"I remember when things were really dry for me in my twenties [...] I was really having a hard time with, literally, how to behave at an audition. Your natural instinct is to go in there and let them know how much you want it and be affable and be ambitious. Yet in this business, much like high school, a sexy indifference will go a long way, sort of that playing-hard-to-get thing. I never wanted it more, but I never felt more conflicted about looking like I wanted it. So I'd go in there and I'd be acting twice."
That's when Bateman looked to another former child star in Howard for direction. Bateman said:
"I remember watching him [Howard] be that famous, kind, affable, engaging, almost eager persona, and I remember thinking, 'Boy, you know, there's no way anybody would ever misinterpret that kindness for weakness.' And I thought to myself, 'If I'm ever lucky enough to find some relevance again and some access and some success, that's going to be the best part of it, is that I'm going to be able to be as nice as I want to be and not be nervous that's going to be misinterpreted for desperate.'"
Bateman would eventually find his footing, and he would again have Ron Howard to thank for it.
Bateman credits Howard for his comeback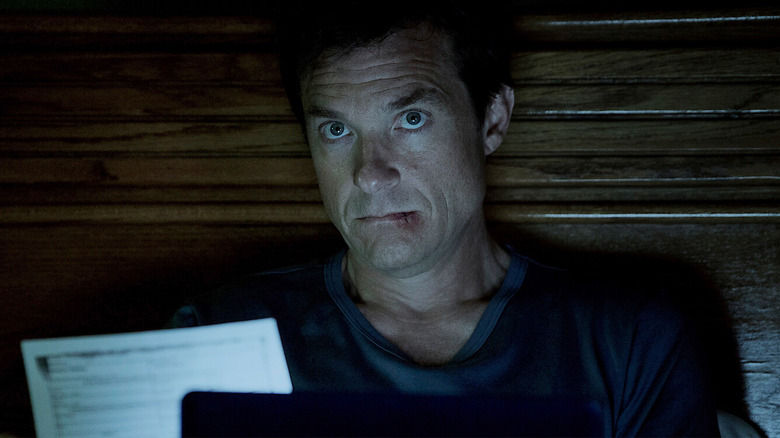 Netflix
Jason Bateman admittedly partied away the early part of his career, spending "10 or 15 years" making up for a lost childhood with his friends. After a lost decade, Bateman was ready to get back to work. And again, he found a mentor in Ron Howard.
In 2003 Bateman was cast as the lead character Michael Bluth in the Howard-produced Fox series "Arrested Development." The show was an overnight hit and won five Emmys in its first season. Bateman credits the series for his comeback, and said as such in an interview with The Guardian:
"I will always respect the access and relevance that that show gave me, and try not to take that for granted again, and do everything I can to earn this place in the business that I love. It created an environment; I loved going there every single day."
Bateman worked his way up to leading man status after "Arrested Development" and a string of successful movies that included "Horrible Bosses" and "Identity Thief." The actor, known for playing the affable straight man, showed off his dramatic range in the dark Netflix series "Ozark" where he plays a family man-turned-money launderer who embeds himself in a Mexican cartel.
And like Howard, Bateman has successfully transitioned to work behind the camera. In 2013, he directed "Bad Words," his first feature film. In 2019 he won an Emmy for Outstanding Directing for a Drama Series for his work on "Ozark." Howard's influence is not lost on Bateman. "I've literally walked him through this long-winded story," Bateman said recalling a conversation with Howard. "It was just really, really nice to be able to do that and to have him be a mentor and a friend and then obviously such a huge part of what a career-defining job for me was on 'Arrested Development.'"