Daniel Craig Had To Run While Injured During One Of Skyfall's Best Scenes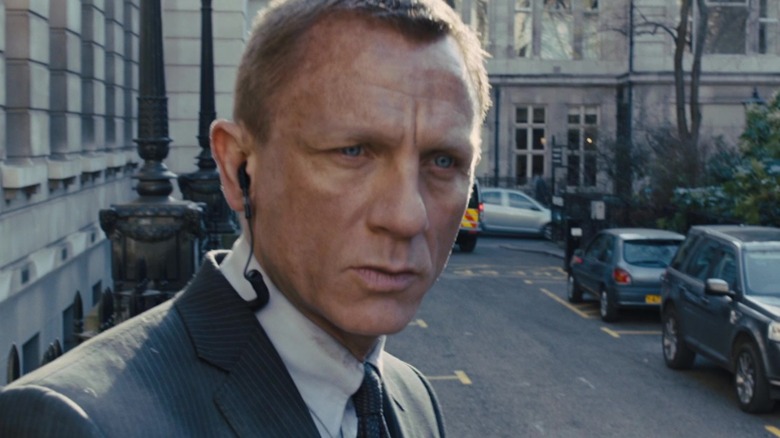 Columbia Pictures
As ridiculous as it might sound, James Bond sets seem to be cursed. Roger Moore found himself in the hospital on day one of filming "Live and Let Die," Pierce Brosnan was injured in a "GoldenEye" fight, and Sean Connery was almost killed by a careless helicopter pilot on the set of "From Russia With Love." It isn't just the Bond actors who find themselves in dangerous predicaments, either — Daniel Craig accidentally broke David Bautista's nose on the set of "Spectre" (a situation that understandably left Craig worried about his own safety, too). I'm not one for superstition, but after a certain point, you have to wonder how all these injuries keep happening — and how much the insurance costs.
Unfortunately, Daniel Craig has suffered more than his fair share of Bond-related injuries. The actor tore the cartilage in his shoulder while filming "Quantum of Solace," ruptured his calf muscles on the set of "Skyfall," and injured his anterior cruciate ligament so badly while filming his "Spectre" fight with Bautista that he had to wear a knee brace for the rest of the shoot. To their credit, the film crews generally tried to accommodate his injuries: rehab time was added to the "Skyfall" shooting schedule and the knee brace was edited out of "Spectre" in post-production. However, that certainly didn't mean that things were always easy for the actor.
Running through the chaos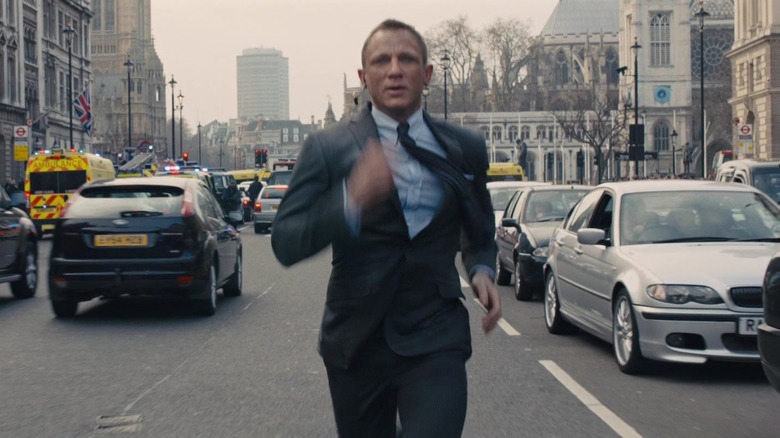 Columbia Pictures
The "Skyfall" team tried to work around Craig's injuries (and rehab schedule), but the Bond actor still had at least one particularly painful scene to shoot. Now, "Skyfall" has just celebrated its 10th anniversary, so you'd be forgiven if the details are a little fuzzy. But one of the most memorable moments (at least to my mind) is a masterclass in intercutting — the movie alternates between a murderous villain and desperate hero, both of whom are equally determined, all while M (Judi Dench) gives a dramatic speech about the importance of MI6 and quotes Alfred Tennyson's "Ulysses." It's a tense scene: Bond races to stop Silva (Javier Bardem), but with so many disorienting cuts (and a monologue about humanity's failing strength), we have no way of knowing whether the superspy will actually succeed. Bond looks just as frustrated, his brow furrowed and an intense look of concentration plastered on his face.
Given Craig's on-screen track record, it's tempting to chalk his pained expression up to acting. Unfortunately though, there's a much less pleasant explanation: as director Sam Mendes revealed on the film's commentary track, Craig was still injured when the scene was filmed and "had to run through quite a lot of pain."
Now, there's no doubt that Craig is a devoted actor. Just look at all the 007-related injuries he had to endure or the fact that he underwent extensive voice training to relearn his "Knives Out" accent for "Glass Onion." Still, the fact that he agreed to run in the scene despite the fact that calf ruptures leave people "unable to walk pain free" (let alone run) and frequently require "surgery followed by a twelve-week rehabilitation program" is truly a testament to how committed the blonde Bond was.