Skyfall Was Filmed In Sequence, So Judi Dench's Last Moment As M Was Truly Her Final Scene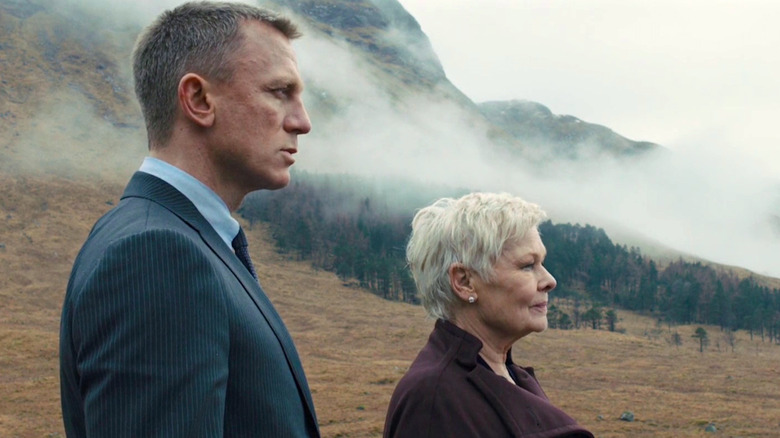 Sony Pictures Releasing
Only a handful of people have had the honor of taking on the role of the head of MI6. Known to fans of the James Bond franchise only as "M" the character has been played by four different actors over the course of Eon Productions' Bond films. Dame Judi Dench, who has held the role of M in seven of the super-charged spy films based on the books by Ian Fleming, is the only woman to ever take on the part. She makes her first appearance in the 1995 Martin Campbell-directed "GoldenEye," in which M is put in charge of Pierce Brosnan's Bond, and she brings a fierceness to the character that she carries through each of the subsequent films. 
When 2006 saw the semi-controversial introduction of a new Bond, Dench still remained in her role as director of Britain's secret service. Almost immediately though, M finds herself in troubling waters in "Casino Royale" when Bond — played by, depending on who you ask, a too-blonde Daniel Craig — embarrasses her by getting captured on film needlessly killing a man within the sanctuary of an embassy. M's role at MI6 is thrown into question due to her rogue agent, and so begins the magic of Craig's Bond/M relationship that is largely based on f*** ups and forgiveness.
It isn't until director Sam Mendes' first installment in the Bond franchise, "Skyfall," — which celebrates its 10-year anniversary this week — that Dench's reign as M came to a close. Remarkably though, Mendes and his crew were able to give Dench a poetic final send-off deserving of only the best.
Art imitates life
Sony Pictures Releasing
In the commentary for "Skyfall," Mendes details all sorts of interesting facts about the production of what some consider the best Bond film ever made (I'm more of a "Casino Royale" kind of girl, but "Skyfall" certainly is good). In the movie's final scenes when Raoul Silva (Javier Bardem) finally gets his hands on M, viewers are treated to a heightened exchange between the two. Silva, a rogue MI6 agent, has been desperately trying to capture and kill M for some time. His anger at M over what he feels is a deep betrayal fuels their scene, but just when it seems like the two are fated to die together, Bond arrives to save the day ... sort of. 
Even though Bond saves M from Silva's final blow, he cannot save her from her wounds leading up to this moment. She dies lovingly in Bond's arms, her final words — "I did get one thing right..." — perfectly bringing a close to the pair's heartfelt relationship. And what a close it is because the scene, which is M's last in the film, also happens to be the last scene Dench ever shot for the Bond series. 
Mendes explains in the commentary that the entire film was "shot in order," and that this "was Judi's last scene for real." Because of that, "there was a great intensity on set," but the beauty of her final scene doubling as her final scene for a franchise to which she dedicated 17 years of her life cannot be denied. Just like M, Dench got it right indeed when she signed on to be one of 007's most beloved handlers.