Andrew Scott Doesn't Have Many Fond Memories From His Time On Band Of Brothers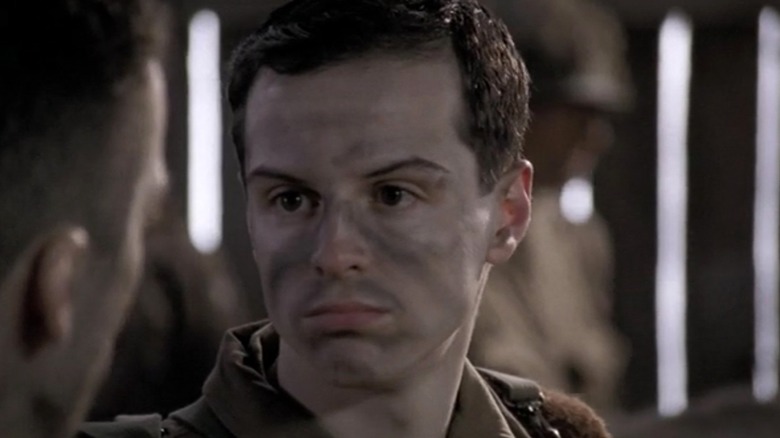 HBO
If you're not familiar with the name Andrew Scott, you've certainly seen him in something over the past 20 years. While many viewers may associate him with Jim Moriarty in "Sherlock" or his role as the Hot Priest in "Fleabag," his roles earlier on in his career were less memorable, but they were in notable projects like "Saving Private Ryan."
Coincidentally, many of Scott's earlier roles were somewhat connected to the setting of World War II. He plays a soldier in "Saving Private Ryan" and the mini-series "Band of Brothers," a sniper in the documentary "Killing Hitler," and even appears in a made-for-TV Disney movie about the rescue of Danish Jews in "Miracle at Midnight." All of the projects were wildly different, but all tackled stories set in the World War II era with aplomb.
His role as Private John "Cowboy" Hall in the 10-episode mini-series "Band of Brothers" was small, but Scott made the most of his single episode appearance. Given that all the characters in the series were based on real people during a particularly action-ridden time of European history, it can be assumed that some didn't meet happy endings, as is the case for Scott's Pvt. Hall.
However, Scott's time shooting that episode was memorable enough for him to reflect on while discussing a retrospective of his life. Unfortunately, his memories were far from pleasant.
'A particular atmosphere'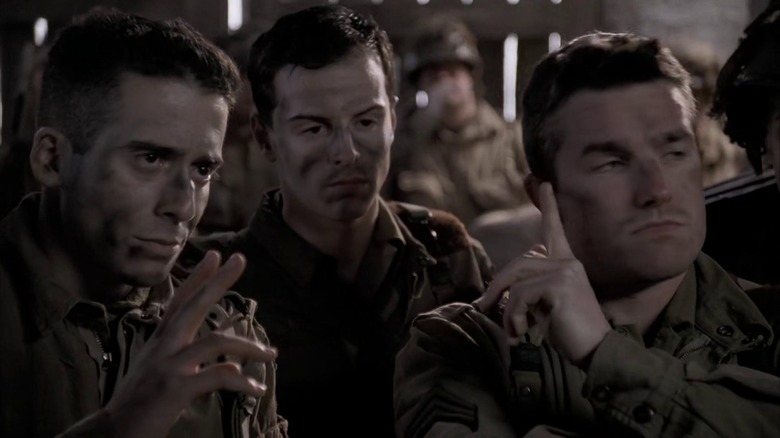 HBO
Whilst breaking down his career with Vanity Fair, Andrew Scott reflected on his time working on "Band of Brothers," and his memories of his experience weren't great:
"I didn't love playing a soldier. I found it difficult to be in 'Band of Brothers.' It's really important to me to have a sense of community on set. There was something about that that I found difficult in relation to, I think, the processes of some of the people involved were different to mine. I didn't think it was necessary to be in character all the time. There was an atmosphere that wasn't set up by anyone in particular that was just different to my own, and I think it's always interesting when you put one of the sexes all together. Whether it's all men or all women, it's a very particular atmosphere, and actually probably very helpful in relation to what it must've been like to go through that experience. But yeah, I just guess I'm not really that into weapons."
Scott isn't the only one who had difficulties on "Band of Brothers." In an interview with The Guardian, Dominic Cooper commented about his experience and its negative impact on his mental health. The difference was Scott had worked on sets prior whereas this was Cooper's first time on a set. Thankfully, Scott was slowly able to move away from all of the soldier roles that plagued him earlier in his career. From "Sherlock" to "Fleabag," he's managed to take on and embrace memorable roles that have pulled him far away from the battlefield.