Jonathan Majors Put Glen Powell Through 'Hell' During Their First Meeting For Devotion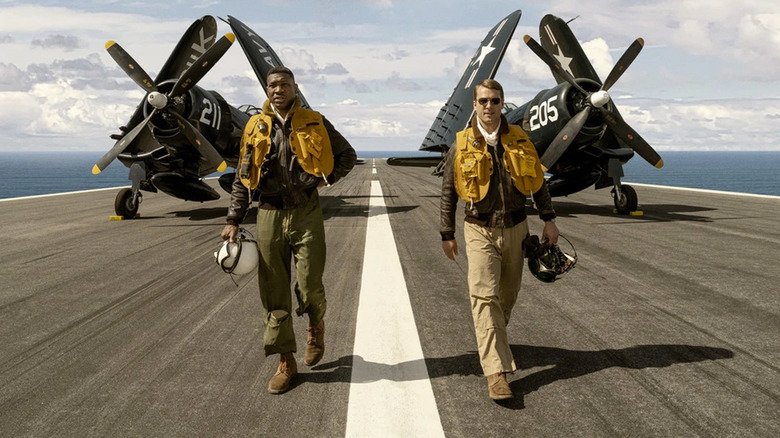 Sony Pictures
The story behind "Devotion" is one of courage, camaraderie, and allyship. It's the story of Jesse Brown, the first Black man to complete flight training with the U.S. Navy, his wingman Tom Hudner, and their partnership throughout the Korean War. There's a kind of pressure that comes with telling this story properly that Jonathan Majors and Glen Powell — who co-star in the film as Brown and Hudner, respectively — likely felt from the very beginning. Powell, who also serves as an executive producer on "Devotion," labored for years to get the film off the ground. His hands-on approach also extended to casting: as Majors recently explained on Jimmy Kimmel Live!, he was the second person Powell discussed "Devotion" with after director J.D. Dillard.
Normally, such meetings take place in a casual, unassuming locale, but Majors had a very different location in mind, one that would majorly test the mettle of his future co-star, and put both actors through "hell" in the process.
'It's hell ... but war is hell'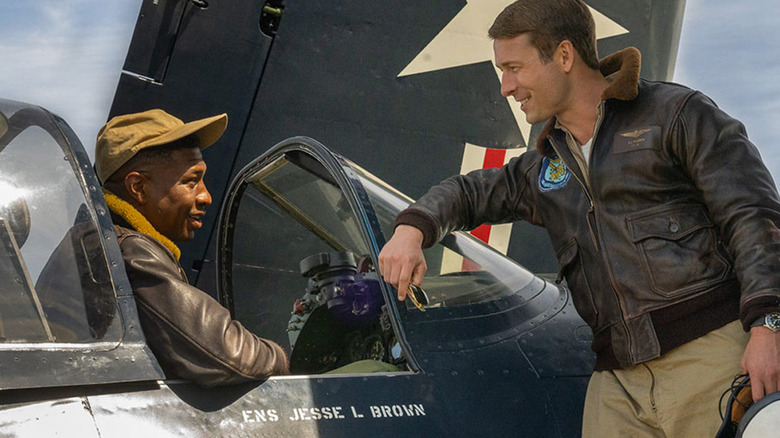 Sony Pictures
While the concept of Majors' meeting with Powell is more or less "standard procedure," Majors took an interesting approach to the whole affair. "We're in New York City at the time," the actor recalled, "and [Powell] wanted to meet, and I go, 'Yeah man, let's go to the Russian Turkish bathhouse.'"
For context, a Russian Turkish bathhouse is akin to a sauna or a steam room. Guests typically steam completely in the nude, and temperatures can climb upwards of 100 degrees. Not exactly standard procedure for a movie pitch. "It's hell," Majors admitted. "But, you know, war is hell."
Their first meeting wasn't exactly an audition for Majors, but the actor was definitely testing the waters when it came to a rapport with the "Top Gun" alum. "He showed up looking like a million bucks, like Hangman, with those piercing blue eyes and that brilliant smile," Majors recalled. "He was in his flight jacket — like, we get it, bro, you were in 'Top Gun,' cool. New movie." But whatever pretense was between them melted away after a few minutes in what Majors calls "the ninth circle of hell."
And the rest was history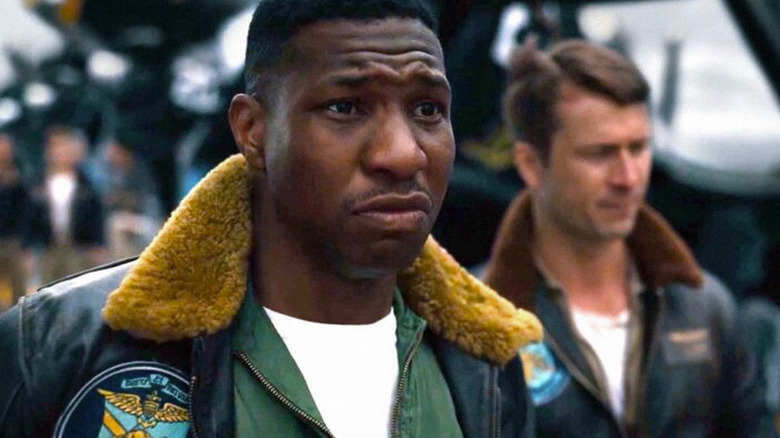 Sony Pictures
As unbearable as the temperature within the bathhouse might have been, Powell and Majors stuck it out long enough to discuss "Devotion" at length:
"We talked about the story and the relationship between Tom Hudner, who was Jesse Brown's wingman, and what the story meant. Again, this is the handshake for Jesse Brown. You know, no one's heard this story before. He is a hero. Actual superhero. And we sweated it out, we took a handshake, and then we went to the Ludlow House and had a few mezcal [shots]. And then we made a movie."
They say a friendship forged in fire can weather any adversary ... but what about one forged in steam? If the relationship that's grown between Majors and Powell — both off-screen and on — is any indication, it's just as strong a bond.