12 Shows Like Community That You Really Need To Watch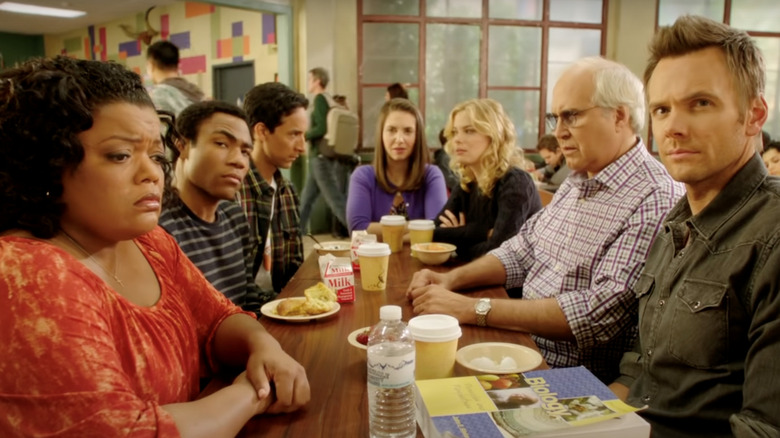 Sony Pictures Television.
Dean-dong! Attention fans of Greendale Community College. After a seven-year silence, lovers of Dan Harmon's heartfelt and beautifully meta series "Community" finally got the news they'd been waiting for ever since the phrase "six seasons and a movie" was first uttered way back in the show's second season. That's right. Earlier this year, Harmon officially sent the internet into a tizzy — well, the part that was already obsessed with his flight-of-fancy-loving study group — by revealing that a "Community" movie is officially on the way.
For those unaware of why this is such a big deal, do yourself a favor and revisit the "Rick and Morty" co-creator's much-loved 2009 series. In it, he introduced us to a classic sitcom formula (six strangers are thrown together by circumstance and eventually become unlikely BFFs) before swiftly skewering this familiar format and audience expectations. Instead, Harmon whisks us away on ingeniously written adventures that were frequently packed with pop-culture homages. Full of smart humor, smarter narratives, great characters, and memorable guest stars, "Community" quickly became many people's favorite show.
While news of a movie is undoubtedly a reason to celebrate, we still have a while before its stars and creator deliver the goods. So if you're looking for shows like "Community" to keep you busy until Greendale reopens its doors, here are a few that'll scratch that itch.
Parks and Recreation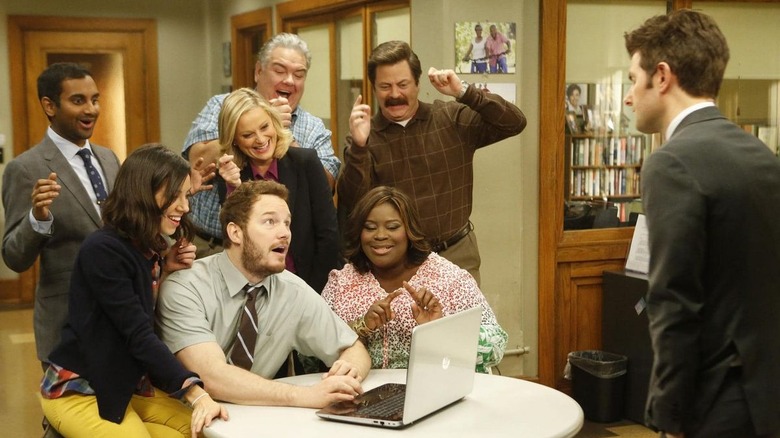 NBCUniversal Television Distribution.
Ditching the school setting for a local government office, Mike Schur's "Parks and Recreation" continued in the loose mockumentary-style framework made famous by America's take on "The Office," a show that Schur himself helped develop alongside Greg Daniels. Instead of following a bumbling office manager like Steve Carrell's Michael Scott, we get Amy Poehler's Leslie Knope, the perpetually optimistic director of the Pawnee Parks Department, who wants nothing more than to help her community achieve its full potential.
Flanking Knope is an array of colorfully lovable characters, including Aziz Ansari's entrepreneurial wannabe, Tom Haverford; Nick Offerman's all-American, mustachioed grump, Ron Swanson; Aubrey Plaza's constantly smirking April Ludgate; Chris Pratt's loveable moron, Andy Dwyer; and Rashida Jones as Lesley's lovely best pal, Anne Perkins. All of these faces form part of a larger series ensemble that, over time, not only become Lesley's surrogate family but our on-screen family, too, as we watch them travail career and personal highs and lows.
It's this element that perhaps best links "Parks and Recreation" with "Community." While its core elevator pitch may be different (and there's scarcely a pop-culture or movie reference in sight down in Pawnee), its writers' ability to make you truly care for its characters, flaws and all, makes Schur's hugely popular show sit comfortably next to Harmon's on any binge-watch list.
30 Rock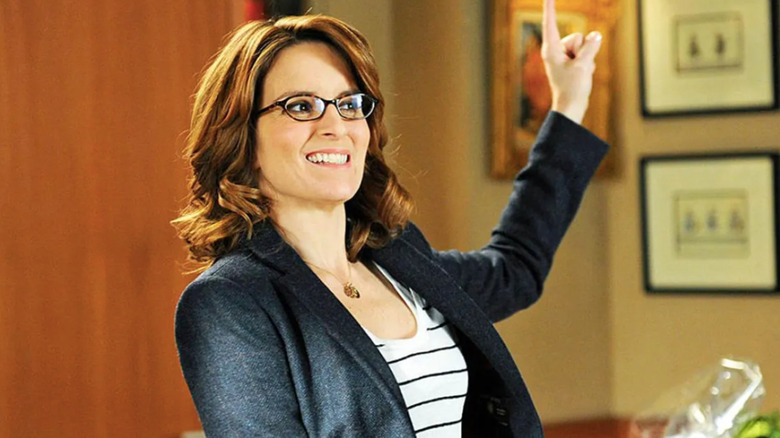 NBCUniversal Television Distribution.
Is there a smarter or more tightly-written show than "30 Rock?" This series surely has the most impressive joke-per-minute ratio of any comedy show going. Created by former "Saturday Night Live" head writer, Tina Fey, and produced by her old boss, Lorne Michaels, this show-about-a-show follows the day-to-day chaos of producing a weekly live television program named "The Girlie Show" ("TGS" for short). Fey stars as Liz Lemon, its constantly stressed showrunner who's always left to pick up the pieces whenever her two stars, Tracy Jordan (Tracy Morgan) and Jenna Maroney (Jane Krakowski), have a meltdown, a ridiculous star moment or frequently, both.
However, the real star of the series is Lemon's suave, slick, and suspiciously right-wing new boss, Jack Donaghy (Alec Baldwin), who's installed by the NBC big-wigs to try and make "TGS" more successful, regardless of the repercussions that has on its creative, artistic, or moral output. Toeing the line between being just sensible enough to believe while displaying more than a few outlandishly weird character traits, Donaghy is arguably the best thing Baldwin's done in the past few years. Throw him together with Lemon and her group of scruffy writers' room faces, and the end product makes for one of the most enjoyable viewing experiences ever that, like "Community," delivers razor-sharp humor and deftly-packaged gags.
Arrested Development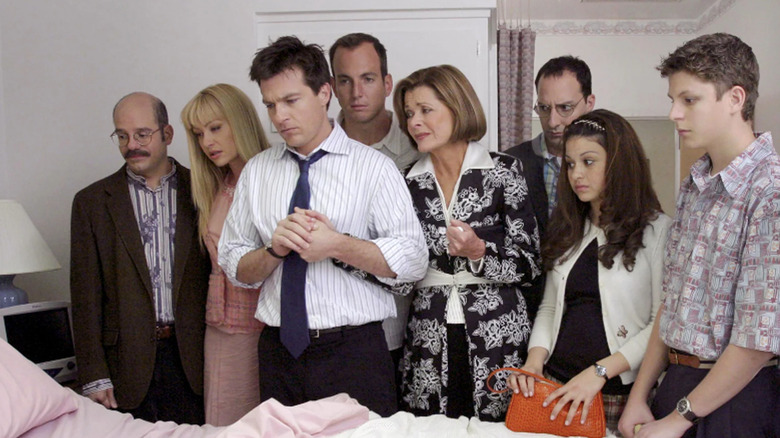 20th Television/Netflix.
Like "Community," Mitch Hurwitz's "Arrested Development" has had its fair share of trouble trying to stay on the air over the years. After debuting on Fox back in 2003, the show, which centers on a wealthy family and their struggles to hold on to their fortune and, at times, their dignity, managed three seasons before being axed in 2006. However, after developing a strong word-of-mouth following and getting critically reappraised by a new throng of fans that devoured it on DVD, "Arrested Development" returned for two subsequent seasons on Netflix, running between 2013 and 2019.
Likewise, it hasn't been smooth sailing for Harmon's "Community." Despite being originally commissioned by NBC in 2009, the series often struggled to prove its worth and was eventually canceled in 2014 after its fifth season. However, by this point, audiences had latched onto its popular "six seasons and a movie" mantra, and, thankfully, the show was snapped up by the short-lived Yahoo! Screen for its sixth and final outing just a few months after its initial cancellation. It's this same level of feverish fan adoration that brought "Arrested Development" back to life and what has ultimately led to Harmon's "and a movie" getting the green light. What's more, both of these shows are indelibly linked to their creators' unique minds and would likely not survive without them.
Scrubs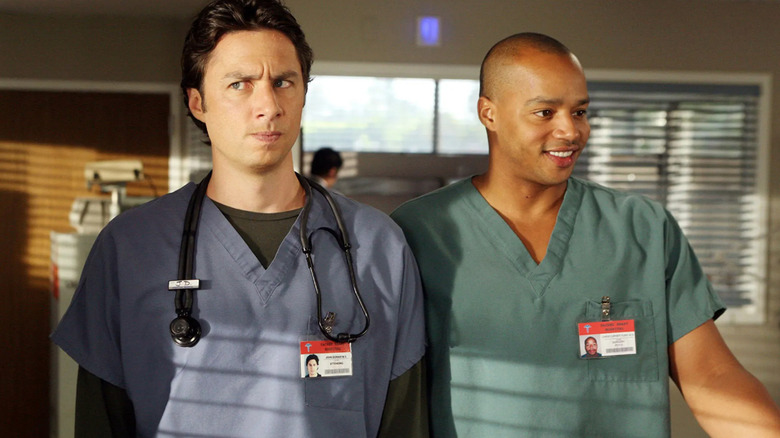 Disney–ABC Domestic Television.
Throughout the noughties, TV didn't get any better than "Scrubs." Created by future "Ted Lasso" mastermind Bill Lawrence and starring a then-unknown Zach Braff, the series focused on life in a busy hospital and provided a nice dose of levity to a medical world that, up until that point, had largely only been seen via the starkly real "E.R." Braff stars as day-dreaming manchild J.D, a newbie medical student who arrives at Sacred Heart Hospital; befriends fellow staffers Turk (Donald Faison), Elliot (Sarah Chalke), and Carla (Judy Reyes); and spends the majority of the show's lifespan trying to please his boss, Dr. Cox (John C. McGinley), and avoid an annoying Janitor (Neil Flynn) who may or may not be a figment of his imagination.
Like "Community," "Scrubs" didn't shy away from escaping into fictional or heightened-reality worlds whenever the notion took hold. Through his constant voice-over narration, almost every episode saw J.D transform into a living cartoon in cut-aways that underpinned the ridiculousness and sometimes down-right heartbreaking nature of his days working in a busy under-funded hospital. It even had its own themed episodes, with Season 6's all-singing "My Musical" echoing the far-fetched concepts frequently used within Harmon's own show.
Harmon even went on to use the vocal talents of one of Lawrence's "Scrubs" stars in the project he worked on after "Community," with Sarah Chalke appearing as the daughter of a mad, binge-drinking scientist in "Rick and Morty."
What We Do in the Shadows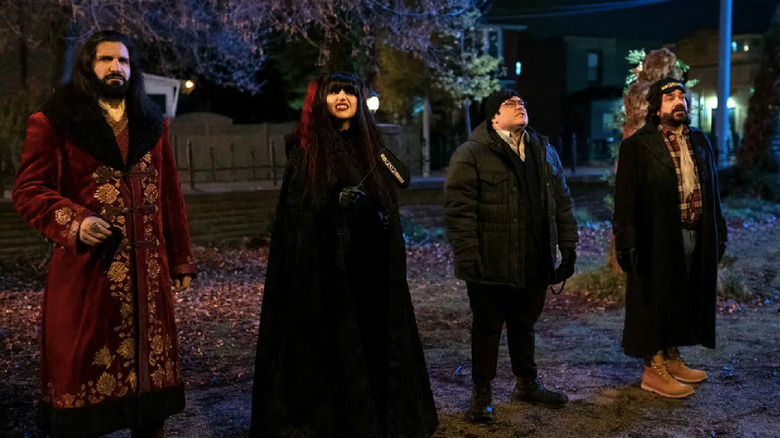 Madman Entertainment/Unison/Paladin
Speaking of "Community's" fondness for heightened reality, things don't get any more outlandish than "What We Do In The Shadows." A spin-off of Jemaine Clement and Taika Waititi's 2014 mockumentary of the same name, this small-screen iteration of the duo's kitchen-sink supernatural comedy boasts an impressive cast and has quickly become one of the most popular (and quotable) shows currently on the air.
Much like its big-screen sibling, "What We Do in the Shadows" follows a quartet of barely-functioning vampires who share a house (in Staten Island for the TV version). Throughout its four seasons, we've so far watched Nandor (Kayvan Novak), Laszlo (Matt Berry), Nadja (Natasia Demetriou), and Colin Robinson (Mark Proksch) drink blood, attend undead balls, avoid doing general housework, and even come face to face with the Vampiric Council, as these undead drop-outs try their best to spend eternity doing as little as inhumanly possible.
That said, their adventures have frequently brought them together with a host of characters played by a revolving door list of unlikely guest stars. Just as Dan Harmon would enlist the help of seasoned names (Jack Black, Brie Larson, John Goodman, and even Laszlo himself, Matt Berry) to fill Greendale's college halls, "What We Do in the Shadows" is no stranger to famous faces, with the likes of Danny Trejo, Mark Hamill, Tilda Swinton and even "Blade" himself, Wesley Snipes, making special appearances throughout the show.
Schitt's Creek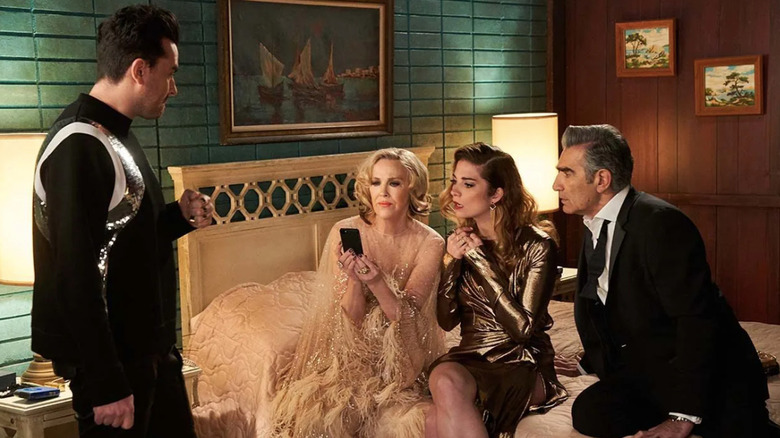 ITV Studios Global/Entertainment Debmar-Mercury/Lionsgate Television.
Throughout all of its paintball fights, Quentin Tarantino parodies, and pillow fort wars, "Community" has one thing at its core that underpins all of its out-there episodes: heart. Despite starting the series as a disgraced lawyer who's begrudgingly forced to re-do community college to rebuild his life, series lead Jeff Winger (Joel McHale) soon comes to not only like but truly care for his study group colleagues, proving that he's not the cynical and untouchable human island that he so eagerly wants people to think he is.
This slow evolution of acceptance of a new reality is something that also runs through another popular series that has become a hugely bingeable word-of-mouth hit, "Schitt's Creek." Created by the father and son duo of Eugene and Dan Levy, this small-town tale takes a super-rich, one-percenter family, strips them of their wealth and stature, and dumps them in the middle of nowhere. When we find the Roses, they're up the creek — literally. Having been left with nothing after a dodgy business deal, the family is forced to relocate to their sole surviving asset, a one-horse town named Schitt's Creek, which was bought as a joke during brighter days.
Despite finding nothing but strife in their sudden change of circumstance, the Roses soon come to love and cherish their new reality, making for a wholly heartwarming viewing experience.
It's Always Sunny in Philadelphia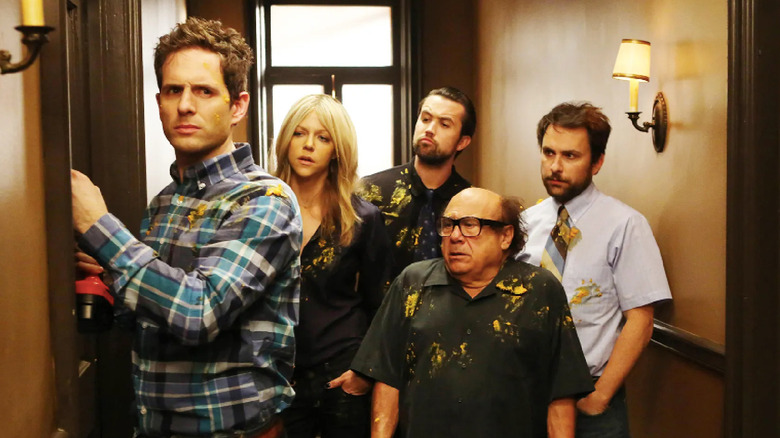 20th Television/Disney-ABC Domestic Television
We know, we know. There's considerably more screaming, debauchery, and down-right depravity in "It's Always Sunny in Philadelphia" compared to "Community." However, look behind the scenes, and you can definitely find some connective tissue between these two incredibly popular shows. If you're somehow unfamiliar with the longest-running live-action comedy to date, let us fill you in on the gist of the series. Co-created by stars Rob McElhenney, Glenn Howerton, and Charlie Day, "It's Always Sunny in Philadelphia" follows friends and bar owners Mac (McElhenney), Dennis (Howerton), Charlie (Day), Dee (Kaitlyn Olson), and Frank (Danny DeVito) as they do their best to systematically ruin the lives of everyone they come into contact with — purely by being the worst people imaginable.
On the surface, this base-level deviancy seems miles away from the crazy-yet-warm-natured ethos of "Community." However, both shows share a common thread in the form of writer Megan Ganz. "Sunny" fans will no doubt recognize her as the largely off-camera host of the "It's Always Sunny in Philadelphia" podcast. She's also the scriptwriter behind some of the series' most popular episodes, including "Dee Day" and all three episodes of Season 15's brilliant triple-hitter that sent the gang to Ireland. Ganz penned some of "Community"'s finest moments, too, including Season 2's bottle episode, "Cooperative Calligraphy," and Season 3's "Law & Order" spoof, "Basic Lupine Urology."
The Last Man on Earth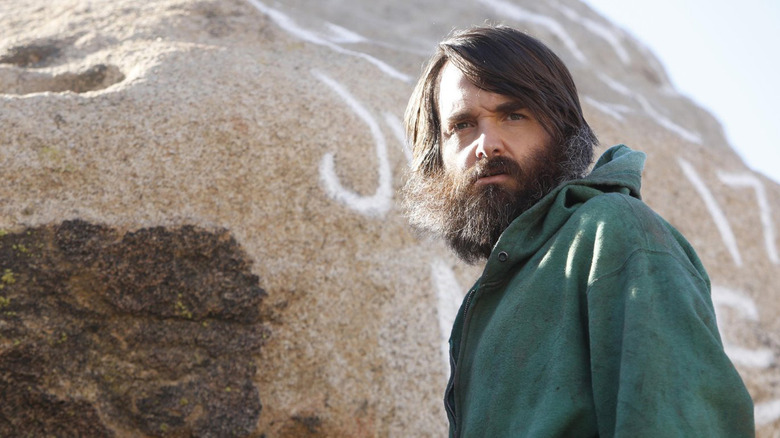 20th Television.
From one form of depravity to another, Will Forte's criminally short-lived comedy "The Last Man on Earth" should be on your must-watch list, regardless of its links to "Community." Thankfully, it does indeed share a bit of connective tissue that links it with Dan Harmon's hit series. Released in 2015, "The Last Man on Earth" sticks closely to its title to tell exactly the kind of story you might expect. After a mystery virus wipes out the majority of life on Earth, the apparent sole survivor, Phil Miller (Forte), spends his days doing exactly the type of thing any of us might do if we knew no one was around to watch or judge us.
With nothing but balls with faces drawn on them for company, Phil fills his home with priceless artworks, smashes expensive items, and fills paddling pools with margaritas before discovering that he may not be quite as alone as he once thought. Packed full of truly unexpected guest stars (no spoilers here, you'll have to watch for yourself) and full of smart and often weird humor, "The Last Man on Earth" once again puts the skills of former "Community" writer Megan Ganz to good work to churn out a show that's delightfully weird and frequently hilarious. Like "Community," it also slowly learns the importance of friendship, too, as the self-centered Phil is forced to reevaluate life after he's given an unexpected second chance.
Unbreakable Kimmy Schmidt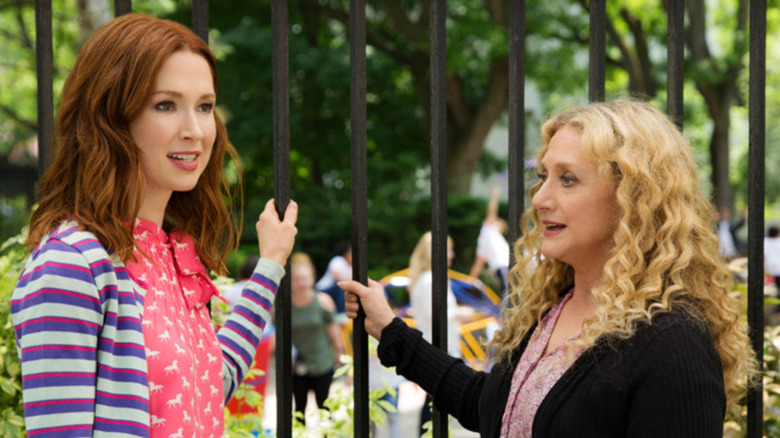 NBCUniversal Television Distribution.
Did we say "30 Rock" was the show that's the most tightly packed with spit-take jokes? Well, maybe we need to amend that to include Tina Fey's equally hilarious small-screen follow-up. Landing on Netflix back in 2015, "Unbreakable Kimmy Schmidt" continues in the same stylistic framework set by "30 Rock" and for the most part, plays like a show that could pretty much exist within the same universe that Liz Lemon and Jack Donaghy call home. Fey focuses on the titular Kimmy Schmidt (Ellie Kemper), a former Indiana Mole Woman who's spent 15 years trapped inside a bunker and held captive by a weird megalomaniac calling himself the Reverand (Jon Hamm).
After being set free, she relocates to New York City, where she meets wannabe actor Titus Andromedon (Titus Burgess), street-hardened landlady Lillian (Carol Kane), and rich mother Jacqueline (Jane Krakowski) and tries to make sense of the weird new world that she finds herself in. Arriving with a brilliant earworm theme tune created specifically for the series by viral content masterminds Songify This! "Unbreakable Kimmy Schmidt" is a bona fide mood lifter of a show that relies on smart writing and unfiltered silliness to get you smiling whether you like it or not. Much like Harmon's "Community," Fey's sophomore small-screen project is a treat that soothes the soul.
Spaced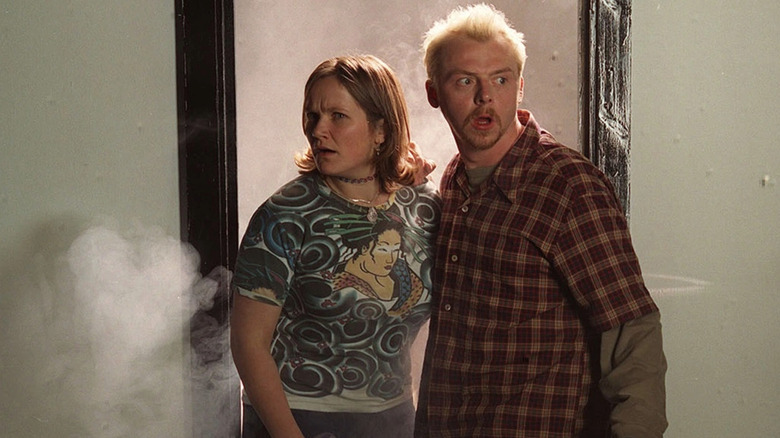 Channel 4.
From "Goodfellas" and "Die Hard" to Sergio Leone's "Dollars" trilogy and the iconic documentary work of filmmaker Ken Burns, Dan Harmon and his team of "Community" writers rarely missed an opportunity to get meta with pop-culture references. However, a decade earlier, British director Edgar Wright was doing the same thing in "Spaced." Released on Channel 4 in 1999, this heightened-reality show kickstarted the careers of Simon Pegg, Nick Frost, and Jessica Hynes while laying the foundation for Wright to launch his big-screen directing career.
Pegg and Hynes star as Tim and Daisy, two 20-something slackers who live in a tiny, dingey London flat and spend their days trying to realize their creative pipe dreams. Spoilers: They rarely manage to actually achieve this goal. However, what they do get to do a lot of is escape into fantasy at almost every available moment.
From classics like "Scooby Doo," "The Matrix" and "Commando" to "Robocop," "Grease," and "Close Encounters of the Third Kind," Wright's two seasons of "Spaced" provided him with the perfect chance to pay homage to the films and filmmakers that had influenced his career. If a recent "Community" deep dive has got you hankering for more shows with a soft spot for movie references, then this beloved British classic is sure to fit the bill.
Garth Marenghi's Darkplace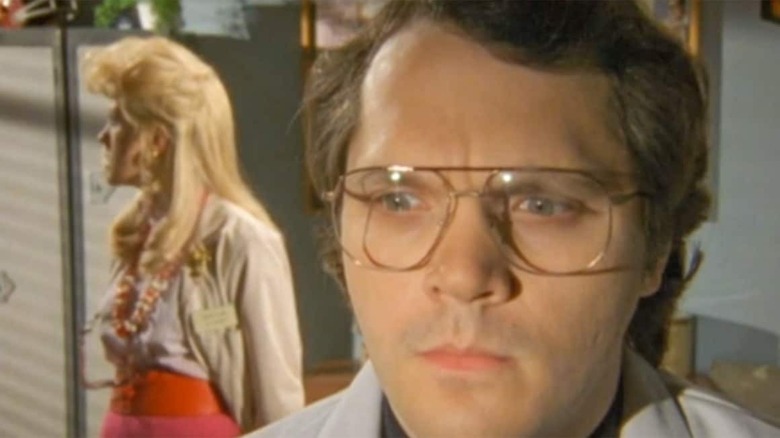 Channel 4.
Another cult hit offering from the comedy-nurturing ground that is Channel 4 in the United Kingdom, "Garth Marenghi's Darkplace" is one of the funniest shows on this list, and yet, it still largely flies under the radar of most. Created by comedians Matthew Holness and Richard Ayoade, it follows the fictional hack horror writer Garth Marenghi who, as the show explains, spent the 1980's writing, producing, starring in, and releasing his own equally fictional TV show named "Garth Marenghi's Darkplace."
Set in a hospital where supernatural happenings are never too far away, Marenghi plays physician and local hard-man Dr. Rick Dagless, who's accompanied by his producer Dean Lerner (Ayoade) who stars as his boss, Thornton Reed; fellow doctor Lucien Sanchez, played by "actor" Todd Rivers (Matt Berry); and the psychic Dr. Liz Asher, played by Madeleine Wool (Alice Lowe). As if all this meta, show-within-a-show send-up wasn't layered enough, Holness and Ayoade's comedy is intercut with faux-documentary footage of Marenghi and Lerner discussing the various trials and tribulations of bringing this low-budget "drama" to life.
Insanely quotable and deliciously weird, "Garth Marenghi's Darkplace" is a show that's worth your time whether you're a fan of "Community" or not. That said, if you're a fan of Dan Harmon's hit show, then you'll no doubt find plenty to like in this self-referential comedy masterpiece.
The Office (U.S.)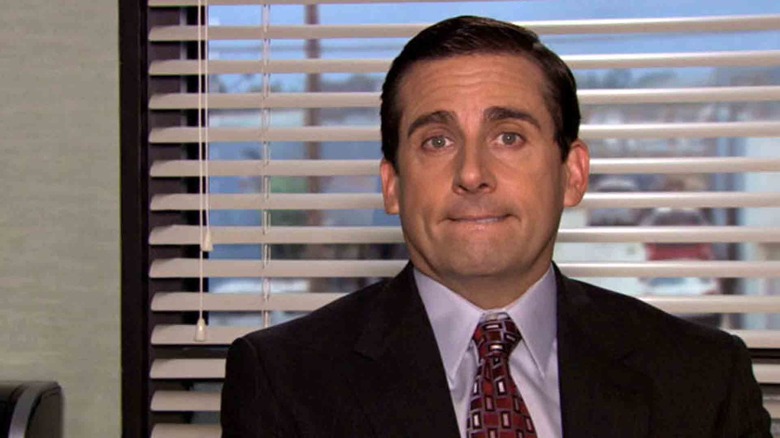 NBCUniversal Television Distribution.
America's take on Ricky Gervais and Stephen Merchant's "The Office" may be the country's finest comedy offering. In a way, it's hard to write any list of U.S. comedy series and not reference it because it is universally loved and critically praised. Long-time writer and series star B.J Novak explained that no one really thought they could pull off a successful adaptation of the groundbreaking Slough-set original. "I was well aware that everyone considered it a bad idea," he told The Guardian in 2020. "It was either too slow, quiet, and offbeat to ever work on American television or too smart, stupid, and blasphemous for us to attempt."
The result was something aesthetically similar yet entirely different. In place of Gervais's David Brent was Steve Carrell's equally oblivious Michael Scott, a character so unbelievably obtuse, his very existence paved the way for countless enjoyable episodes across the show's nine seasons. However, the most critical character change that came with the translation process is exactly the element that links it so well to "Community." Essentially, they gave the show some added heart by making Scott something Brent never was— likable. "He thought of himself as Mel Gibson in Braveheart, but he was such a sensitive and vulnerable character," says series star and writer Mindy Kaling. "That made Michael approachable and made you root for him."