These Films Influenced The 'Star Wars Version Of The Office Cubicle' Seen In Andor [Exclusive]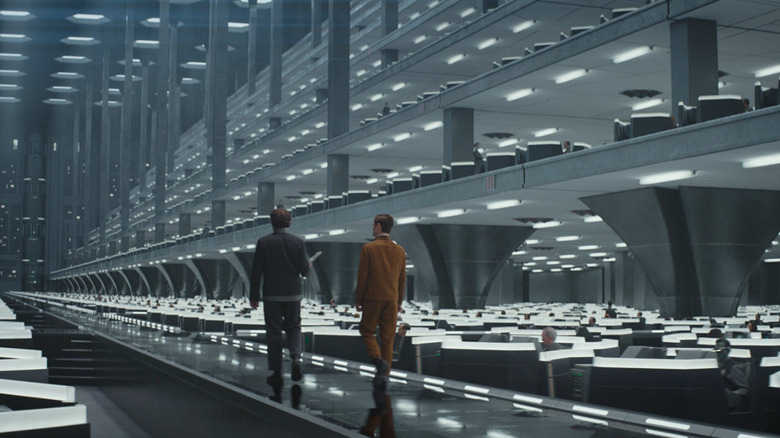 Disney+
"Andor" may not be the fanfare-centric some tend to gravitate towards, but it's the perfect piece of Star Wars media for our time. It's a gritty, often gloomy series that accentuates the horrors of the Empire and the uphill battle of rebellion. Instead of fantasizing about either side, the Tony Gilroy-produced show sticks close to the ground surrounding its titular character and those who cross his path. The filmmaking alone is enough to give the series a wholehearted thumbs up, too. "Andor" is no stranger to using production design to put its thematic ideas into play, nor is it afraid of borrowing from other films to do so.
In the seventh episode, Syril Karn (Kyle Soller) finds himself relegated to a monotonous desk job at the Imperial Bureau of Standards (IBS). A prison of his own making, Syril has earned his spot among the hundreds of equally depressing office cubicles. However, his predicament is everyone's worst nightmare magnified tenfold. Working for the Empire has never looked this terrifying, to be honest. The design of the building speaks to the mundane nature of Imperial bureaucracy, but also recalls some seminal pieces of fiction that play with similar ideas.
'Mindless bureaucratic tasks'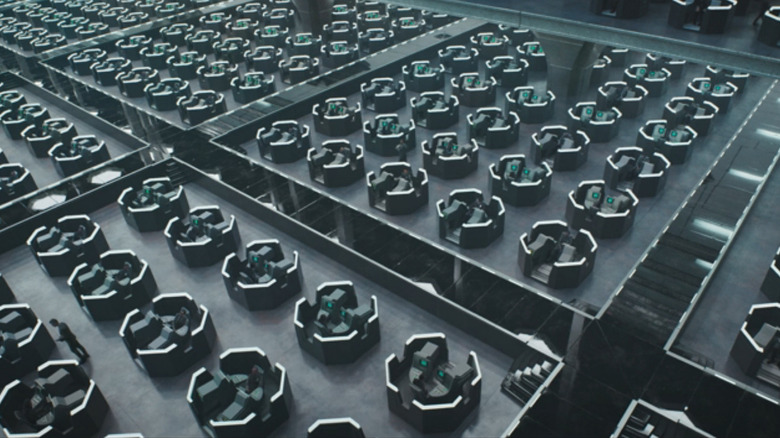 Disney+
In an interview with /Film's Jeremy Mathai, "Andor" production designer Luke Hull talked about the film(s) that influenced the office building:
"Actually, the inspiration was from a Jacques Tati film called 'Playtime.' Films like 'Brazil' and things like that, where you have this endless [drudgery] of desks, people doing various plugged-in, mindless bureaucratic tasks, so it was our version of that which we were trying to channel. And also that mid-level kind of bureaucracy, as well, and this idea that there could be rooms and rooms of these hives somewhere. I mean, it's not an original idea, at all. It was the Star Wars version of the office cubicle, essentially, was the idea."
Although the seemingly infinite nature of the office is not a new idea, "Andor" puts it to good use. In a universe where the Empire often uses explosive methods to deter its detractors, it's a much-needed change of pace to see the smallest cogs of the oppression machine in motion. Exemplifying the thematic undertones of the Imperial system through production design is key to understanding it. Moreover, it is not shocking to hear that "Playtime" and "Brazil" heavily influenced the IBS building.
Things never change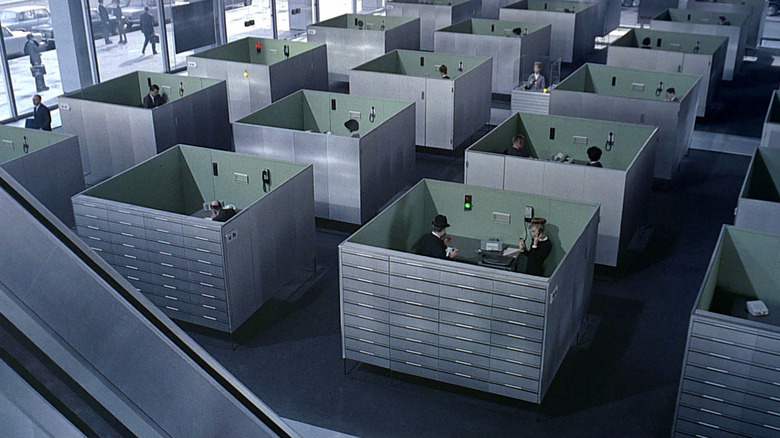 Released in 1967, "Playtime" hails from French filmmaker Jacques Tati and follows a man overwhelmed by a futuristic version of Paris riddled with unbridled capitalism. The story is separated by six different sequences, one of which revolves around the main character visiting a very, very convoluted office building that bears a significant resemblance to the one in "Andor." In fact, one shot, in particular, is ripped right out of "Playtime." The cubicles don't look exactly the same as one in the IBS, but the homage is overtly present and pertinent.
On the other hand, the comparison to "Brazil" is a bit less obvious on the surface level. Terry Gilliam's bizarre, dystopian look at rampant consumerism does not resemble "Andor" in a literal sense, but both share similar themes. The protagonist is a lowly government employee that dreams of having an impact on society, but is weighed down by the mechanical nature of his job and life. Although he is far less relatable, Syril is headed down the same route. Perhaps Syril will also find his way out at some point.
New episodes of "Andor" air on Wednesdays on Disney+.