The Dr. No Easter Egg In Skyfall You Might Have Missed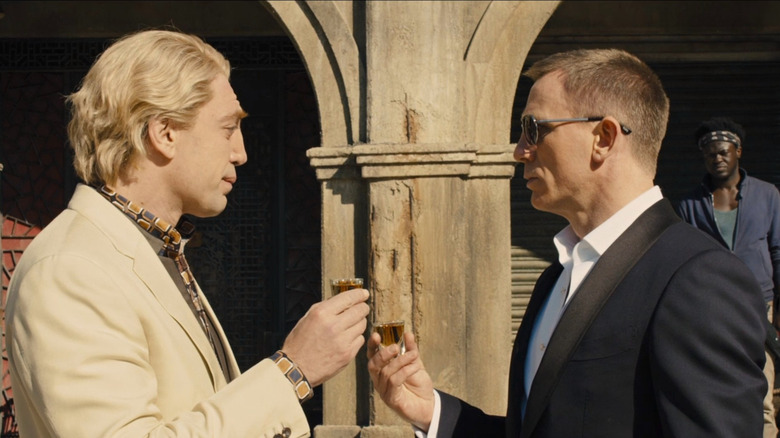 Eon Productions
It's a little difficult to believe that "Skyfall" is a decade old. In my opinion, that has little to do with how time is passing and more because only two James Bond movies have been released since. In the first 10 years of Bond, they cranked out seven. Granted, not all of them were good, but fans never needed to wait too long to see the secret agent's latest adventure. Because the films now take so long to make, it weirdly feels like the release of each movie marks some kind of anniversary for the character. This year's Oscars featured a tribute to Bond, bizarrely introduced by Tony Hawk, Shaun White, and Kelly Slater, for its 60th anniversary.
Well, as we commemorate "Skyfall" for its 10th anniversary, there is actually a moment within the film itself meant to recognize the franchise history itself. It's an incredibly small moment that most people will not catch. I know I didn't the first couple of times I saw the film. But director Sam Mendes used a fun prop to acknowledge the franchise's history, more specifically where it all started with the inaugural film "Dr. No."
50 year-old scotch whiskey
Eon Productions
"Dr. No" was released in the United Kingdom on October 5, 1962. Considering that this year is the 60th anniversary of Bond and the 10th anniversary of "Skyfall," that must mean — if my math checks out — that "Skyfall" came out for the 50th anniversary of the series. As a little nod to that milestone, Sam Mendes decided to slip in a little reference to that first year through the only way it could be with Bond: alcohol.
On the remote island that acts as the secret lair for Silva (Javier Bardem), he forces Bond into a game of target practice that will result in the death of Sévérine (Bérénice Marlohe). Silva pours a couple of shots of Macallan whiskey for him and Bond to drink and one to place on top of Sévérine's head. If you look at the label on that Macallan, it says it is from the year 1962.
In the commentary for "Skyfall," Mendes is quite pleased with this tip of the hat to the release year of "Dr. No." However, those of you who enjoy Macallan may notice a problem here. The labels on aged whiskey from Macallan do not feature the year it was made in big, bold letters. Their labeling promotes how many years it has aged, like this 30-year-old whiskey that costs a whopping $5,699, so the accurate label would say "50" and not "1962."
Back to basics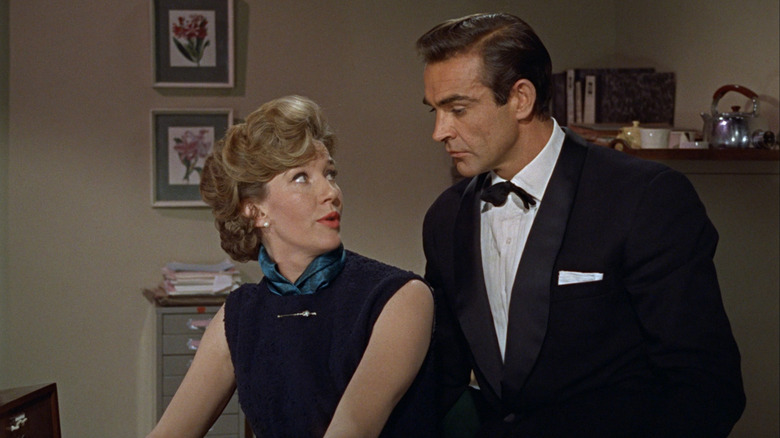 Eon Productions
The final scene looks to recreate the "Dr. No" status quo of Bond, M, and Moneypenny by essentially recreating M's office and reception area. The first three Daniel Craig-led James Bond pictures broke apart the standard formula and structure of a Bond movie, and Sam Mendes wanted to reset the series back to where it all started. One way to do this was making an "exact replica" of the offices that appear in most of the films in the series. The quilted door, the coat rack, the wood panelling. It's all there. Mendes says in the commentary
"The only thing that's different is — for those of you who are observant enough — you will have seen the MI6 portrait that hangs on the wall behind M."
Well, Sam. I hate to be the one to tell you this, but that isn't the only difference. Moneypenny's desk in "Skyfall" has been set up perpendicular to the wall with the entry door, but in the original office, the desk sits alongside that wall, which is how Bond could enter and easily slide up next to Moneypenny for some customary flirting. The "Skyfall" setup makes more logistical sense, as she can immediately see who enters, but it breaks the notion of a replica. Also different is the quilted door. "Skyfall" makes the door a muted, dark brown leather, but the original was a rather vibrant red. Even M's desk setup is different. Ralph Fiennes' M has his desk directly pointed at the door, but Bernard Lee's M has his desk off at an angle. They also took this small painting of a ship at sea and transformed it into a massive wall piece. It's the right spirit but not an "exact replica."