Is It Too Early To Start The Oscar Campaign For Angela Bassett In Black Panther: Wakanda Forever?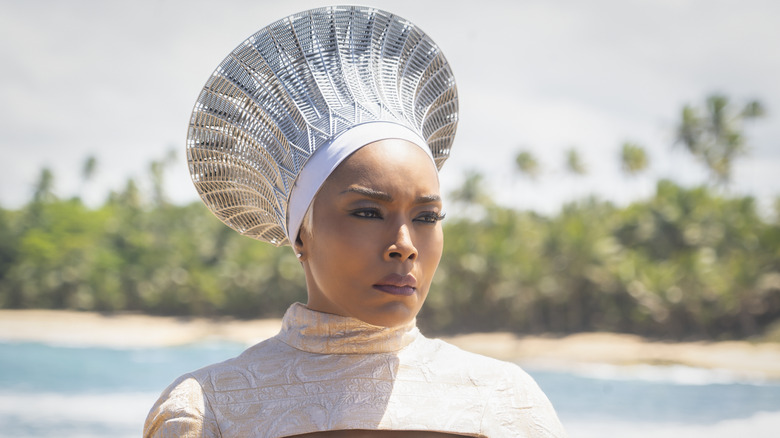 Marvel Studios
Major spoilers ahead for "Black Panther: Wakanda Forever."
Academy Award-nominated actor Angela Bassett has returned to the role of Queen Ramonda of Wakanda in "Black Panther: Wakanda Forever," and someone should just cross all the other names off of the Best Actress Oscar list. That's not hyperbole. If you're reading this, you have (I hope) seen the film, and you can understand my feelings. Bassett gives a powerful performance that may even change the minds of some of the directors out there about the Marvel Cinematic Universe. 
This character is a woman who not only lost her husband several years back in an assassination but lost her children in the Snap. When T'Challa dies in this film, she has to be a regent for her country, represent it at the United Nations, then deal with the loss of Shuri and the attack on her country. Every moment, every turn of her head, and every look in her eye shows a powerful woman who has been through hell and still retains grace and strength.
The Queen regent of Wakanda, but also a mom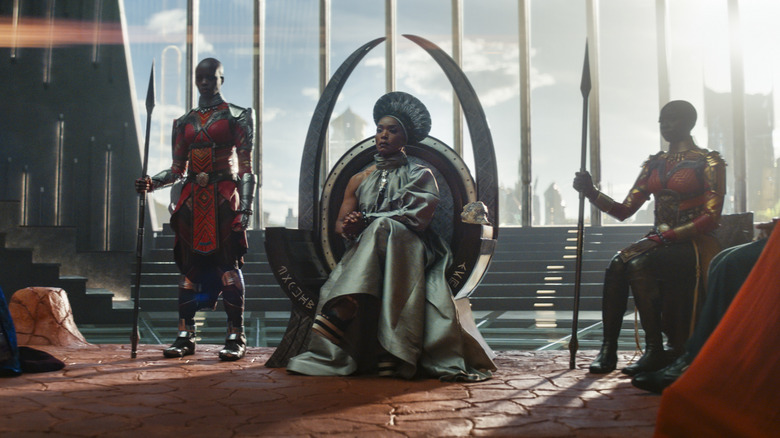 Marvel Studios
This is a role that requires so much. The character is dealing with the death of her son, which has thrown the country into a perilous situation in the world. They want vibranium, and Wakanda is without its protector after the death of T'Challa. Not to mention the fact that Bassett and everyone else in this production are mourning the loss of fellow actor Chadwick Boseman.
I don't know about you, but the beautiful scene where Ramonda takes Shuri to the wilderness to burn her funeral clothing really broke me. The moment where Bassett and Letitia Wright sort of battle each other about how each of them mourns was powerful. Ramonda gives off not only a deep sadness but a gentle reminder that there is a time for everything and that this is the time to move on ... until Namor (Tenoch Huerta Mejía) shows up. The move from mother to Queen is so beautiful in that it isn't an immediate 180-degree shift. She's still retaining the sadness, the comfort, the ritual moment she's trying to share with her daughter, and yet the anger and the desire to protect that daughter and her country seep in without shutting the rest out.
I know people will point out the more dramatic scenes, like Ramonda's powerful moment at the United Nations (which really did kick all the international ass), but it's the beach scene that moved me more than anything. 
Just give her the Oscar now, okay?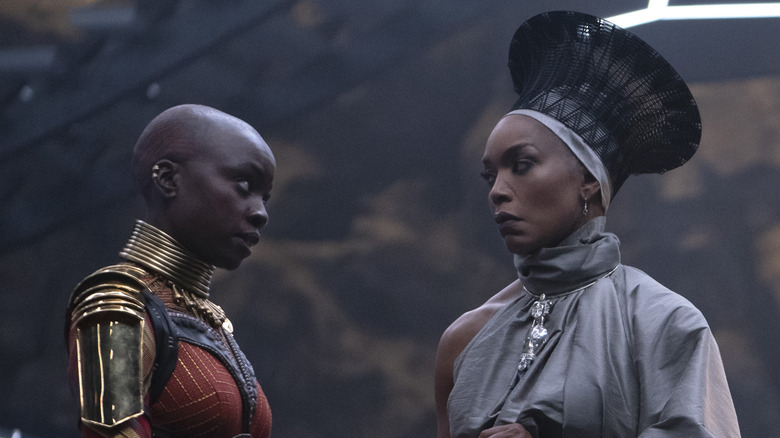 Marvel Studios
Another one that just destroyed me was her repudiation of Okoye (Danai Gurira). You can practically hear her heart cracking as she demotes her Dora Milaje and close friend, and hear her heartbreak at her own decision to allow Okoye to take Shuri out on a mission. She knows it wasn't Okoye's fault, but the results cannot be ignored. It would be such an easy scene to play with one color, but Bassett brings so much to it. 
Even the movements in the scene where she saves Riri Williams (Dominique Thorne) underwater, with no dialogue at all, you can see what she's feeling. You know that she's willing to sacrifice herself for the future, for this brilliant young woman who needs her. In a way, it's really heartbreaking that attempting to do a future scene on the ancestral plains wouldn't work without being able to see Chadwick Boseman as well, because that means Ramonda is gone from us unless there is a flashback. 
There have been some great performances in the MCU, and Angela Bassett's Queen Ramonda is at the top of my list. Start the campaign now, please! 
"Black Panther: Wakanda Forever" is currently in theaters.