The Best Movies Starring The Black Panther: Wakanda Forever Cast That You Need To See
Marvel Studios
"Black Panther: Wakanda Forever" is all about its cast. It can't help but be. Both the returning actors and the new additions are working in and around the void left by Chadwick Boseman's untimely death at the age of 43. Boseman was the Black Panther in every sense, and like T'Challa, he became a hero to many. Now, director Ryan Coogler and his team are left to mourn and honor Boseman both on screen and off. It's an unenviable task, but one that appears to have been realized with love and craft to spare.
That's due in no small part to the incredibly stacked roster of actors appearing in "Wakanda Forever." So far, there's been tons of discourse about which of them will be the next Black Panther; however, by appearing in this film, they're each acknowledging that they could never be. Marvel may make a new character assume the Black Panther's mantle, but no one will ever replace Boseman. Instead, expect every actor on the screen to bring their A-game in an effort to pay tribute to his legacy. From the leads to the supporting players, every actor in the film certainly has the chops. Here's some proof: These are the best movies starring the cast of "Black Panther: Wakanda Forever."
Lupita Nyong'o and Winston Duke in Us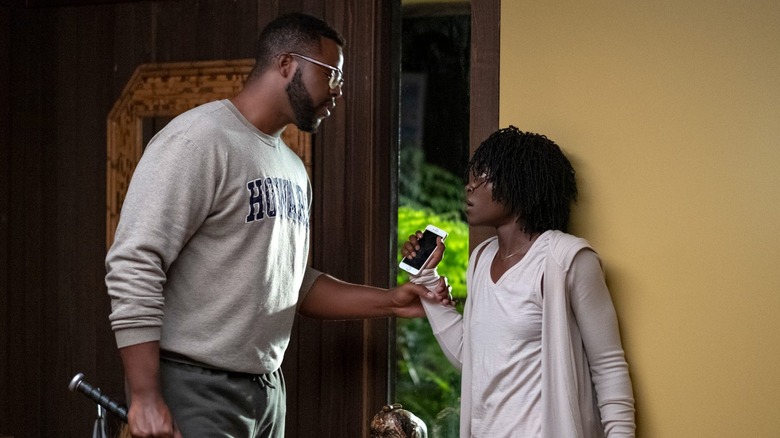 Universal Pictures
The cast of "Black Panther: Wakanda Forever" has given a slew of great performances. Two of its members even crushed it in the same film.
Jordan Peele's "Us" is an underrated classic, a classically "difficult" sophomore effort that improves on every subsequent viewing. That's due in no small part to Lupita Nyong'o and Winston Duke, who play the parents of a family set upon by merciless doppelgängers. Nyong'o and Duke both trained at the Yale School of Drama, and "Us" takes full advantage of the lessons they learned there. Their dual performances are alternately casual and severe, terrified and fearless. They infuse their real-world and their tethered selves with dense emotional lives that reflect their respective upbringings, which proves more crucial on every rewatch. Peele is confident enough to let his audience fill in the gaps instead of spelling everything out, and without the specificity that Nyong'o and Duke bring to their roles, Peele's story of dual — and dueling — Americas would fall apart at its seams. Instead, it soars.
"Us" is wholesale proof that Nyong'o and Duke can bear the brunt of whatever "Wakanda Forever" lays out. It is all too lucky to have them.
Lupita Nyong'o in Little Monsters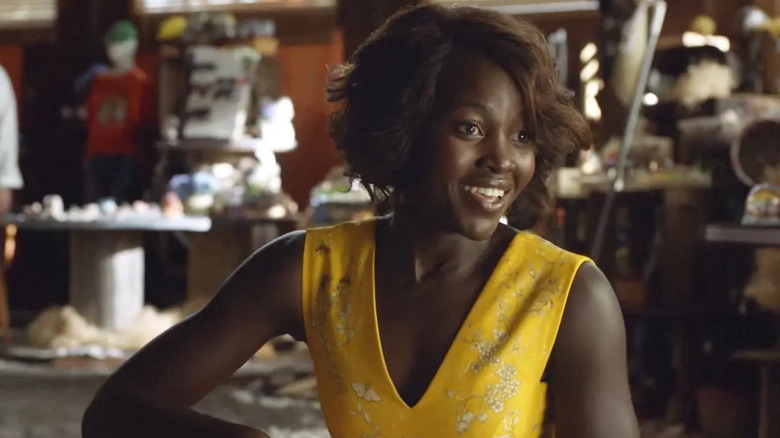 Hulu
Since winning the Oscar for "12 Years a Slave," Lupita Nyong'o has appeared in nine theatrically released movies, with about half of those performances consisting primarily of voice and motion capture work (she played Maz Kanata in the three "Star Wars" sequels, and the wolf Raksha in 2016's "The Jungle Book"). For a major movie star, Nyong'o's body of work is remarkably slight. It's also remarkably full of breadth and depth.
Case in point: Abe Forsythe's incredible horror-comedy "Little Monsters."
"Little Monsters" is a watershed moment for everyone involved. It's the project where Forsythe leveled up as a director, impeccably blending his comic sensibilities with crisp staging of major set pieces. Josh Gad has never been funnier. But it's Nyong'o who steals the show. The "Little Monsters" trailer makes a meal out of how overqualified the actress seems for the role of a grade school teacher who must keep her class safe from zombies, but Nyong'o proves that the part is as rich as a four-course meal. Her Miss Audrey Caroline is capable of action heroics, putting on a brave face for traumatized children, and playing Taylor Swift songs on the ukulele. It would be a star-making turn if Nyong'o wasn't already famous. As it is, it solidifies her star power.
Nyong'o is capable of anything. The second that she appears onscreen, infinite possibilities seem close at hand. "Black Panther: Wakanda Forever" will be able to ask the world of her; as in "Little Monsters," Nyong'o should deliver a charge simply by showing up.
Winston Duke in Nine Days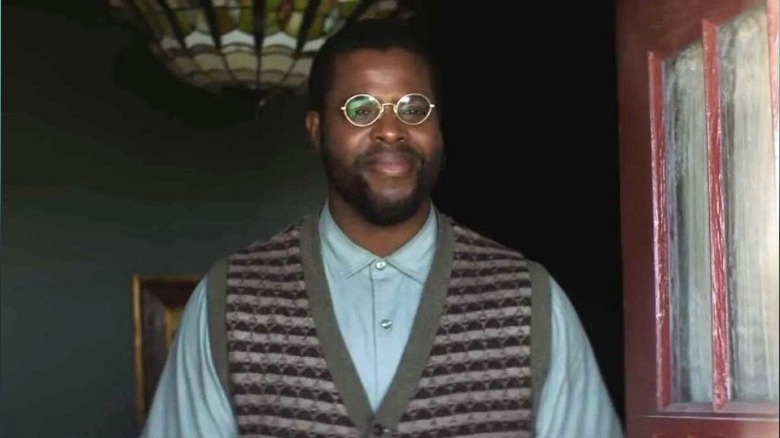 Juniper Productions
Winston Duke's M'Baku was a highlight of "Black Panther," announcing the arrival of a major new acting talent and a thrilling character in one singular performance. Duke, 35 as of this writing, hasn't rested on his laurels since. The Tobagonian performer has voiced the Batman for a major podcast. He's collaborated with Jordan Peele and Peter Berg. Most crucially, he anchored a film that few could: Edison Oda's thrillingly speculative fantasy "Nine Days."
"Nine Days" is a heady rush of indie filmmaking, a movie that posits that there's a pre-existence and that a reclusive man named Will (Duke) is responsible for determining whether or not souls get to live. The souls (played by Tony Hale, Bill Skarsgård, and Zazie Beetz, and others) go through a rigorous evaluation process, and Will watches life on Earth with just as much dedication. 
There isn't a single moment of Duke's performance that doesn't feel as meticulous as the character he's playing. Will may be a self-professed cog in a larger cosmic machine, but he's ostensibly the film's audience surrogate and expository engine. He has to feel deeply human while being removed from the act of living. It's a massive ask for what is essentially Duke's first headlining gig, and he delivers all that is asked of him while making the talented ensemble around him better. M'Baku may be a ruler in "Black Panther," but it's Duke's work in "Nine Days" that'll make an audience believe in his ability to lead.
Dominique Thorne in Judas and the Black Messiah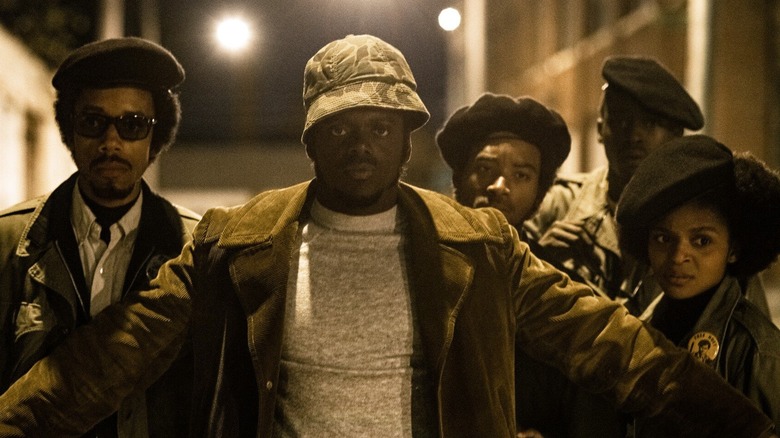 Warner Bros.
Based on the two incredible trailers for "Black Panther: Wakanda Forever," Dominique Thorne's Riri Williams looks like another winning addition to the Marvel Cinematic Universe. That's due to Thorne's massive talent. The exuberant "Let's go!" that Thorne screams when soaring through the skies in the Ironheart suit reinvigorates the familiar thrill of seeing comic book protagonists take flight. 
Not every young performer has that sort of gravitas, but Thorne established that she does by standing out among an ensemble of bright young movie stars in Shaka King's labyrinthian crime drama, "Judas and the Black Messiah." Most audiences know that the story of Fred Hampton (a fiery, Oscar-winning Daniel Kaluuya) ends with a successful assassination. But that's not where "Judas and the Black Messiah" concludes. King's film is just as interested in the psychologies of Bill O'Neal (Lakeith Stanfield) and Roy Matthews (Jesse Plemons), and how both's self-delusions are driven by supposedly noble intentions. 
The Panthers around Hampton are equally compelling, and each feels as if they could anchor their own movie, from the impulsive Jake (Algee Smith) to Dominque Thorne's Judy Harmon. Harmon is one of the Panthers' beating hearts, and though she is frequently found around the edges of the film, her performance is no less compelling as a result. This is Thorne's talent writ large; "Judas and the Black Messiah" is proof that the actor is ready for the spotlight.
Letitia Wright in Small Axe: Mangrove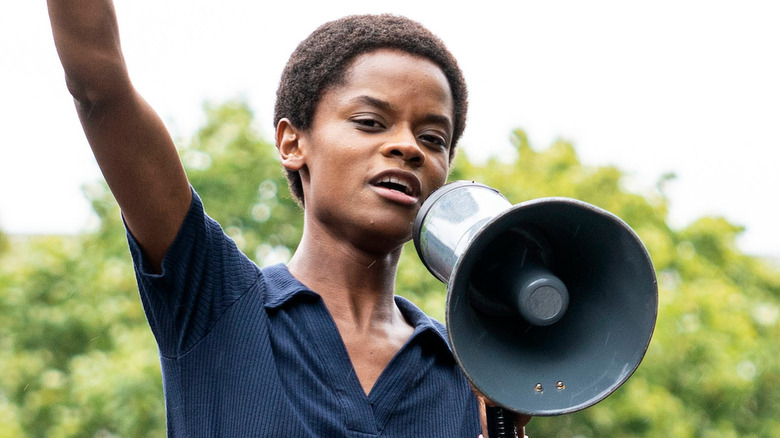 Amazon Studios
Letitia Wright's Shuri is more than likely the new Black Panther. If so, that's a canny decision by Ryan Coogler and Marvel Studios head Kevin Feige. Wright was the breakout star of "Black Panther," a seemingly green talent who stepped up on the largest stage imaginable. There's zero doubt that Wright is ready for the Black Panther mantle, but if you're still not convinced, look no further than Steve McQueen's "Small Axe: Mangrove."
Whether you classify the "Small Axe" films as television movies or traditional features, there's no question that they are idiosyncratic works from one of the world's most fiercely talented directors. Trying to imagine anyone else making '"Mangrove" is impossible. No other director could stage sequences of police brutality with more empathy for those being brutalized, or could lovingly build an entire community in less than 20 minutes. Mangrove is a safe haven for Notting Hill's Trinidadian community. That's why it's a threat to the systematically racist London police department and its bigoted officers. That's also why it's a natural meeting place for the British wing of the Black Panthers, including leaders Altheia Jones-Lecointe (Wright) and Darcus Howe (Malichi Kirby).
Yes, the new Black Panther plays a Black Panther here. No, that's not why you should see "Small Axe." The revolutions in Ryan Coogler's "Black Panther" films are painted in broad yet specific strokes. They must be. His films are blockbuster superhero movies. By contrast, "Small Axe" shows Wright's ability to engage with tough, progressive material at the granular level. "Small Axe" brings the undercurrent of populist entertainment to the surface. It must be seen.
Florence Kasumba in Wonder Woman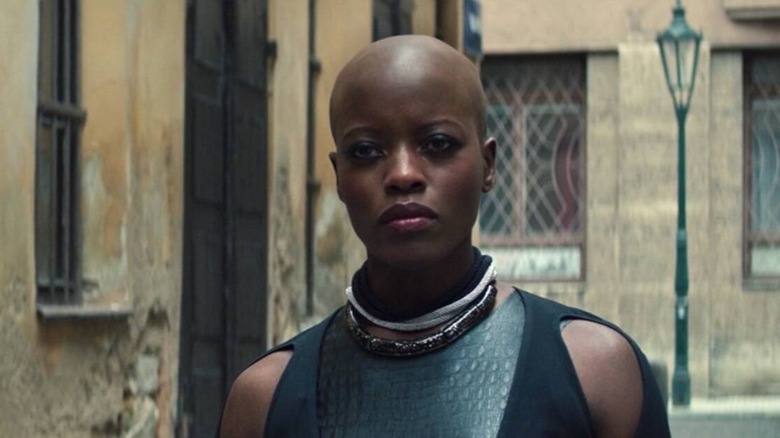 Marvel Studios
Florence Kasumba has quietly established herself as one of the most vibrant connective tissues of the Marvel Cinematic Universe. Her appearance in "Captain America: Civil War" was the Dora Milaja's first, and the actor has since fleshed Ayo out into a compelling character all of her own. "The Falcon and Winter Soldier" (pictured above) showcased her fighting skills and razor-sharp intellect, while "Black Panther" proved that, as an actor, Kasumba could hang with some of her generation's finest talents. 
Impressively, the MCU isn't the only superhero universe that Kasumba has contributed to. She's also in Patty Jenkins' "Wonder Woman," which looks more like a miracle with each passing year. Unlike "Wonder Woman 1984," which was a case study in diminishing returns and misplaced ambitions, the first film establishes why Diana is vital to the DC Universe while telling a resonant story about growing pains and love's emboldening power. When Diana walks across No Man's Land, she does so to save the platoon she has affection for, having all but lost her native home. To walk with others, "Wonder Woman" posits, you first have to be capable of walking alone. 
That means that Diana must leave Kasumba's Senator Acantha and the other Amazons at the movie's outset. If Acantha and her fellow soldiers make no impression, Diana's decision is meaningless. Thankfully, they do, offering further proof that Kasumba is a vital part of any project she commits to.
Martin Freeman in The World's End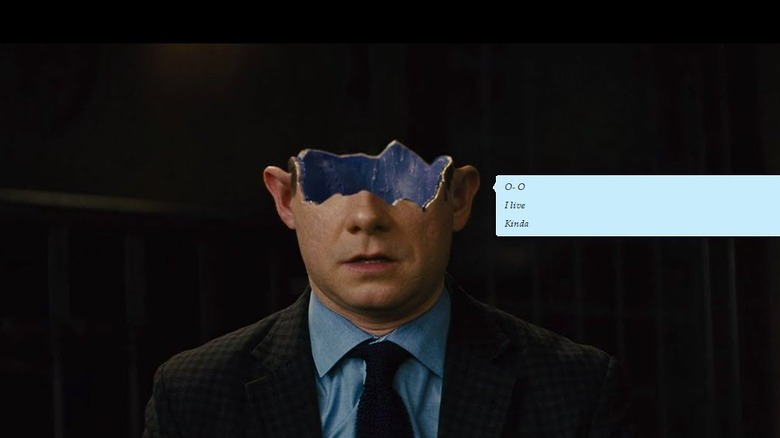 Universal Pictures
Martin Freeman seems to relish contributing to projects in as many ways as humanly possible. He's been a naturalistic comedic leading man ("The Office.") He's been a modern-day, prestige TV anti-hero ("The Start-Up" and "Fargo"). In the "Black Panther" films, he's perched somewhere between the two, playing Everett Ross as a g-man whose conscience and progressive heart begrudgingly pierce an overtly gruff exterior. As such, if you're going to celebrate Martin Freeman's contributions to the MCU, the best way to do so is by watching him do the complete opposite.
Given that, why not stream "The World's End"? The most underrated Edgar Wright movie is also one of Freeman's best, highlighting the actor's ability to play both buttoned-up and low-status without losing his comedic edge. In the film, Freeman plays O-Man, the most successful member of a cadre of childhood friends who reunite when their old mate, Gary (Simon Pegg), proposes giving an epic pub quest one more go. Because it's an Edgar Wright movie, alien shenanigans eventually commence. That's not why the movie rules, though. Rather, it's a remarkable portrait of arrested development and fragile male bonds married to a madcap, technically brilliant sci-fi thriller-comedy. Further, Freeman is forced to play multiple roles in it, cleanly defining O-Man's brimming resentment and playing his alien-possessed self with a sinister coldness. Naturally, he nails both.
Tenoch Huerta in Tigers Are Not Afraid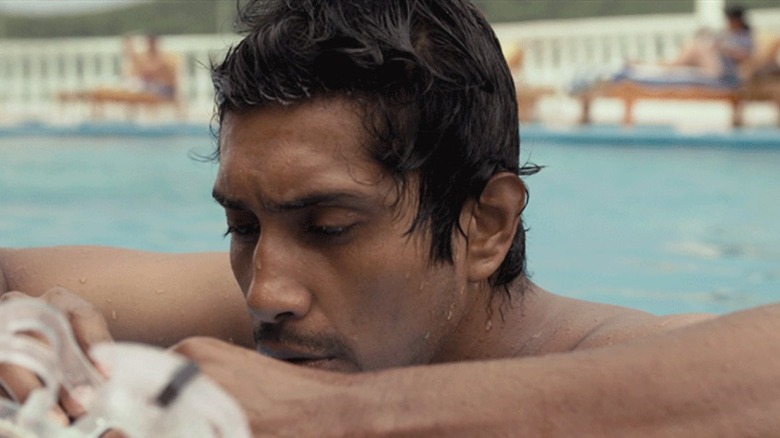 Shudder
No producer or casting office has more power or a wider reach than Kevin Feige and The Sarah Finn Company. Marvel could have cast anyone as Namor, and yet the studio offered one of their most important characters to an obscure-in-America "Narcos: Mexico" star. That should make any reticent fan entirely confident in what Tenoch Huerta is bringing to the table as the Sub-Mariner. Still, a screening of Isa Lopez's "Tigers Are Not Afraid" should quell any lingering doubts.
"Tigers Are Not Afraid" also has the benefit of being one of the last decade's most empathetic horror films. The story of impoverished children surviving gangs and ghosts on the streets of a Mexican city ravished by the drug war, "Tigers Are Not Afraid" leans into horror's penchant for magical fantasy as much as, if not more than, jump scares and atmosphere. Lopez's Mexico is realistic and richly defined, which makes the sudden appearance of paranormal elements feel all the more real. 
That's also a side effect of the performances, which are stellar across the board. Among the film's cast, Huerta arguably has the hardest task. His El Chino, the film's primary antagonist, must be deeply threatening, but also recognizably human. Huerta is accordingly terrifying yet disarmingly personable. That makes him a natural choice to play one of Marvel's most emotionally rich and volatile wild cards, a character who's been both hero and villain over his long history. "Tigers Are Not Afraid" proves, often brilliantly, that Namor is in good hands.
Angela Bassett in Boyz n the Hood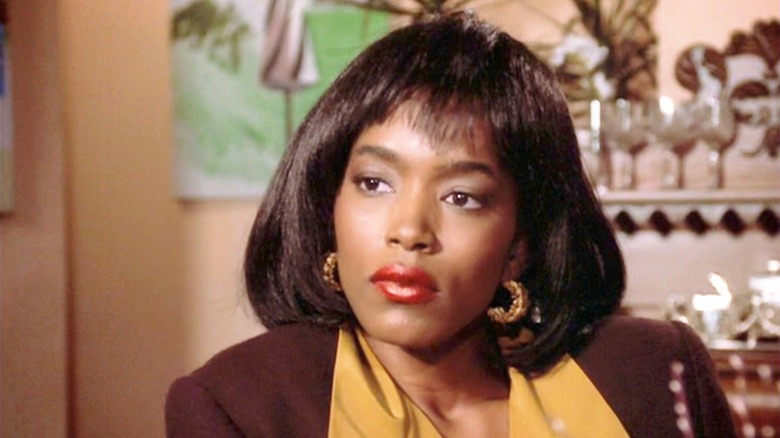 Columbia Pictures
The fact of the matter is that there's no world in which you need a reason to see "Boyz n the Hood," let alone a Marvel movie. The film is preserved by the United States Library of Congress as part of the National Film Registry, and made Singleton the first African-American and youngest-ever Oscar nominee for best director. Crucially, it paints an empathetic portrait of life in the Crenshaw ghetto, drawing parallels to life during wartime. There are no easy answers in "Boyz n the Hood," either for the characters or the people watching the film. That's what makes it essential.
Another essential component of "Boyz n the Hood"? The cast. It's little wonder that almost every actor in "Boyz n the Hood" went on to have extraordinary careers, be they Ice Cube, Laurence Fishburne, or Oscar-winner Cuba Gooding Jr. And I haven't even mentioned Angela Bassett yet, who makes a brief but indelible impression as Tre Styles' mother, Reva Devereaux. 
Reva is the catalyst of "Boyz n the Hood." Her decision to send Tre to Crenshaw encapsulates multiple plights that people of color face throughout America, including a lack of institutionalized support in the American school system and both latent and active racism. Basset doesn't get much screen time to tell Reva's story, but she doesn't need it. Every beat is crystal clear. If "Black Panther: Wakanda Forever" asks her to plumb Ramonda's emotional depths, "Boyz n the Hood" proves that she can go fathoms deep.
Dania Gurira in Mother of George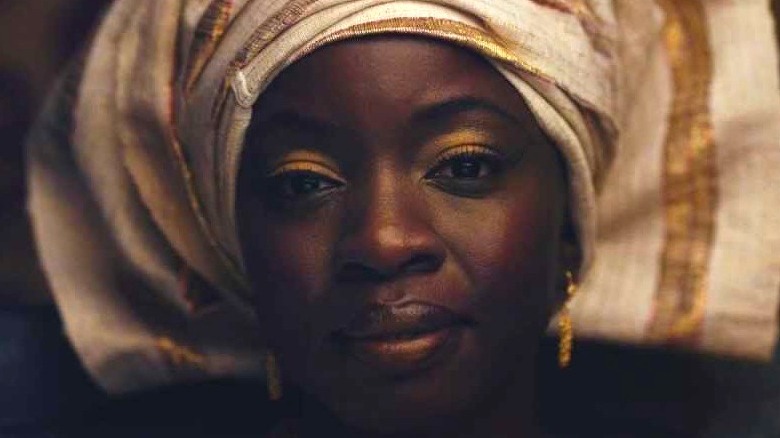 Osciloscope
To most audiences, Danai Gurira is best known for playing Michonne on "The Walking Dead" and for her work as Okoye in the MCU. But Gurira was a celebrated playwright long before she was an A-list actress, and was a compelling presence in indie films and on television to boot. That's oddly clear in "Black Panther," a film that gives Gurira the space to marry theatrical movement with a writer's intellect and blockbuster action sequences. 
It's even clearer in "Mother of George." Andrew Dosunmu's Sundance hit revolves around Gurira's Adenike and her quest to get pregnant in order to satiate her family's desires. However, what begins as a struggle to achieve fertility dovetails into a scheme so scandalous that it's more in line with Ryan Murphy's projects than a small-scale drama. Gurira makes it all work. Adenike is yearning for agency and free will. Even when she's unable to achieve it, we see her desire to become the full, self-actualized woman that she could be thanks to Gurira's work. 
Watching Adenike's journey improves Gurira's performances in "The Walking Dead" and "Black Panther" by proxy. Someone only familiar with those blockbusters might think that Gurira has limited range; "Mother of George" is ecstatic, searing proof that they're wrong. See it to improve your first viewing of "Black Panther: Wakanda Forever," too.
Michaela Coel in Been So Long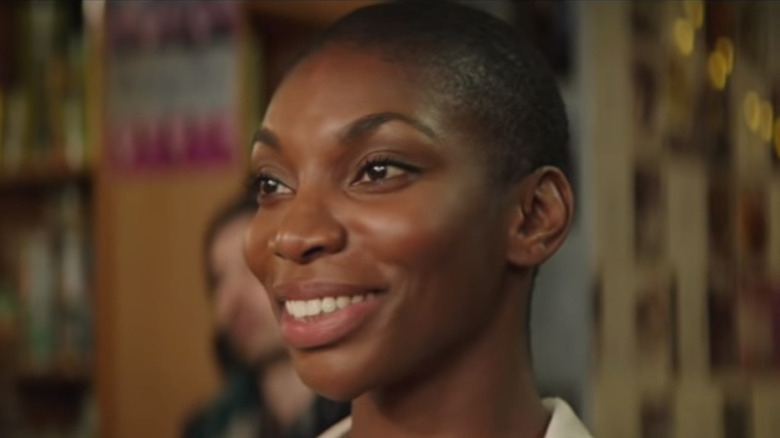 Netflix
Netflix might have too many movies on its service. Yes, content is king in the digital age, and yes, Netflix has as deep a library as any of its competitors. Yet, have you heard of "Been So Long?" The Netflix original musical stars Arinze Kene ("How To Build A Girl") and the genius Michaela Coel. It debuted cosigned by the legendary Young Vic theater (the celebrated company produced a stage version of "Been So Long" in 2009) and announced the arrival of director Tinge Krishnan. However, by and large, "Been So Long" remains an undiscovered gem. 
That's ludicrous, particularly when you consider Coel's relatively scant filmography and that every performance that she gives is gold. The writer-director-actor best known for "Chewing Gum" and "I May Destroy You" is an absolute force of nature and a winning addition to the MCU. As such, "Been So Long" is worth seeing if only to hype you up for her arrival. Watching Coel navigate the heady rush of new love on a London night while danger lurks in the background recalls the movie musicals of old more than the work of Rob Marshall. The film hinges on her star power, and she delivers in surprising quantities. Throw in an incredible soundtrack, and "Been So Long" is a must-see movie whether you're a fan of Coel, the MCU, or none of the above — you'll almost certainly be one of Coel's many admirers by the time the credits roll.