Eddie Redmayne Was Terrified To Play Stephen Hawking In The Theory Of Everything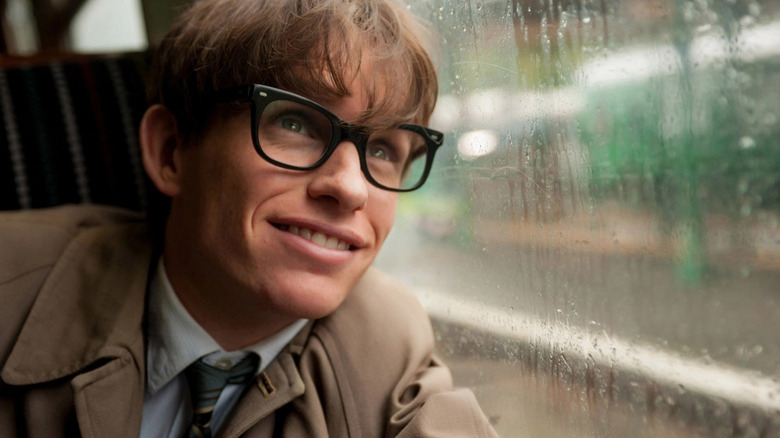 Focus Features
James Marsh's 2014 biopic "The Theory of Everything" might serve as the modern "baseline reading" for Hollywood biopics. It tells a rather straightforward story of the life of Professor Stephen Hawking, who was, when he passed away in 2018, the head of theoretical cosmology at Cambridge. 
When it came to astrophysics, no mind has yet surpassed Hawking's, and the man had a passion for the way the universe fundamentally functioned. He possessed an acerbic sense of humor and a randy sensibility that would eventually lead to instances of infidelity and, later, a frankly open marriage. Hawking also lived for many years with ALS, leaving him unable to move most of the muscles in his body, and requiring the use of a speaking computer in order to communicate. His 1988 book "A Brief History of Time" was read by millions of people and understood by about 10% of them.
Marsh's film follows Hawking's life through the first meeting with his wife-to-be Jane (Felicity Jones) and continues chronologically to the present day. One might learn a lot about Hawking and his theories and his relationships from "The Theory of Everything," and it is certainly a perfectly satisfying drama. Viewers itching for more astral physics would do better to watch Errol Morris' 1991 documentary "A Brief History of Time," which is part biography and part cosmology lecture.
Eddie Redmayne played Hawking, capturing the scientific enthusiasm, the lasciviousness, and the physicality of Hawking well enough to net him an Academy Award. In a video interview with Vanity Fair, Redmayne talked about his experiences playing Hawking, and how taking on the role was a terrifying experience. Mostly because he knew Hawking himself would eventually see it.
Excruciating fear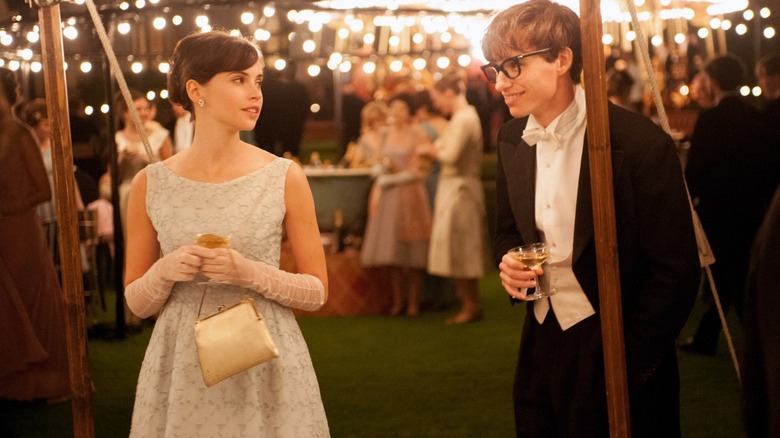 Focus Features
By 2014, Redmayne had already reached an impressive status among movie stars. He had recently appeared in the notable Marilyn Monroe biopic "My Week with Marilyn," as well as the musical Oscar darling "Les Misérables." This was after several notable supporting appearances in high-profile prestige pictures like "The Other Boleyn Girl" and "Elizabeth: The Golden Age." He was, in short, in high demand. Redmayne recalled the politics of being cast as Stephen Hawking, and how he found himself in the rare position of being in high demand for two notable productions. He was coy about what the other one was, saying:
"I remember I was auditioning at the time, there was another film that I was sort of in the running for. And I think it became one of those moments, it happens occasionally, when you're not necessarily being offered either part, but the other film hears about the other part. And so they sort of feel like they have to jump and ask you to do it. I'm very grateful for that other film, but I've got cast in 'Theory of Everything' and it was one of those moments of overwhelming elation."
The elation, though, wasn't going to last. Redmayne realized in a flash that Hawking was still alive, and that he would not only have to meet the man for research, but that Hawking would see the fruits of his labor. He hadn't even started working and already the job was overwhelming. He recalled: 
 "About three-and-a-half seconds later, [elation] turned into excruciating fear. Stephen Hawking was an amazing man. His family are extraordinary people and we knew that he was gonna watch the movie."
'I'm someone that needs a long runway'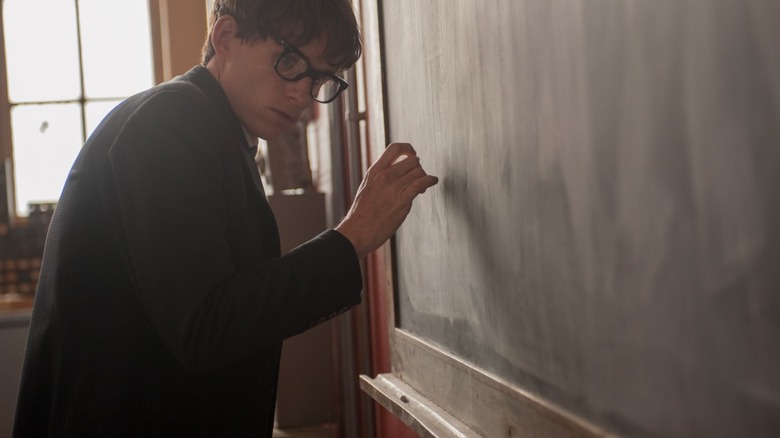 Focus Features
Redmayne admitted in the interview that he hadn't studied acting quite so deeply. As a boy, he attended a performing school, but had no idea what kind of approach he was going to take. The physicality of the role was certainly going to be daunting, as was nailing the mannerisms of a real person. He was happy to get the role, but Redmayne found himself needing to study more than he ever had. He couldn't merely imitate other great actors. This was something that needed to come from the heart ... and the books. He explained:
"It made me kind of grip a situation in a way I hadn't before. I hadn't been to drama school, I didn't know what process was. I was busy working out process by observing other actors. And on this one I said, 'Okay, I need time. And this is how I want to approach it.' And I was able to go to motor-neuro disease clinics and meet people living with this disease and their families. I was able to work with a dancer, who I now work with and have done for years, a woman called Alexandra Reynolds, who helped me with the physicality." 
In working so hard on "Theory," Redmayne's whole approach to acting changed. He had seen too many of his peers take on a great variety of roles, and he understood that this was a skill he also needed to develop. Study, delving, and really getting under the skin of a role was to become the default. In his words: 
"Some actors can jump from part to part and be extraordinary in all of them. I'm someone that needs, like, a long runway. 'The Theory of Everything' was where I worked that out."