What Did Stephen Hawking Think Of 'Theory Of Everything'?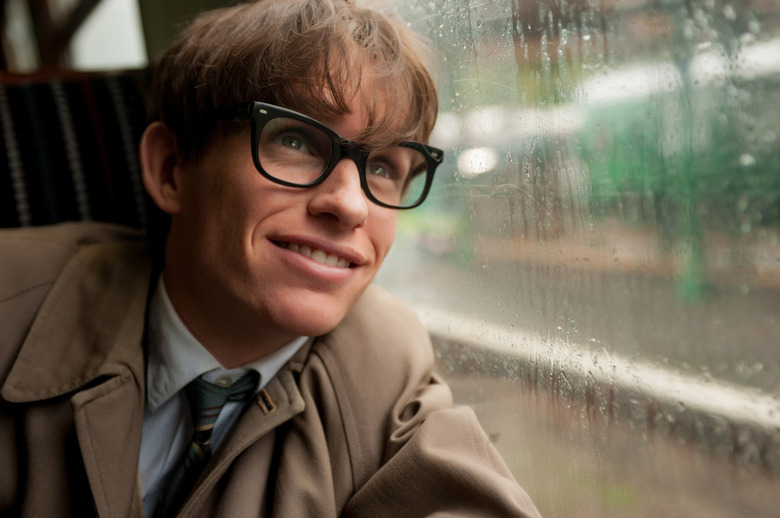 As a theoretical physicist, Stephen Hawking isn't usually one to weigh in on recent movies. But The Theory of Everything is naturally of special interest to him, seeing that it stars Eddie Redmayne as Hawking himself.
For their part, critics have been gushing about Redmayne's performance. He's widely considered a shoo-in for an Oscar nomination, and has been ever since the film's festival debut. But Hawking would know better than anyone whether Redmayne really did a good job — so what did Hawking think? Get the Stephen Hawking Theory of Everything reaction after the jump. 
Hawking shared his thoughts on The Theory of Everything on Facebook.
I thought Eddie Redmayne portrayed me very well in The Theory of Everything Movie. He spent time with ALS sufferers so he could be authentic. At times, I thought he was me.
Seeing the film has given me the opportunity to reflect on my life. Although I'm severely disabled, I have been successful in my scientific work. I travel widely and have been to Antarctica and Easter Island, down in a submarine and up on a zero gravity flight. One day I hope to go into space.
I've been privileged to gain some understanding of the way the universe operates through my work. But it would be an empty universe indeed without the people that I love. -SH
In an accompanying video featurette about Redmayne's performance, the scientist added, "I think Eddie's commitment will have a big emotional impact."
While Hawking didn't actually work on the film, he was kept updated throughout. He met Redmayne several days before shooting, and even visited the set during the filming of the May Ball scene. "It was dark and beautiful, and then Stephen arrived, silhouetted in his chair," Redmayne told THR. "He was spotlit by his screen [on his wheelchair computer], and on cue, the fireworks went off. It was the greatest entrance I have ever seen in my life." (So, kind of like this?)
Hawking also had the opportunity to see the film before its world premiere at TIFF. Reportedly, he was so moved that he shed a tear and then offered the filmmakers permission to use the audio from his speech synthesizer for the movie. "It was the last thing we did on the film, creatively, was to add Stephen's voice, so that felt like an endorsement in the form of a gift, in a way," recalled director James Marsh to The Frame. Whether Redmayne will actually take home the statue remains to be seen, but having the real-life subject of his movie on his side can't hurt.