Rocky II Ending Explained: From Chump To Champ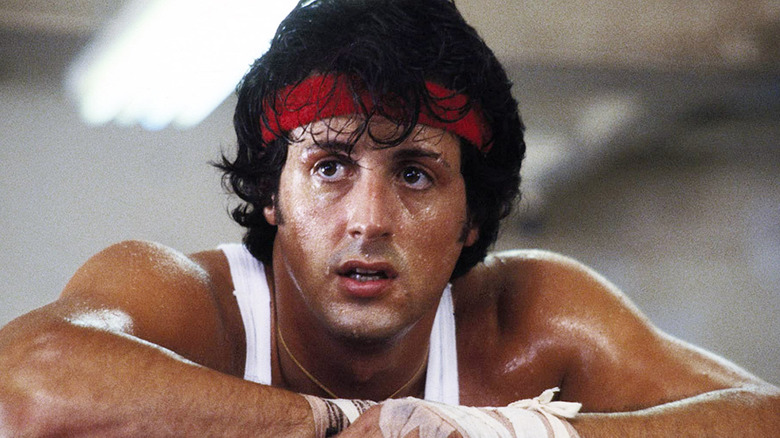 United Artists
Sylvester Stallone's early career is an underdog story to rival that of his most famous character, Rocky Balboa. The actor was virtually unknown with only a few small roles under his belt before he saw a journeyman slugger named Chuck Wepner go within 20 seconds of taking Muhammad Ali the full distance. Wepner's dogged fortitude against a much more skilled fighter gave Stallone the idea for a screenplay called "Rocky."
Not only did Stallone sell his script, but he also got to star in the movie as well. He almost went the distance at the Oscars, too. Stallone earned nominations for Best Screenplay and Best Actor, but lost out to Paddy Chayefsky and Peter Finch respectively for "Network."
From a modest budget of under $1 million, "Rocky" was a huge hit, grossing over $117 million worldwide at the box office (via Box Office Mojo). With that kind of roaring success, there was no way Stallone and his producers could let the Italian Stallion slide quietly back into anonymity with the satisfaction of taking Apollo Creed the full 15 rounds. "Rocky II" arrived in 1979, with Stallone going one better this time, adding director to his list of credits on top of writing and starring. A new franchise was born, one that would come to include five "Rocky" sequels and the "Creed" film series, plus the upcoming "Drago" movie (with Dolph Lundgren looking for his slice of the sweet "Rocky" nostalgia pie).
With a plot that repeats many of the beats of the original, Stallone needed to find new ways of upping the stakes in "Rocky II," many of which pay off in the film's conclusion. Let's take a closer look.
So what happens in Rocky II again?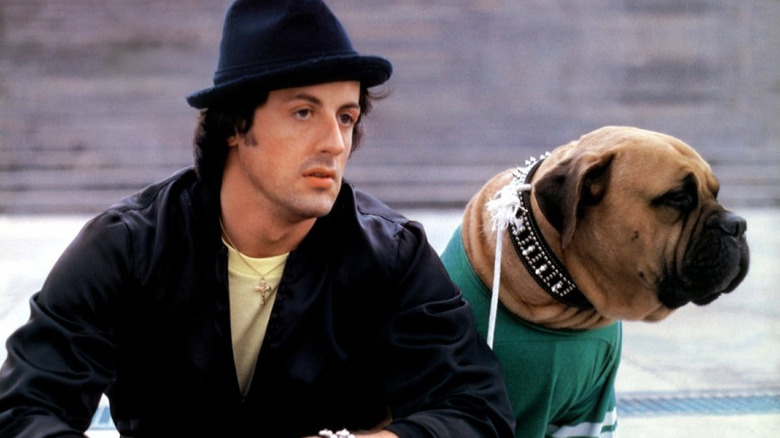 United Artists
At the end of "Rocky," it's quite easy to miss the fact that Apollo Creed (Carl Weathers) wins the fight on points as it is announced in the background while Rocky (Stallone) is declaring his love for Adrian (Talia Shire). Taking the champ 15 full rounds is victory enough for him, proving to himself that he's not a loser. Even though he lost, we know what the film means.
In "Rocky II," Creed is burning with anger after a club fighter he wrote off as a chump took him the distance and challenges Rocky to a rematch, vowing to dismantle him in two rounds to prove the first fight was a fluke. Rocky has decided to retire, though, after suffering a detached retina from the battering Creed gave him. He could lose his eyesight if he fights again.
With a baby on the way, Rocky finds that supporting his family won't be easy with his career prospects, and Creed eventually goads him into accepting his challenge. Adrian is furious that he broke his promise not to fight, and even Mickey (Burgess Meredith) initially refuses to train him out of concern for Rocky's well-being. He changes his mind after Creed insults Rocky on TV, and devises a way for his southpaw fighter to survive the fight with his eyesight intact.
Rocky's heart isn't really in it, however, and things get worse when Adrian falls into a coma during a premature birth. Mickey knows Rocky will get badly beaten if he can't pull himself around, but his pep talks fail to leave an impression. Finally, Adrian awakens and Rocky says he won't fight Creed, but she has had a change of heart while sleeping. Now she wants Rocky to do one thing for her: Win.
Why is the southpaw thing so important?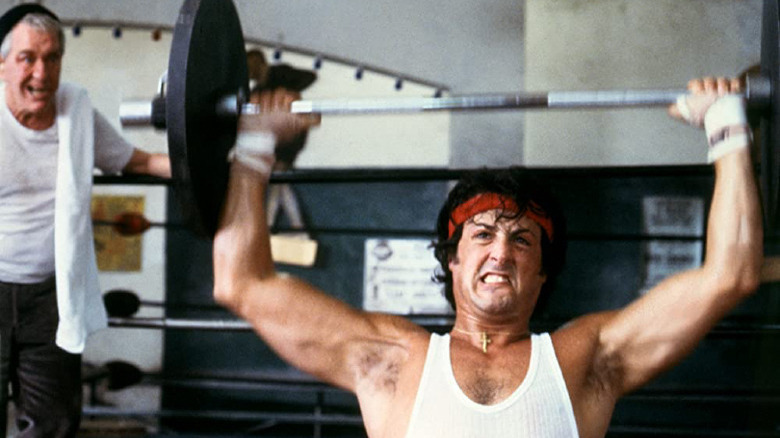 United Artists
The first film establishes that Rocky is a southpaw fighter and "Rocky II" makes a plot point of it, which is an oddly specific detail for a film that only offers a cartoon version of the sport of boxing. Neither movie really gets into the nitty-gritty of what a southpaw entails for casual viewers who might not know all that much about boxing, so here's a quick summary.
A boxer will usually adopt a stance that puts their weaker side towards their opponent. Since the vast majority of people in the world are right-handers, a right-handed boxer normally fights with their left foot forward and left hand in front to throw jabs (i.e. the orthodox stance). This also allows them to reserve their stronger (read: right) hand for the big shots.
A southpaw is just the opposite, a stance normally favored by left-handers; right for the jab, left for straights and hooks. Fighting this way gives Rocky some significant advantages in the ring (via Expert Boxing). Firstly, due to the ratio of orthodox to southpaws, right-handed boxers usually aren't used to fighting a leftie and can find the angles tricker whereas their opponent is just doing their natural thing. Conversely, southpaws deal with orthodox fighters all the time, so it already feels natural to them and they have their strategies worked out.
Mickey wants Rocky to switch from southpaw to orthodox to protect his vulnerable eye, but by doing so he loses his few advantages against an elite fighter like Creed. This is the reason why Creed absolutely clobbers Rocky in their second match. Not only is Apollo incredibly motivated to eradicate the memory of their initial showdown, but he is also now up against an inferior fighter using an unfamiliar stance.
Melodrama over drama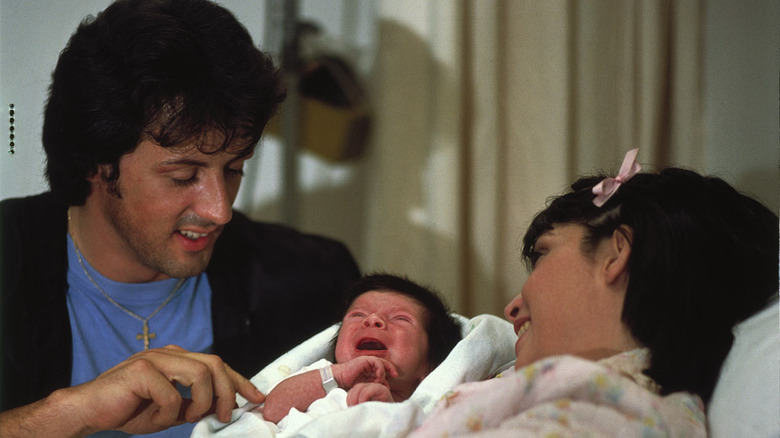 United Artists
How does Stallone go about basically re-telling the same story in "Rocky II?" His solution to the problem marks the beginning of the series' slide into vanity and utter ridiculousness, as he got caught in the trap of trying to make each movie bigger and more dramatic than the one before it. Only the last film, "Rocky Balboa," revisits the quiet character-driven drama and gritty social realism of the original, and is the second-best movie in the series because of it.
In "Rocky II," Stallone attempts to create a believable arc for Rocky, but too often resorts to melodramatic flourishes instead. Both the boxer who might lose his eyesight and Adrian falling into a coma are really contrived plot points, like something out of a Douglas Sirk weepie. The film takes things even further when Adrian miraculously awakens before the fight to give Rocky her blessing, looking radiant in the way coma patients usually don't. In between, there is a whole lot of soul-searching and moping around from Rocky, which makes him less endearing this time around. It doesn't help that Stallone's direction is leaden compared to John G. Avildsen's assured touch in the first film, and he lets some scenes drag on way too long.
To give Stallone his due, he pulls it out of the bag for the final fight scene. It's far more bruising and dynamic than the original match between Rocky and Creed, using slow-motion to good effect so we can feel the impact of the individual blows. Yet, even in this scene, Stallone can't resist a touch of melodrama in the last round to lure viewers to the edge of their seats. But first, it's time for a training montage.
The evolution of the Rocky training montage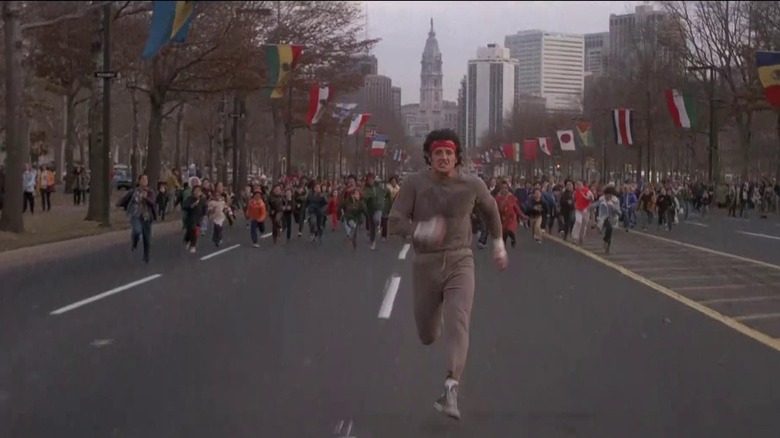 United Artists
The training montage is a staple of the "Rocky" films that's been loved and parodied in equal measure, going from simplicity itself to an emblem of '80s cinematic excess.
The original montage is a low-key affair, much like the rest of the first film. Accompanied by Bill Conti's rousing score, the scene follows Rocky on his solitary morning run, intercut shots of him training at the gym, working a side of beef like a punching bag, and culminating in the now-legendary run up the steps of the Philadelphia Museum of Art. The montage in "Rocky II" follows in a similar vein and also finishes up on the steps. This time, however, Rocky is inexplicably followed by about half the kids in the city of Philadelphia.
"Rocky III" and "Rocky IV" are the films where the overblown montage trope reached its pinnacle. In "Rocky III," the montage takes place on Creed's home turf in Los Angeles. There, Creed and Rocky brush up Rocky's boxing skills in a grimy gym, run along the beach, and end up frolicking in the waves together. That's still restrained compared to "Rocky IV," a film that is basically one long series of montages, including one composed of shots from the montages in previous movies. The training montage as Rocky prepares to face Drago pushes the underdog motif to the point of ludicrousness, showing Rocky training in a woodshed while his opponent prepares in a high-tech facility overseen by scientists.
"Rocky V" returned to the steps in Philly, as did "Rocky Balboa," to far more poignant effect as an aging, lonely Rocky comes full circle. The latter also acknowledges that the "Rocky Steps" have become one of Philadelphia's biggest tourist attractions thanks to the global popularity of the "Rocky" films.
The final showdown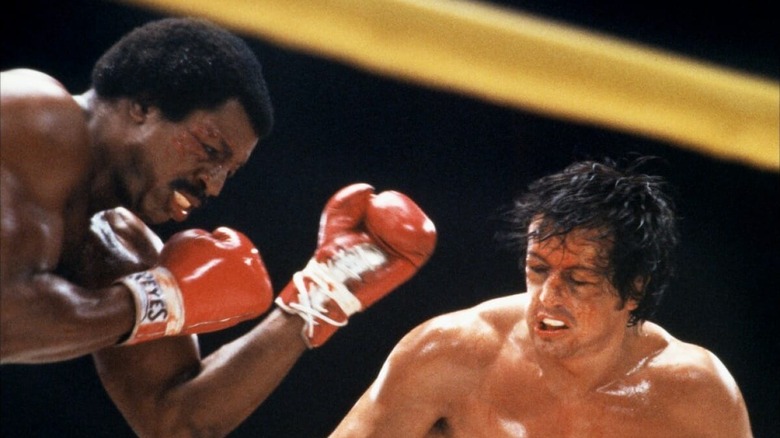 United Artists
The fight gets underway in front of a hugely partisan crowd in Philadelphia. Rocky, in the unfamiliar orthodox stance, uses his familiar strategy of absorbing the force of Creed's punches with his face. That switch from southpaw, supposedly to protect his vulnerable eye, seems pretty pointless as he hardly tries to block any shots at all. Rocky is knocked down but quickly rises.
Creed plays up to the cameras in Round Two, ready to deliver on his promise to drop Balboa in this round. He sends Rocky sprawling again, who rises more slowly this time. Over the next few rounds, Rocky keeps taking the punches and Creed keeps winning on points until the eighth, which the commentators call for Balboa. Doubt is creeping into Creed's eyes.
Before the final round, Creed is well ahead on points and only needs to stay away from Rocky to win the fight. Rocky is dead on his feet but is reluctant to follow Mickey's plan of switching back to southpaw to surprise the champ. Creed's pride pushes him forward seeking the K.O., yet he starts taking some serious blows when Rocky does switch and starts fighting in his natural stance.
Then the crunch moment comes. A big left from Rocky sends Creed crashing to the canvas but the momentum makes him fall, too. Both fighters try to beat the count, dragging themselves up the ropes. Creed looks like he will make it first, but slumps in the corner as Rocky staggers to his feet, becoming the new heavyweight champion of the world.
Rocky's underdog journey is complete and he finally gets some respect from Creed. Overjoyed, he calls out to his wife at home, "Yo Adrian! I did it!" This time, he kept his promise and brought her home the win.