Dominic West Was In 'Despair' Over Playing Prince Charles For The Crown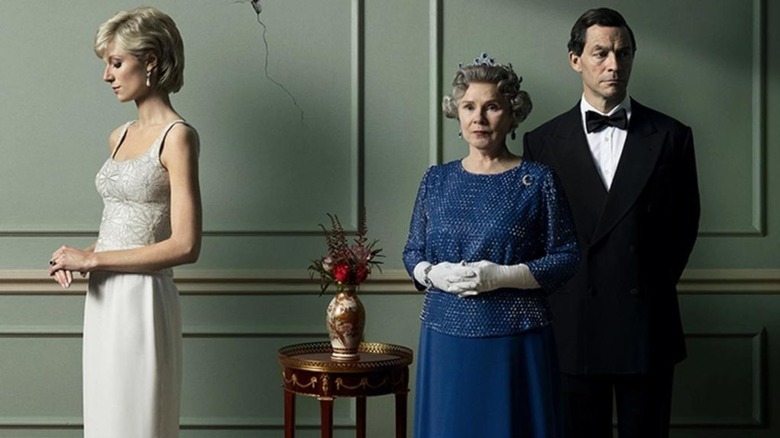 Netflix
"The Crown" recasts its characters every two seasons because the characters age far more quickly than the actors, and showrunner Peter Morgan isn't a fan of using makeup to make his actors look older. When the series first began, actors Claire Foy and Matt Smith took the lead as Queen Elizabeth II and Prince Philip. They passed the baton to Olivia Colman and Tobias Menzies, who have now passed it to Imelda Staunton and Jonathan Pryce in season 5. Elizabeth Debicki and Dominic West have now replaced Emma Corrin and Josh O'Connor's Princess Diana and Prince Charles — and while the transition is seemingly flawless, the actors worked hard to get the physicality of their characters right. 
While Debicki is the very image of the late Princess of Wales, her colleague was in "despair" over the physicality of Prince Charles — the actor believed he looked nothing like him.
'He's extremely contained and direct'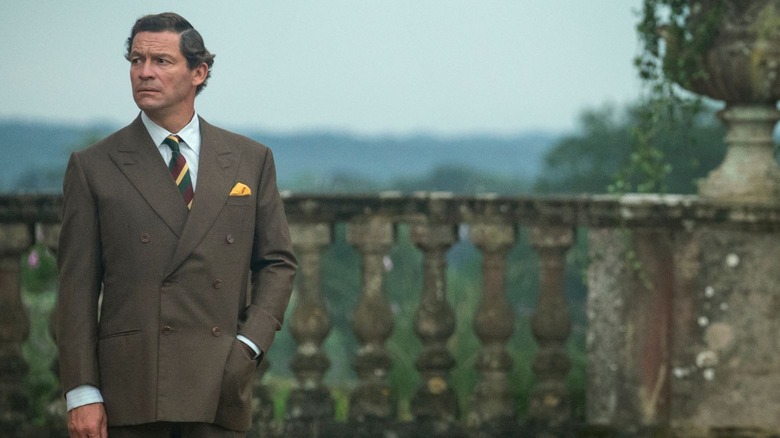 Netflix
Dominic West is a worthy successor to O'Connor; he mirrors Prince Charles' calm and composed demeanor with great sophistication. While the work he put in for his character effortlessly translates to the screen, West was rather concerned about playing the character. And no — it doesn't have to do with the recurring vitriol that Prince Charles gets for his past; it's his stature and personality that was a tricky thing to capture.
In a new clip illustrating Dominic West's transformation into Prince Charles, the actor explained that the only time he looked like the Prince was from behind. That's not particularly helpful when playing a major character on "The Crown."
"I was slightly in despair, you know? How was I gonna get the physicality of this guy? Because the only time I really look like Charles is from behind, because the hair is just perfect. He's extremely contained and direct, and he's not at all loose. He's very composed. What The Crown has always done so cleverly, I think, is not tried to imitate the characters, but to sort of evoke them."
Dominic West sympathizes with his character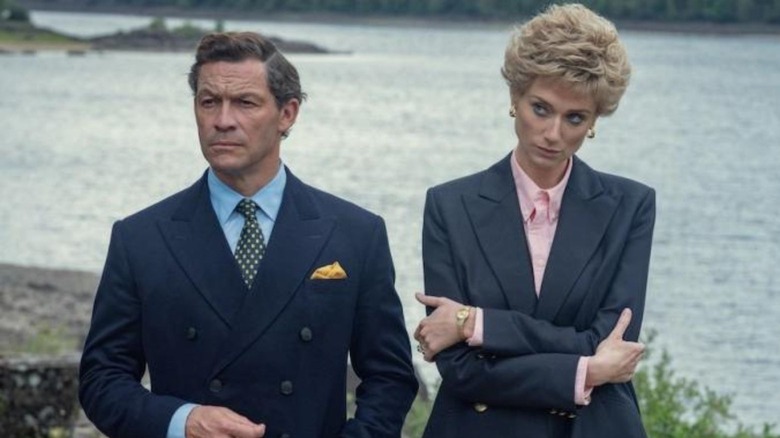 Netflix
The actor further discussed Prince Charles's public perception compared to that of Princess Diana — the future monarch rarely ever got much credit, and West sympathized with him for it. He said, "I have such deep sympathy with Charles, because he doesn't get much thanks, and particularly when he's standing next to Diana."
The single most remarkable thing about "The Crown" is that the Netflix series is kind to its characters. Whether the show is fictional or inspired by actual events is an unending debate, but they're real people being fictionalized. Peter Morgan has always maintained a steady interpretation of his characters; they're all flawed and have too much going on, but they're never demonized for it. Prince Charles might be an inherently unlikeable figure in the real world, but West carries an understanding performance and a claim that perhaps adds to his ability to empathize: that a life where you cannot marry the one you love is more tragic than one can imagine.