Elizabeth Debicki Dug Through A 'Tsunami' Of Research Before Playing Diana In The Crown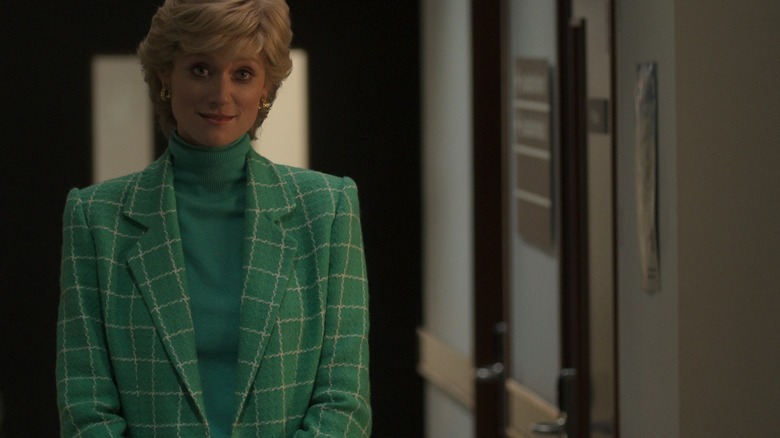 Netflix
"The Crown" returns this week with a season that's sure to be one of its most talked about to date. While much of the Netflix series has centered on the rise and reign of Queen Elizabeth, who's been played by Claire Foy, Olivia Colman, and Imelda Staunton in turn, the series' fourth season introduced one of the most beloved figures in British royal history: Princess Diana. The late Princess of Wales was portrayed in her early years with perfect coyness, charm, and sensitivity by Emma Corrin. Now, "Widows" star Elizabeth Debicki is set to take over the role, playing Diana during her emotionally fraught, intensely public later years.
Of course, "The Crown" will also likely have more eyes on it following the death of Queen Elizabeth and Prince Philip, a major moment in history that has led to renewed conversations around the downsides of the monarch. Peter Morgan's partly fictionalized series has long since been critical of the Crown but has also regarded its characters with deep humanity. Season 5, with its focus on the dissolution of Diana's marriage, will hopefully be no exception.
A life in snapshots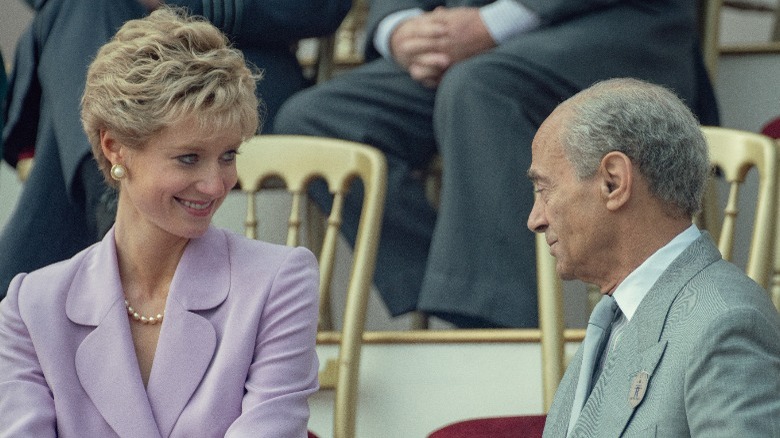 Netflix
Debicki spoke about preparing for the role in a featurette shared by Rotten Tomatoes TV, and she pointed out just how overwhelming it is to sift through the countless clips and photos of the late princess. "Diana being the most photographed person in the world at that time, there's just this incredible amount of content that we have access to," Debicki shared. "Obviously, as an actor, it's just, you open the portal and it's just this huge tsunami of information that comes at you."
Diana's life is indeed often remembered in snapshots: a timeline of her years in the royal family — and the years after her divorce, when the paparazzi continued to follow her — would include famous photos of her in outfits like her famous black "revenge dress" or her sheep sweater. But there were more groundbreaking photos, too, like those of her hugging a young AIDS patient during a time when the illness was heavily stigmatized. According to Debicki, she and costar Dominic West, who plays the future King Charles this season, both tried to look past the more manufactured image to the ones that they felt best represented the people themselves.
Finding the 'honest' Diana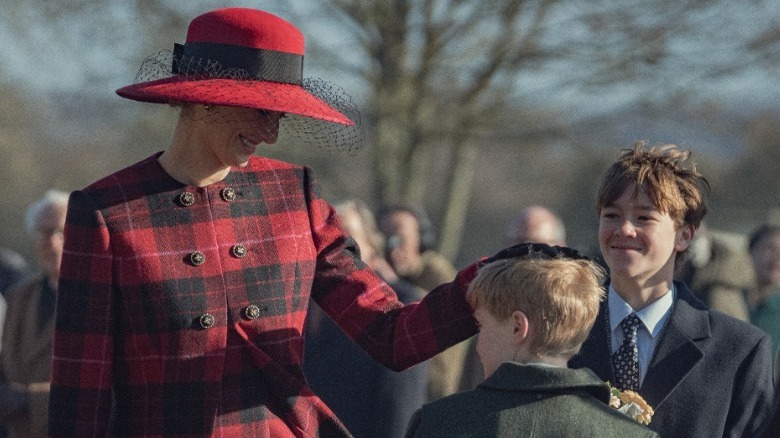 Netflix
"Dom was similar to me in this," she shared, "that we're always looking for the footage we could find of them that was the most honest in a way." Netflix has released some key footage of Debicki's Diana ahead of season 5, including a clip recreating a bombshell interview the late princess gave with Martin Bashir for BBC's "Panorama" in 1995. "Well, there were three of us in this marriage," she says, referring to her husband's mistress and future Queen Consort Camilla Parker Bowles, "so it was a bit crowded."
For the actress, looking the part helped, but it sounds like she recognized that in the end, it was up to her to put in a bold performance and represent Diana as well as she can. "All the departments start making things for you and you start stepping into the clothing, and the dialect is kind of humming along, and you start to sort of inhabit them and embody them," Debicki shared, "and then all of a sudden you have to just make this crazy leap."
It's tough to tell from the few short clips we've seen whether or not the actress nailed the character, but fans will know for sure when "The Crown" season 5 hits Netflix on November 9, 2022.