A Personal Connection With Pierce Brosnan Landed Michael Madsen In Die Another Day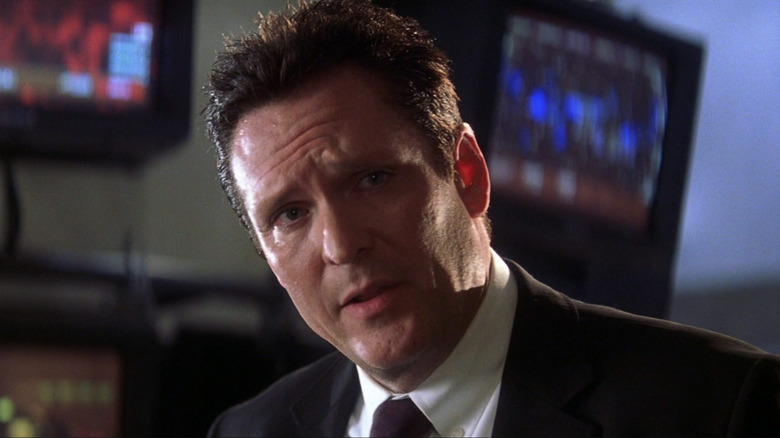 Metro-Goldwyn-Mayer (MGM)
Poor Michael Madsen. Ever since cutting off that cop's ear in "Reservoir Dogs," the veteran actor has had to be content with playing the villain. Even a role in family favorite "Free Willy" couldn't change the perception of the actor as a bad guy following his turn as Mr. Blonde in Quentin Tarantino's classic. That's despite his apparent desire to play the good guy. Madsen is (almost) always the villain — which is why he must have been pretty relieved to appear as a James Bond ally in "Die Another Day"... even if it was in "Die Another Day."
While the movie itself is remembered for its campy tone and generally ending Pierce Brosnan's tenure as Bond on a low note, it isn't without its highlights. And Madsen as NSA agent Damian Falco just happens to be one of them. Between the ice palaces and truly abject CGI, Madsen's gruff Falco brought some much-needed grittiness to proceedings without requiring the actor to veer into villainous territory. The boss of Halle Berry's Jinx, Falco is somewhat of a question mark throughout the film, with director Lee Tamahori playing on Madsen's villainous notoriety before confirming him as one of the good guys.
Damian Falco would never return to the series after "Die Another Day," but it seems Madsen was glad just to be on the side of good for once. And, as it turns out, the actor may never have gotten the chance to demonstrate his virtuous side if he and Pierce Brosnan hadn't shared an unlikely connection.
Neighbors with Bond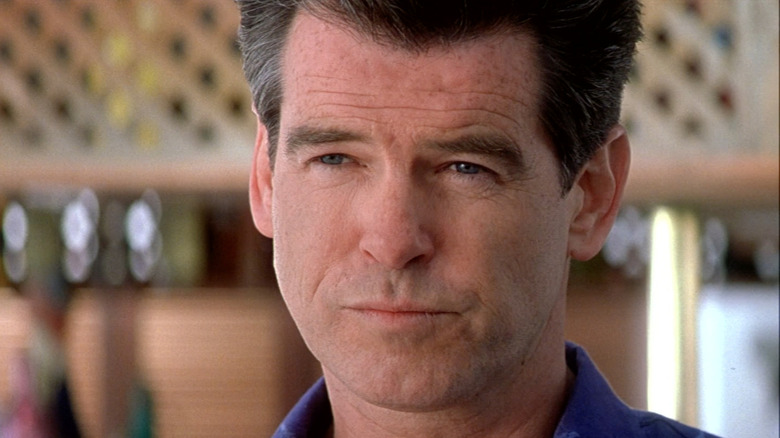 Metro-Goldwyn-Mayer (MGM)
Speaking to The AV Club, Madsen talked fondly of his time on the ill-fated movie, recalling his first meeting with Bond producer Barbara Broccoli and how he "loved" the filming experience. Apparently, none of this would have happened if it weren't for the fact that the "Reservoir Dogs" alum Madsen and Brosnan happened to be neighbors. The actor recounted how he managed to wangle his way into the 20th 007 outing due to his chance connection with the Bond star:
"I was friends with Pierce [Brosnan] because we lived on the same stretch of beach, and our kids played together, and I joked around with him one day about being in a Bond film. I thought it would be pretty interesting to be on a resume. And Barbara Broccoli flew me to London just to meet her and talk about this little part. My mother and my sister are completely in love with Judi Dench, and Pierce is my buddy, so I went to meet Barbara, and the next thing you know, I've got the part."
The veteran actor went on to recall shooting at the hallowed Pinewood Studios — longtime home of the Bond movies — where he evidently rode his bicycle around the "big set" and enjoyed reconnecting with his "Mulholland Falls" director Lee Tamahori. And it seems the novelty of it all wasn't lost on Madsen, who noted how "you've got to know more than a few people involved to get you in the door." In his case, knowing Bond himself was enough.
One and done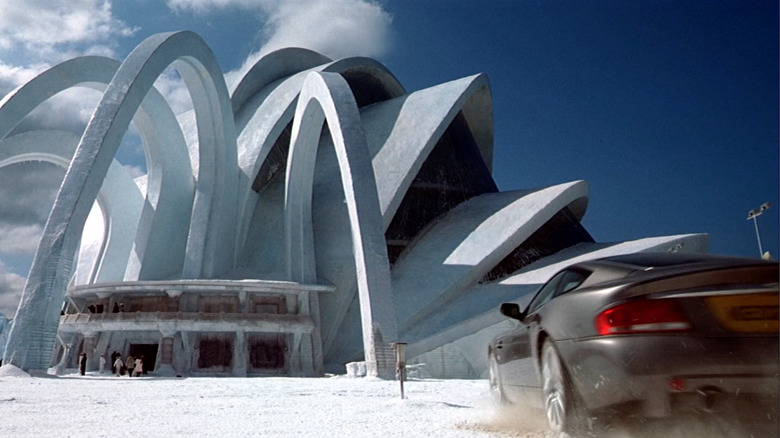 Metro-Goldwyn-Mayer (MGM)
Unfortunately for Madsen, Damian Falco was destined to never return to the franchise. Once "Die Another Day" marked the end of the Brosnan James Bond era, Daniel Craig took over the title role to usher the 007 saga into the age of the gritty reboot. And while characters such as Judi Dench's M would survive the transition, Falco was consigned to Bond history after his one appearance.
In hindsight, it's a shame that Madsen's NSA boss didn't make it into the Craig era. His serious demeanor would have fared well in the more solemn environs of Martin Campbell's "Casino Royale." Perhaps Barbara Broccoli and co. weren't too keen on reminding people that "Die Another Day" was a thing that happened. Whatever the reason, Madsen made clear in his interview that if Brosnan had continued as Bond, he would have returned as well. The veteran 007 actor was clearly Madsen's way into the franchise — even if he doesn't explicitly state that Brosnan spoke to Broccoli before she and Madsen met.
Perhaps if Halle Berry's Jinx spinoff wasn't axed, Madsen would have been given the chance to further establish himself as a credible option in the "good guy" category. As it stands, he at least has the distinction of not only appearing in a Bond movie, but being a good guy in a Bond movie. That and, as the actor recounts, he got to smoke a cigarette on-screen after Judi Dench made a fuss.