Cannibal Horror Ravenous Was Guy Pearce's Worst Experience Shooting A Movie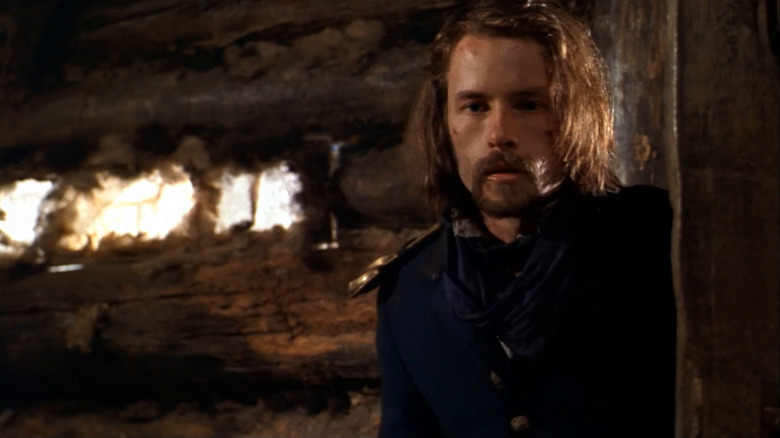 20th Century Fox
Guy Pearce has long been considered one of the most compelling actors of his generation delivering memorable roles in notable films like "LA Confidential," "Memento," "Iron Man 3," and even lesser-known gems like "The Rover" and the sci-fi actioner "Lockout." His chameleon-like ability to transform seamlessly from role to role has kept him in high demand for decades. Pearce has recently made the move over to television, appearing in the psychological mystery series "Mare of Easttown" and "Jack Irish." Pearce will be seen next opposite Damien Lewis ("Billions") in the Cold War drama limited series "A Spy Among Friends" which just aired its first episode last week on Spectrum's On Demand platform and BritBox. Adapted from the novel by Ben Macintyre, "A Spy Among Friends" follows two MI6 intelligence officers whose friendship collapses after one of them becomes a double agent for the Russians during the 1950s. 
While promoting the new show, Pearce also spoke about some of the highs and lows of his long career in the December 2022 issue of Total Film. The veteran actor opened up in the interview about working on the cannibalistic horror western "Ravenous," disclosing that it was one of the hardest film shoots he had ever experienced "primarily because there was so much dissent." Pearce recalls: "There was a lot of arguing going on with executives and producers." Even though "Ravenous" has its staunch defenders now and has since become a cult classic, the drama behind the scenes escalated to the point where the original director, Milcho Manchevski, was fired. 
Setting the record straight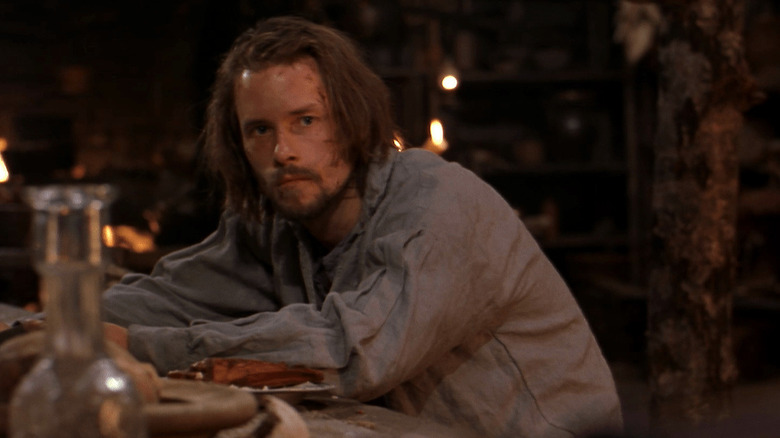 20th Century Fox
For some reason, it seems like the executives at Fox wanted to try and turn a gory, psychological horror western set in the 19th century into a movie that could capitalize on the meta-horror success of Wes Craven's "Scream." When there was pushback from Manchevski, Pearce recalls that the "Ravenous" cast and crew were misled by the powers-that-be, telling Total Film:
"We were lied to about why the [original] director was fired. They had said, 'Well, the editor said this stuff can't be edited together.' I went straight to the editor, and said, 'Is this true?' He said, 'No, not at all.' 'Scream' was popular in those days, and they were wanting to make more of that kind of film. Whereas our director, Milcho Manchevski, clearly wanted to make a dark, psychological thriller. It was my first experience in realising that people tell lies about what it is you're making and why."
Pitting a creative team against each other to steer a project in an entirely different direction is the epitome of studio interference. In a clarification from the original director back in 2015, Manchevski revealed publicly to JoBlo that his vision for "Ravenous" had been intentionally undermined: 
"Laura Ziskin, the head of Fox 2000 was unhappy that she could not direct vicariously through me. I told her she did not have the creative credentials to tell me what to do. And she didn't. Money does not buy her the right to change a work of art."
That quote, "Money does not buy the right to change a work of art" should be framed and hung on the walls of filmmakers and financiers alike to remind them to keep the business and the art separate. 
Ending on a positive note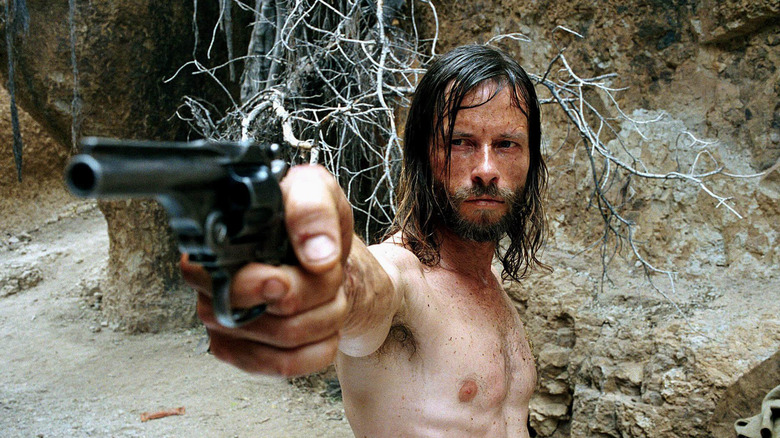 Sony Pictures
Manchevski also told JoBlo that "'Ravenous' could have been a really quirky, fun, disturbing and sophisticated little gem." The silver lining for everyone involved, including the film's eventual director, the late Antonia Bird, was that "Ravenous" turned out to be just that. Originally released as a box office disappointment, the stellar cast including Pearce, Robert Carlyle, Neal McDonough, and Jeremy Davies has helped the horror western become a beloved period piece that is consistently listed as one of the best genre films of the '90s. 
So, if "Ravenous" was Pearce's worst on-set experience, what was his best? The answer is another revered western featuring one of the actor's best performances. "'The Proposition' was one that meant a lot," Pearce tells Total Film, "mainly because John Hillcoat was such a lovely man to be working for. But also being out in that part of the world, and tapping into Aboriginal culture, and the history of Australia. Just being out there is a really spiritual experience, anyway."
The sweeping and sinister soundtrack from Nick Cave and Warren Ellis is another reason that "The Proposition" has garnered a larger share of acclaim over the years, providing Cave's loyal fandom another collection of compositions to devour. Because of the attention the score received, Cave went on to score "The Assassination of Jesse James by the Coward Robert Ford" and the Jeff Bridges star vehicle "Hell or High Water" and, most recently, the controversial Netflix series "Dahmer" about serial killer Jeffrey Dahmer. Here's hoping that Pearce and Cave will collaborate on a new meditative western sometime in the near future.