Carnival Row Season 2 Trailer: The Final Season Promises Everything Will Fall Into Place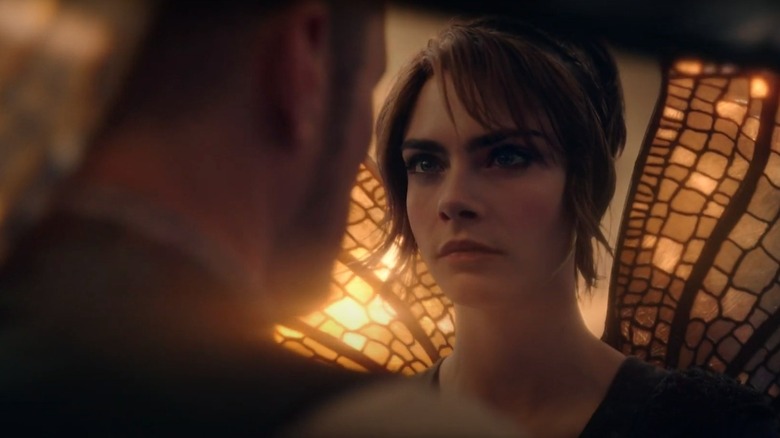 Prime Video
It's been a long, long wait since season 1 of "Carnival Row" debuted on Prime Video to generally positive reactions (/Film's Vanessa Armstrong reviewed the first season here). Fans have anxiously waited since August of 2019 to find out what happens next in the dystopian fantasy series that doesn't seem that much more heightened than our own world. With the recent news that season 2 will bring the series to a grand conclusion, Prime Video subsequently dropped a brief but evocative new teaser for the next installment of the show.
Focusing on issues of immigration, oppression, power grabs, an ongoing murder-mystery, and even a will-they/won't they romance at the heart of it all, "Carnival Row" quickly made itself feel wholly relevant to our own turbulent political times ... though with the added distinction of exploring these topics through characters who happen to be mythical, wing-sprouting "fae," goblins, fauns, and other mythological creatures.
Over three years since season 1 came and went, viewers will no doubt be anxious to get their first look at the continuing adventures of Orlando Bloom's Rycroft "Philo" Philostrate, Cara Delevingne's Vignette Stonemoss, and many more returning (and new!) faces. Check out the new footage below.
Watch the Carnival Row season 2 teaser
When last we left the world of "Carnival Row," the plight of the fae couldn't have felt more dire as they were rounded up and sectioned off from all contact with humans ... with Philo, the former Inspector of the Burgue Constabulary, counting himself as one of them. The season 2 teaser gives us a fresh look at Philo and Vignette, falling from the sky as the hellish city below them burns.
Created by Travis Beacham and René Echevarria, season 2 of "Carnival Row" stars Orlando Bloom and Cara Delevingne and features the writing talent of Erik Oleson, Beacham, Marc Guggenheim, Sarah Byrd, Wesley Strick, Dylan Gallagher, Mateja Božičević, and Tania Lotia. Prime Video is keeping much of the details surrounding this second and final season under close wraps, though it's set to premiere on February 17, 2023.
In a fantasy world where humans and creatures clash, Season Two of Carnival Row picks up with former inspector Rycroft Philostrate a.k.a. Philo (Orlando Bloom) investigating a series of gruesome murders stoking social tension. Vignette Stonemoss (Cara Delevingne) and the Black Raven plot payback for the unjust oppression inflicted by The Burgue's human leaders, Jonah Breakspear (Arty Froushan) and Sophie Longerbane (Caroline Ford). Tourmaline (Karla Crome) inherits supernatural powers that threaten her fate and the future of The Row. And, after escaping The Burgue and her vengeful brother Ezra (Andrew Gower), Imogen Spurnrose (Tamzin Merchant) and her partner Agreus Astrayon (David Gyasi) encounter a radical new society which upends their plans. With humans and fae folk divided and freedom on the line, each hero will face impossible dilemmas and soul-defining tests in the epic conclusion of Carnival Row.