Arnold Schwarzenegger Was A Saving Grace During Total Recall's Grueling Shoot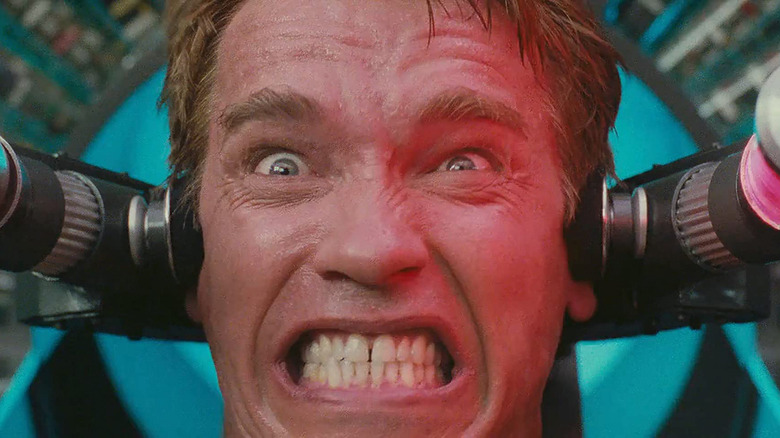 TriStar Pictures
In the 1990 sci-fi action film "Total Recall," Arnold Schwarzenegger — as a doctor foreshadows in the movie – gets the girl, kills the bad guys, and saves the entire planet. Not only did the former California governor save the day in the movie, it seems he may've also helped save the film's entire production. "He's the soul of the movie," Paul Verhoeven, the director of "Total Recall," told The Ringer in 2020. "Before shooting, during shooting, and after shooting."
In the movie, which is based on a short story by Philip K. Dick and set in 2084, Schwarzenegger plays Doug Quaid, a construction work on Earth who learns he's a top secret agent for a tyrannical government on the now-colonized Mars. He later discovers his real name is Carl Hauser and that he and his boss, Vilos Cohaagen (Ronny Cox), erased his memory in order to give him a new identity as part of their elaborate conspiracy to kill the leader of the rebel fighters on Mars.
The complex role was seen as an evolution for Schwarzenegger, who had achieved action star status in the '80s thanks to films like "Commando" and "Predator." A decade after "Total Recall," he would again seek to reinvent his reputation with "The 6th Day."
"Total Recall" was made on a budget of $65 million, which was a massive figure for the time. The movie was shot in five months, most of which took place at Estudios Churubusco in Mexico City. Production was grueling for everyone involved. According to The Ringer, dust clouded the air, multiple people developed gastrointestinal distress, and Verhoeven would call for scenes to be reshot as often as 20 times. When Schwarzenegger noticed the somber mood on-set, however, he stepped up to serve as the production's saving grace.
Schwarzenegger cracked jokes to lighten the mood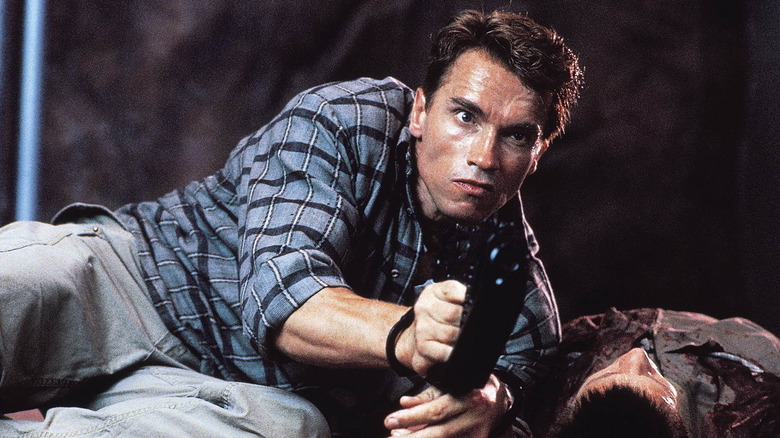 TriStar Pictures
A big factor that contributed to the discomfort in Mexico City was that the producers on "Total Recall" had spent most of the film's hefty budget on building futuristic Earth and Mars. That meant they had to be parsimonious with the film's catering, amenities, and so forth. With no amenities or fancy tricks at his disposal to uplift his fellow cast members and crew, Arnold Schwarzenegger instead relied on his natural charisma.
Mel Johnson Jr., who plays the double-crossing Martian cab driver Benny, told The Ringer that the revered action star essentially became a comedian on set. For example, Johnson recalled shooting a scene that called for him to walk away from Schwarzenegger. However, because Johnson didn't have his reading glasses on, he accidentally moved farther away than instructed. After a couple of takes of not getting it right, Schwarzenegger finally joked to him, "Man, if you want to be in the movie, the camera's going to be on me." Everyone howled with laughter, Johnson Jr. recounted. Schwarzenegger even poked fun at Paul Verhoeven with zingers that the Dutch director failed to catch. "Paul wasn't getting it at all," Johnson Jr. said. "It was hysterical."
That's pretty cool of Schwarzenegger to notice the bad vibe on-set and make it his personal duty to make everyone laugh. He had been pushing to make "Total Recall" for years, so I can see why he may have felt responsible for making everyone comfortable. But between cracking jokes, he had some problems of his own to manage.  
Arnold Schwarzenegger got injured on set ... a lot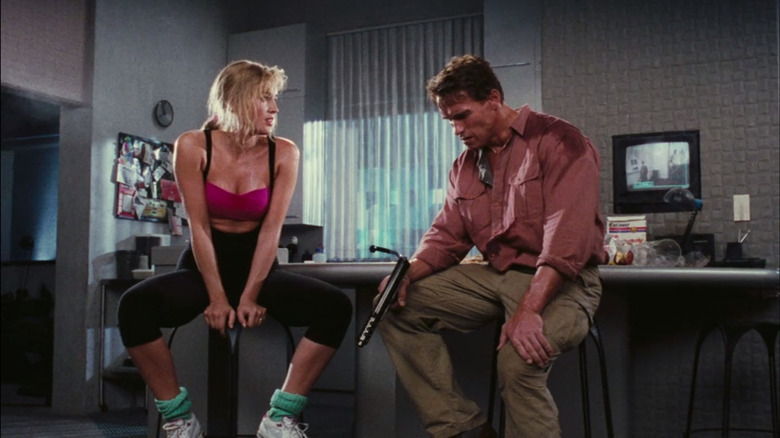 TriStar Pictures
If there's one thing you can count on, it's that Arnold Schwarzenegger is going to get hurt while making a movie. That's what happens when you insist on performing as many of your own stunts as possible (as he has for most of his acting career). "Total Recall" was no different. During filming, he suffered quite a few injuries. "Broken fingers, and cuts with glass, and things like that," he told The Ringer. "I had to be stitched up at two in the morning because it was a lot of night shooting."
In a 2015 interview with Yahoo Entertainment, Schwarzenegger spoke in detail about one particular scene from "Total Recall" that led to him being injured. In the scene in question, members of the tyrannical government chase Doug through a subway station on Earth. Seeking refuge in a moving subway car, he smashes one of its windows with his gun and leaps through it. Schwarzenegger explained what went wrong:
"They did not explode the window before I hit the window with the gun. So therefore, I cut my wrist deep, and I had to get stitched up during lunch break, which was at like at midnight because we were night shooting. After I was stitched up and everything like this, we hid the bandages; we put the jacket all over to the front and taped it up so we don't see the bandages."
Schwarzenegger went back out to reshoot the scene and proceeded to leap through the shattered subway window with a slit (!) wrist. Like Paul Verhoeven said, Schwarzenegger was indeed the soul of "Total Recall." And don't feel too bad about his wrist. These days, he shows off his scars like badges of honor.