A Horse Fell On Arnold Schwarzenegger While Preparing To Shoot Red Sonja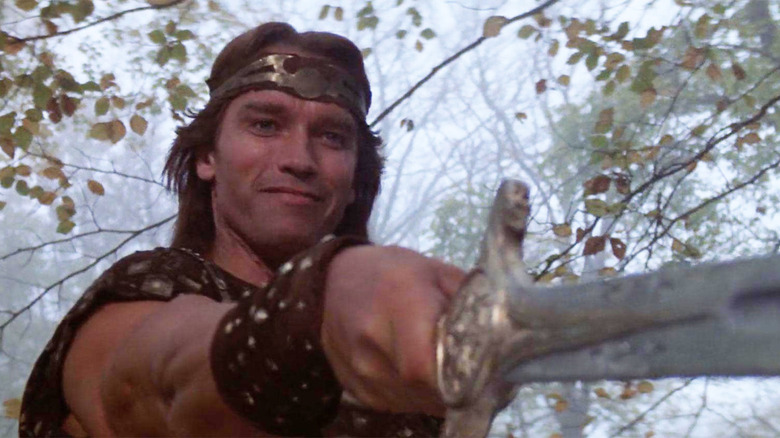 MGM / UA
Richard Fleischer's peplum film "Red Sonja" was released in the United States on July 3, 1985, making it the very first feature film to be based on a Marvel Comics character. And while some scholars in the field of Depression-era pulp magazines might point out that Red Sonja actually finds her origins in Robert E. Howard's 1934 Magic Carpet Magazine short story "Shadow of the Vulture" (wherein she was called Red Sonya of Rogatino), it's clear that Fleischer's film was more directly based on Marvel's repurposed version of the character from 1973.
If one needs further evidence of the "Red Sonja" movie's Marvel credentials, one can point to the presence of Arnold Schwarzenegger in the film, as a very Conan-the-Barbarian-like character named Kalidor. While this doesn't technically link "Red Sonja" to the 1982 film version of "Conan the Barbarian," it's close enough to be considered at least a spinoff. After all, Howard's Conan character was being published in Marvel Comics in 1970, and ran with Red Sonja comics concurrently. 
All of this is to say that "Red Sonja" brought Marvel to the big screen prior to "Howard the Duck," which is an important distinction for fans of trivial nonsense. Whether or not the upcoming "Red Sonja" film will be tangentially connected to the MCU remains to be seen. 
Although Brigitte Nielsen was the title character, Schwarzenegger was top billed, as he was considered the bigger star. This, in spite of having very little screen time; Kalidor only appears in the film's opening scenes. Perhaps to karmically redress the balance somewhat, Schwarzenegger was nearly injured in a strange on-set accident wherein a horse fell on him. He told the story to Johnny Carson on a 1984 episode of "The Tonight Show."
Kalidor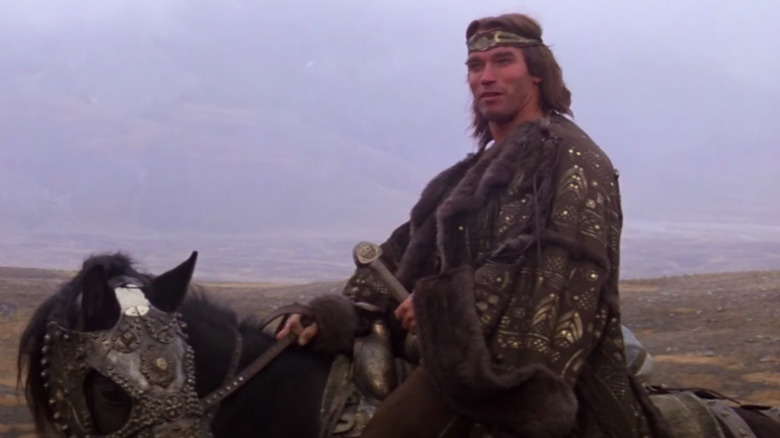 MGM / UA
In Fleisher's film, Sonja's story begins when she is assaulted and left for dead by a wicked queen. A goddess revives her, and gives her superpowers, under the stipulation that any of Sonja's future romantic partners have to defeat her in a swordfight first. Sonja also has a sister named Varna who is injured in a kerfuffle over a magical widget that no one can control and that only women can touch. Kalidor will be the one to bring Sonja and Varna together for an emotional farewell. Kalidor will only play a small role besides, and will often be seen on horseback.
Schwarzenegger appeared on "The Tonight Show" to promote his then-new film "The Terminator," but also mentioned several films he was working on at the time, including a few with horses, and that's where "Red Sonja" comes into play. Schwarzenegger reveals that he is typically very good with horses, that he likes them, and that the film's stunt coordinator Terry Leonard trained him quite well. But as Schwarzenegger points out, even an experienced rider can have some horse trouble.
The action star told Carson about trekking to Rome to find a horse he felt he could handle, and one that could handle him. Schwarzenegger found that the Roman horses weren't trained very well, and that they didn't know how to handle running on a muddy ground, softened from the previous night's rainfall. In taking a horse for a test ride, the animal slipped in the mud, toppled forward, and threw Schwarzenegger onto the ground. 
Schwarzenegger was knocked unconscious. When he awoke, the stable workers helped him off the ground and told him that the horse had indeed landed on top of him. Luckily, it seems neither the horse nor Schwarzenegger was injured in the accident. 
Schwarzenegger, perhaps wisely, selected another horse to ride for "Red Sonja."