Mike Flanagan Says Terrifier 2 Just Invented The 'MegaSlasher' Genre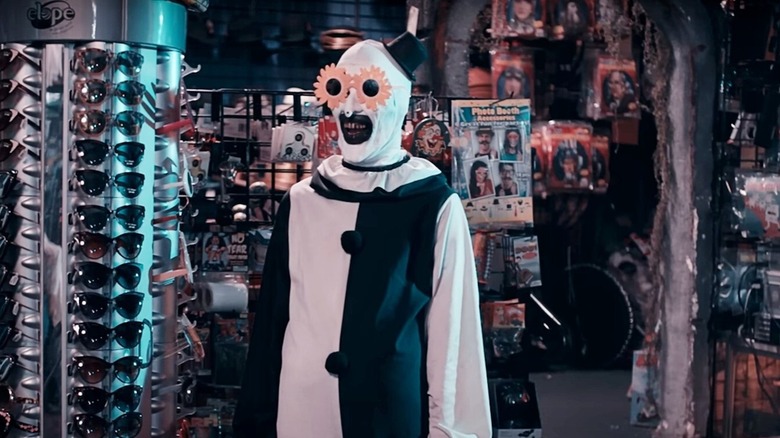 Bloody Disgusting/Cinedigm
If you're a film person, you've probably already heard about the balls-to-the-wall chaotic gorefest that is "Terrifier 2." Art the Clown returns from the dead to live his best happy-go-lucky slasheriffic life, and he has done so with aplomb based on reports of people puking while watching the film in theaters. Who can blame him, though? Wouldn't we kill to make sure that we were perpetually stuck in our own happy place? For Art, he most definitely would, and proves it in this latest terrifying installment.
Just to get you caught up to speed, "Terrifier 2" features the return of David Howard Thornton as the suspiciously happy murder clown. Something has brought Art the Clown back from the dead and, like any other giddily blood-seeking clown would want to do, it's not long before he starts terrorizing Miles County again. Per convenient slasher timing, Art the Clown returns on Halloween night, and fixates on a teen and her younger brother who, in all honesty, didn't need these shenanigans. But who ever needs murderous shenanigans in their life?
With "Terrifier 2" getting widespread attention, people have been slowly coming out of the woodwork to talk about where it sits within the genre. It's not quite a traditional slasher the way horror fans have come to understand it. This, even though Art the Clown fulfills the definition of a slasher by hunting and killing groups of people. But horror filmmaker Mike Flanagan, known for directing movies like "Doctor Sleep" and TV shows like "The Haunting of Hill House," has another label for the terrifying film.
The MegaSlasher!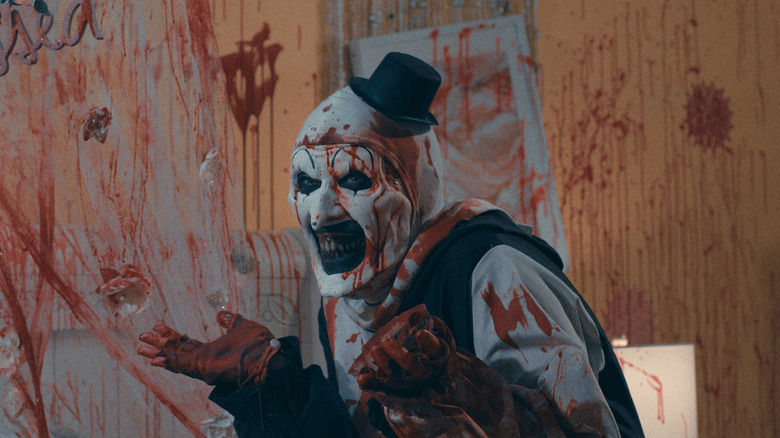 Bloody Disgusting/Cinedigm
Modern horror is always getting re-named something or other these days. Most horror fans have gotten used to rolling our eyes at the term 'elevated horror' because God forbid we hold horror to any sort of esteem in these film-watching parts. It's got to be 'elevated' for anyone to take it seriously or give it the respect the genre rightfully deserves. Read this in a slightly sarcastic tone, folks.
Saltiness aside, when it comes to "Terrifier 2," its full embrace of practical effects and luxuriating in making people watch and take in every excruciating detail of the carnage Art enacts on his victims reads as something different altogether in our horrorscape. It's a slasher, but it also embraces the kind of feel that you'd typically see in a grindhouse theater, with its low-budget, gory, splatter horror that aims to make audiences squirm.
Horror maestro Mike Flanagan had his own thoughts on how "Terrifier 2" should be categorized. Taking to Twitter post-viewing, Flanagan said, "'Terrifer 2' is wild. Very ambitious and deeply disturbing. Practical FX are off the chain. Lauren LaVera is quite terrific and Art the Clown is downright ghastly. Seemed to have invented a new sub genre: the MegaSlasher. Big Respect to all involved."
While Flanagan clearly liked the film, the classification of "Terrifier 2" as a MegaSlasher or inventing a new subgenre is interesting. What differentiates a MegaSlasher from a regular ol' slasher film? What are the parameters? And will people agree with this classification?
Definition of a film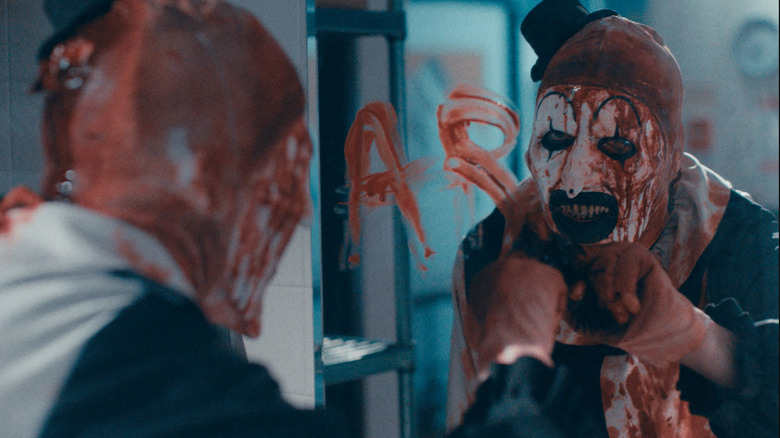 Bloody Disgusting/Cinedigm
As human beings, we like easy classifications for things. In horror, this becomes a bit muddy when you take into consideration the many subgenres that make up the scope of horror. From psychological to splatter to the supernatural, one can argue that there is no need for the creation of a new subgenre like a MegaSlasher. "Terrifier 2" could easily fit into two subgenres of horror already depending on how you look at it without needing a newly invented subgenre.
Obviously, "Terrifier 2" involves Art hunting down people and killing them, with the inevitable faceoff between himself and LaVera's Sienna. Classic slasher material. However, the gore levels in this film are likely what led to that MegaSlasher label. But there's already a subgenre that would fulfill that — the splatter genre.
The splatter genre is defined by its focus on gore and graphic violence, which both of the "Terrifier" films have in abundance. Art the Clown takes his sweet time onscreen destroying his victims, with the audiences morbidly locked into witnessing these slowly-wrought, violent acts of destruction. The splatter genre is also incredibly theatric with the delivery of its gore, which the "Terrifier" films also revel in.
But there is that slasher element to consider, so there is a genre blur here. A blurring of the genres is nothing new in horror, however, so the invention of a new subgenre seems unnecessary. If one must, one could argue "Terrifier 2" is a splatterslasher if anything.