The 15 Best Steve Martin Movies, Ranked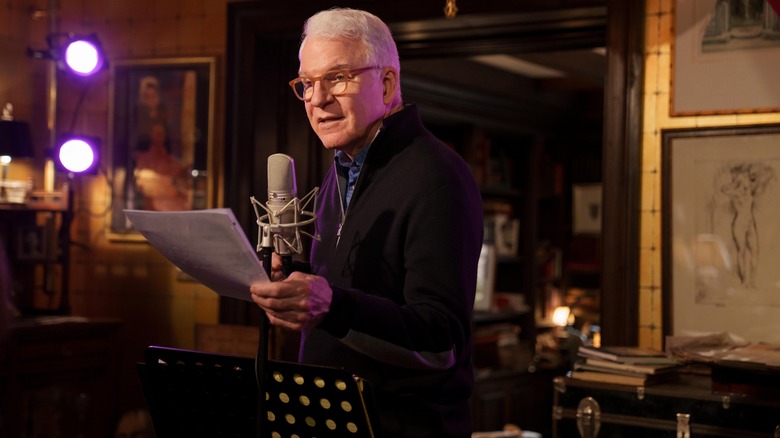 Hulu
Steve Martin is one of Hollywood's most beloved and iconic comedy stars. With over fifty years in the business, Martin has grown from a stand-up comic and "Saturday Night Live" regular to a respected comedy writer and actor. After breaking out to wider mainstream audiences with 1979's "The Jerk," Martin became a bonafide movie star. But the comedian has never stuck to one art form, publishing several books and plays — not to mention Martin's music career too! Yes, he's known for taking on slapstick comedic roles that cast him as nonsensical or a highly intelligent neurotic. But Martin is also a critically acclaimed creative who received six Golden Globes nominations and eight Emmy nominations for his acting and writing chops.
Martin recently delighted fans with season 2 of "Only Murders in the Building." Allegedly, Martin plans to retire after his Hulu series wraps. Martin is also one Tony award away from the legendary EGOT — thanks to receiving an honorary Oscar in recognition of his talents and his contribution to film. It's safe to say Martin's career across film, television, music, and more has been nothing short of remarkable. Here, we've gathered the 15 best Steve Martin movies, ranked from worst to best.
Baby Mama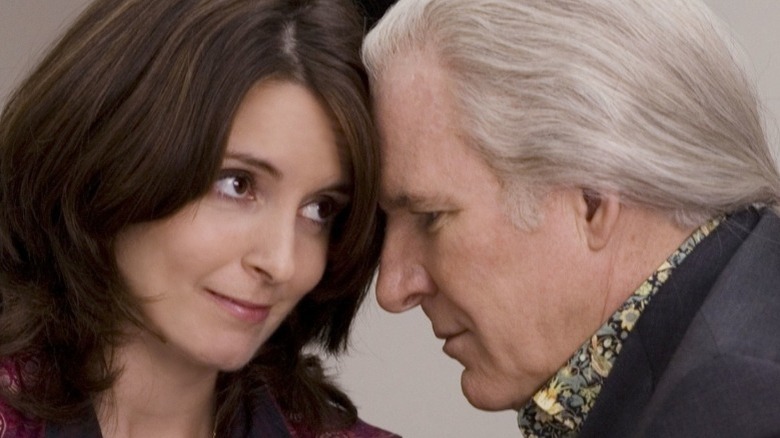 Broadway Video
Shortly after their reign on the Weekend Update desk, "Saturday Night Live" alums Tina Fey and Amy Poehler co-starred in "Baby Mama," a friendship comedy about the complications of motherhood and surrogacy. Fey's Kate is a high-achieving single woman who works at a plant-based health foods company. Her life is seemingly perfect, except she wants a child and has been unable to conceive. When she decides to use a surrogate, she meets Poehler's Angie, who agrees to be her surrogate for a fee. While Kate is buttoned-up, Angie is the polar opposite in virtually every way. But as the two get to know each other, Angie realizes there is more to surrogacy than the money, complicating matters considerably since she lied about her pregnancy. 
Martin has a smaller role as Kate's hippie granola boss, Barry. Rocking a ponytail, Martin goes for the broad humor here. He creates a fully-realized character with minimal screen time that is still achingly funny. Though a smaller role, "Baby Mama" is still worth a watch for Martin fans — especially those curious to see his work within the larger SNL extended universe.
Dead Men Don't Wear Plaid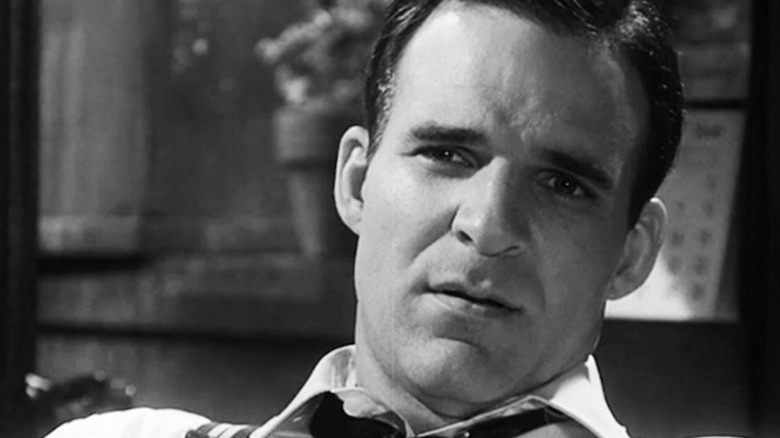 Universal Pictures
"Dead Men Don't Wear Plaid" (1982) was Martin's second feature screenplay and reunited him with director Carl Reiner after "The Jerk." Private detective Rigby Reardon (a scenery-chewing Martin) uncovers a tangled web when Juliet Forrest (Rachel Ward) asks him to solve her father's murder. As he tries to solve the mystery, he encounters a host of famous stars from the Golden Age of Hollywood. Rigby's assistant is Philip Marlowe himself — Humphrey Bogart in archival footage from 1946's "The Big Sleep."
A direct parody and loving homage to film noir, "Dead Men Don't Wear Plaid" showcases' Martin's ability to play the hard-boiled detective archetype. He makes expected jokes funnier and finds humor in situations where there shouldn't be any — like when making a cup of coffee. With costumes by famed designer Edith Head and archival footage featuring actors like James Cagney and Ingrid Bergman, "Dead Men Don't Wear Plaid" is a genuinely beautiful piece of filmmaking and a hilarious movie.
Three Amigos!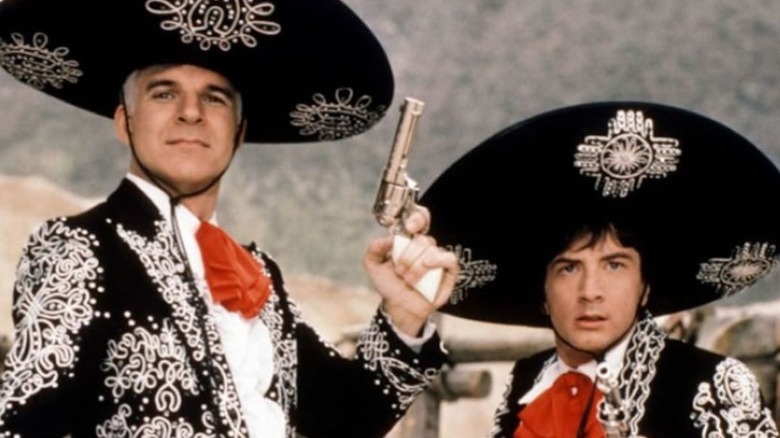 Broadway Video
Easily one of Martin's most famous comedies, 1986's "Three Amigos!" is another example of the comedian's ability to blend silly humor and Hollywood satire. The film follows Lucky Day (Martin), Dusty Bottoms (Chevy Chase), and Ned Nederlander (Martin Short) — three silent film stars who play bandit fighters. In a ridiculous case of mistaken identity, the Three Amigos are called to a remote Mexican village to face off against the local outlaw, El Guapo (Alfonso Arau). Of course, the movie stars have no idea that the fight is real. When reality comes crashing down, they disagree over whether to flee and save themselves or use what little knowledge they have to stay and help the locals. 
Co-written with Lorne Michaels and Randy Newman, "Three Amigos!" feels like an unofficial "Saturday Night Live" movie. Though slightly less heartfelt and intelligent than Martin's better standalone scripts like "Roxanne" and "Bowfinger," "Three Amigos!" is one of the funniest films he ever made. However, it's also a time capsule of the chemistry he shared with fellow comedic legends Short and Chase. It's a rare ensemble comedy for Martin and an example of how he can sit back and play the straight man with other comedians to brilliant effect.
All of Me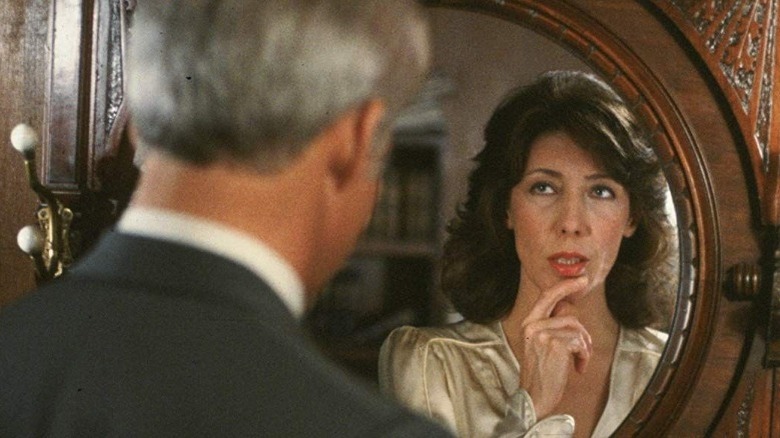 Old Time Productions
1984's "All of Me" is the kind of romantic comedy that could only exist in the '80s, as it's simultaneously a particular criticism of the yuppie era and new-age spiritualism. Martin stars as Roger, an attorney on his way to becoming a partner at his law firm. But when he meets Edwina (Lily Tomlin), an eccentric and wealthy heiress, that changes. Edwina plans to live on after her death by transferring her soul to Terry (Victoria Tennant). Of course, her soul accidentally ends up in Roger, so the two have to learn how to share a body. As Roger tries to help her get her soul into the correct body, they unexpectedly bond and find they have more in common than they realized.
Directed by Carl Reiner, "All of Me" is an oddly sweet story that delivers one of Martin's best physical performances as he portrays having two souls in one body. Yet, he also imbues Roger with empathy for Edwina. Martin and Tomlin make a perfect pair comedically and emotionally as Roger and Edwina teach each other to be better people. Martin and Tomlin earned a Golden Globe nomination for their impeccably timed acting here.
It's Complicated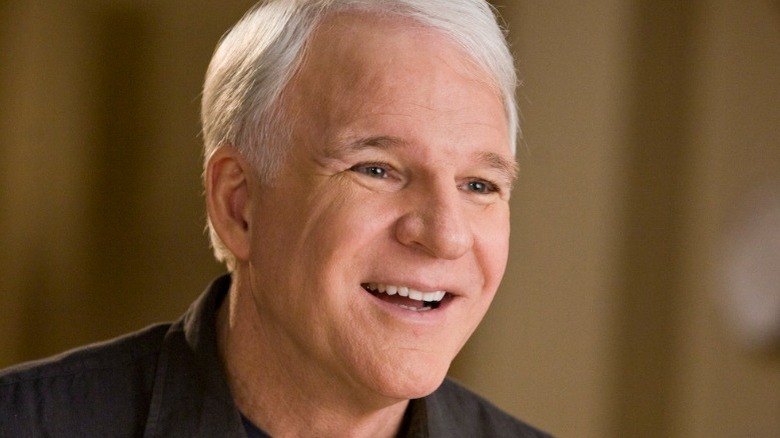 Universal Pictures
Nancy Meyers' messy but beloved romantic comedy follows Jane (Meryl Streep) and Jake (Alec Baldwin), a divorced couple who are amicably enough to co-parent their children but lead separate lives. Jane owns a successful bakery, while Jake married a younger woman. However, when the family reconnects to celebrate one of their kids' graduation, they unexpectedly have a secret affair. Martin stars as Adam, Jane's architect, who is remodeling her home. Adam is the grounded romantic alternative to Baldwin's hypermasculine Jake.
The film has a classic romantic comedy formula — Adam is good for Jane while Jake isn't. Of course, the Adam role is one that typically loses. In one of his more sincere performances, Martin is charming, funny, winsome, and vulnerable. He makes a compelling love interest who easily holds his own opposite against Streep. "It's Complicated" has some strange parts and cringe jokes, but Martin provides a grounding presence. Unsurprisingly, he also shares one of the film's funniest scenes with Streep: Adam and Jane get high at a party, a sequence that showcases why his character is more than a rom-com archetype.
Pennies From Heaven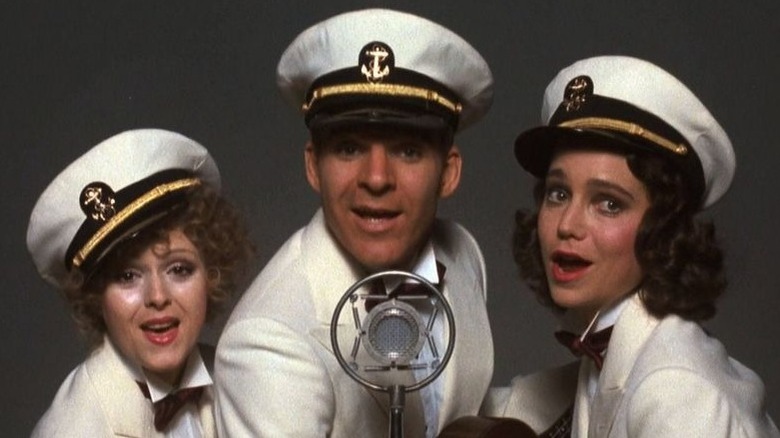 Metro-Goldwyn-Mayer
Unlike "Dead Men Don't Wear Plaid," "Pennies from Heaven" is more of a direct homage and commentary on Hollywood's golden age musicals. Arthur (an earnest Martin) is a romantic sheet-music salesman. His wife, Joan (Jessica Harper), is nice enough but isn't as sexually adventurous as he is. She's often repulsed by his advances. When Arthur meets Eileen (Bernadette Peters), he falls in love with her at sight. Eileen is a schoolteacher who is happy with her life. However, when Arthur gets Eileen pregnant, she loses her job, and their lives turn upside down. 
"Pennies From Heaven" is a bleak film about the grim reality of the Great Depression and the relentless hope of the people who lived through it. The film uses Busby Berkeley-style musical numbers to tell its story. Somehow the depressive and beautiful film's protagonist is easy and difficult to root for throughout its runtime. By modern standards, Arthur is a misogynist and lech. But within the confines of the film's time period, he's a man who wants to live outside the era's strict moral standards. Similarly, Eileen feels awakened by his desires in a story we know is destined to end unhappily. But Martin delivers a crushing and brutal performance, never letting up on Arthur's hope for one frame. The film also earned him his first Golden Globe nomination.
Parenthood
Imagine Entertainment
Besides his bawdier portrayals, Martin was a generation's film dad in several iconic roles. In comparison to his later, more famous parts in 1991's "Father of the Bride" and 2003's "Cheaper by the Dozen," 1989's "Parenthood" is a quieter, intergenerational family dramedy. Directed by Ron Howard, the film explores the lives of three siblings, their children, and their father as they try their best to be a loving and functional family. Martin's Gil is a lovable but neurotic father of three with his wife, Karen (Mary Steenburgen).
Gil and Karen grapple with their oldest child's anxieties and learning difficulties, an inherited issue from Gil's childhood. Meanwhile, Gil's older sister, Helen (Dianne Wiest), is a single mother of a rebellious teenager. His younger sister's husband, Nathan (Rick Moranis), becomes more focused on their toddler child's academic goals than his marriage. Though each family has its difficulties, they help each other. After a string of silly roles in the '80s, "Parenthood" signaled Martin's ability to tackle more serious subject matter in films. The film highlights his overall aging maturity in his work, evident in his Golden Globe nomination for the role.
The Muppet Movie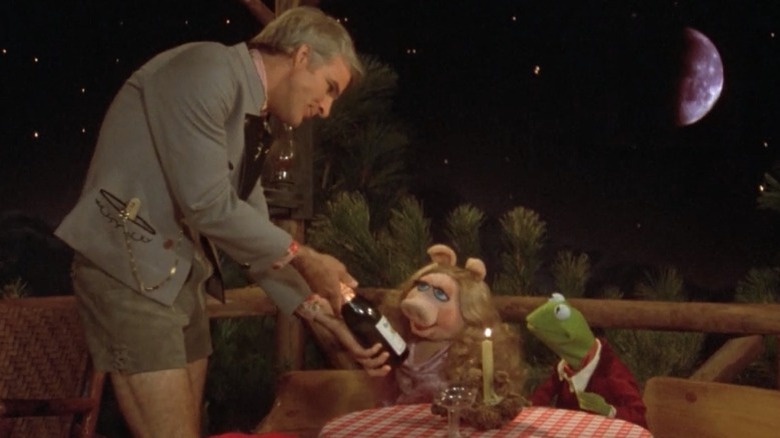 Henson Associates
Three years after making their variety show debut with "The Muppet Show," Kermit (Jim Henson) and the gang hit the road in their big screen debut, 1979's "The Muppet Movie." The film that would become the blueprint for the Muppet franchise follows Kermit and Fozzie Bear (Frank Oz) travel across the country to Hollywood, hoping to find success. During their travels, Kermit and Fozzie pick up several Muppets, including Miss Piggy — who falls head over heels in love with Kermit. Meanwhile, Kermit attempts to outrun Doc Hopper (Charles Durning), who sells frog legs and wants Kermit to be the spokesperson for his company.
In "The Muppet Movie," Martin has a small role as the waiter serving Kermit and Piggy on their date. Cameos became a beloved trope across the Muppet film franchise, bringing the era's hippest artists to the screen. Considering Martin was known for his standup comedy at the time, Martin's presence in the film conveyed a certain level of "cool" status within his career and for the film. Fittingly, Martin and The Muppets would only grow more iconic with time.
Dirty Rotten Scoundrels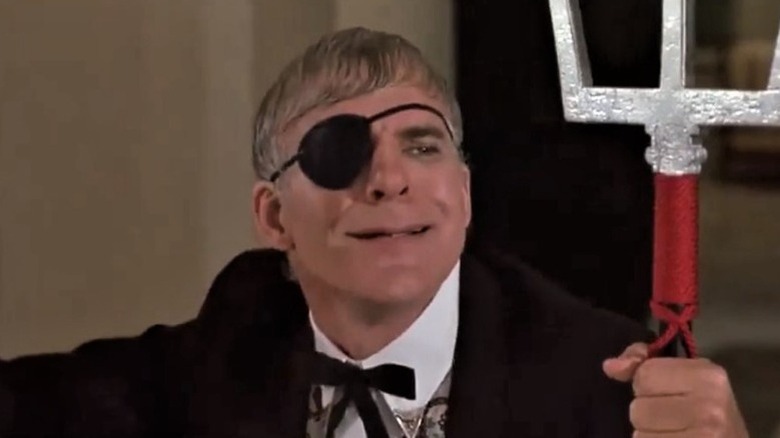 Orion Pictures
Another iconic film in Martin's roster, 1988's "Dirty Rotten Scoundrels," is a stylish and funny movie. Working with his frequent collaborator, director Frank Oz, Martin stars as Freddy, a smarmy con artist who makes his way to the French Riviera for his latest grift. There, he crosses paths with Lawrence (Michael Caine), another con man who, unlike sloppy showboat Freddy, is scrupulous and suave. The two strike up a reluctant partnership when they meet the perfect mark, Janet (Glenne Headley), a young American heiress.
Lawrence and Freddy set up an elaborate cat-and-mouse game behind Janet's back: Freddy pretends to be sick and someone with learning disabilities, while Lawrence poses as a fancy doctor who promises to cure him. As with any good con movie, there are plenty of twists throughout the film while Freddy and Lawrence compete for the cash and the French Riviera as their primary grift zone. Martin and Caine have great chemistry and make genius comedic partners. Freddy is a frustrating character, positioned as a bumbling fool to Caine's clever mentor thief. Yet Martin manages to lend Freddy empathy, even at his scummiest moments.
Planes, Trains, and Automobiles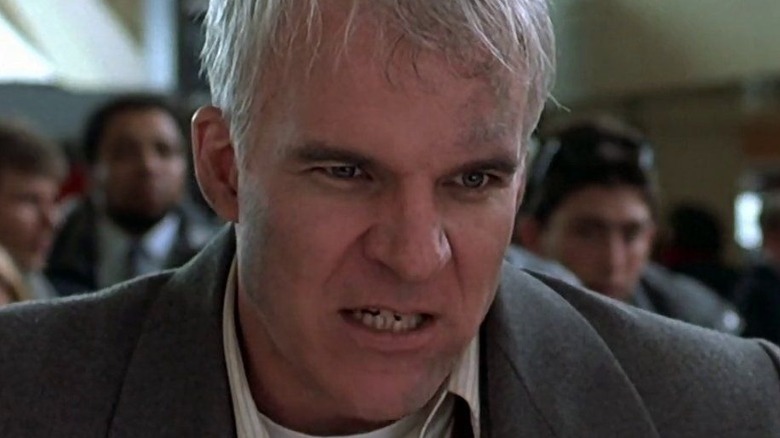 Paramount Pictures
1987's "Planes, Trains, and Automobiles" is one of the few Thanksgiving movies to exist and is also the best. Written and directed by John Hughes, the film follows cranky advertising executive Neal (Martin in prime know-it-all mode) trying to get home to Chicago for Thanksgiving. When bad weather delays his flight from New York, he decides to take his travel plans into his own hands. What he doesn't plan for is a companion. Del (John Candy) is relentlessly talkative and optimistic, deciding they should go together since they need to head to the same area.
Of course, nearly everything that can go wrong does. Neal becomes increasingly fed up with Del throughout their adventure. Opposite Candy's exceedingly kind and well-meaning Del, Martin is placed in a difficult position as the straight man. Yet Martin is the rare comedian who can find the humor in clever and stupid moments, all due to his grounded reactions. Together, Martin and Candy are comedic magic as they bring out the emotional truth behind the slapstick jokes in one of Hughes' most accomplished films.
Bowfinger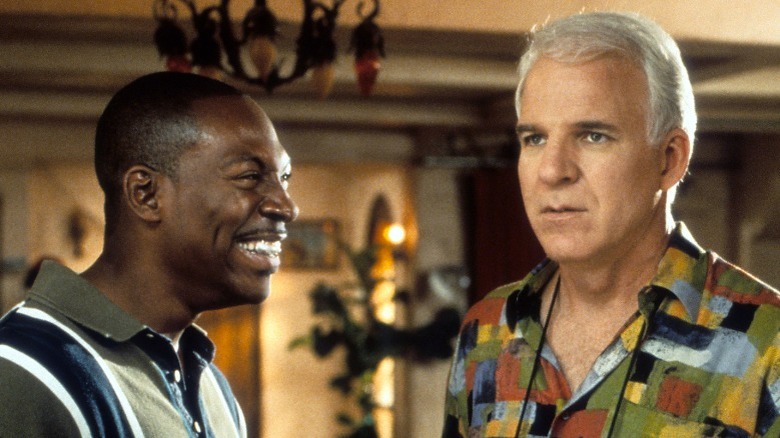 Universal Pictures
Much of Martin's work has been in direct conversation with Hollywood. But "Bowfinger" is one of his more direct satirical takes on the industry. Reuniting with director Frank Oz, Martin's wickedly smart screenplay centers on struggling producer Bowfinger (a greasy, ponytailed Martin). Bowfinger is a ruthlessly ingenious independent filmmaker who is determined to make a movie by any means necessary — despite his lack of experience or budget. Of course, he fails to secure top movie star Kit Ramsey (Eddie Murphy), but that doesn't stop him from including Kit in the movie. 
The ensuing plot is an elaborate series of hijinks as Bowfinger and his cast and crew secretly shoot his alien science fiction movie around Kit's day-to-day life. Kit has no clue what's happening and becomes more paranoid as the film continues. "Bowfinger" is a bit of a cult classic, as it uniquely melds Martin's goofy comedic style with his clever sensibility. Martin unites an all-star cast, including a witty and hilarious Heather Graham and perfectly-cast Murphy. In a film full of stars, everyone has their moment to shine. Martin is unafraid to let his co-stars be funny, creating a highly re-watchable chemistry between Martin and Murphy.
Father of the Bride Part II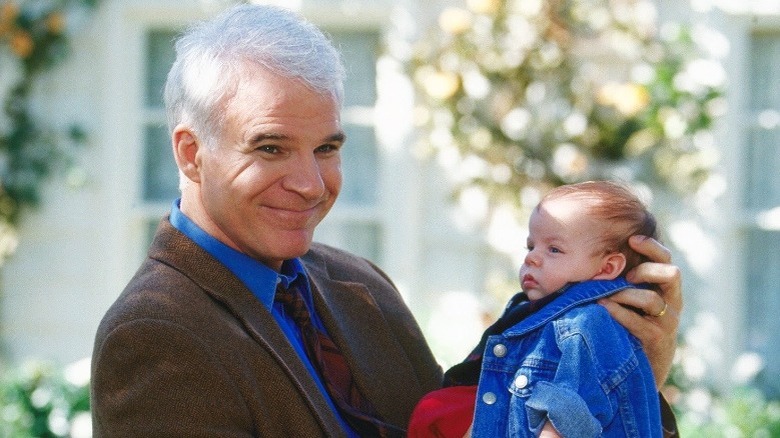 Touchstone Pictures
1991's "Father of the Bride" showcases one of Martin's most iconic roles — the neurotic and overprotective father, George Banks. In the original film, he grapples with the impending marriage of his only daughter. The sequel picks up a few years later, focusing on Annie's (Kimberly Williams-Paisley) first pregnancy. Making matters more complicated, George's wife, Nina (Diane Keaton), learns she's pregnant. George soon becomes a full-time caretaker of his daughter and wife's pregnancies while grappling with the rapid changes in his life. 
Though the first film explores George's displacement during Annie's chaotic wedding planning, the sequel is a more tender (but still zany) look at what it means to have an evolving role as a parent. Martin deftly shifts from goofy dad mode to a concerned father saying goodbye to his daughter — even as he welcomes his new baby and grandchild. Regardless of whether you've been a parent, Martin's heartfelt performance in both films, particularly "Part II," is emotionally resonant. It's no wonder the sequel earned him his fourth Golden Globe nomination.
Roxanne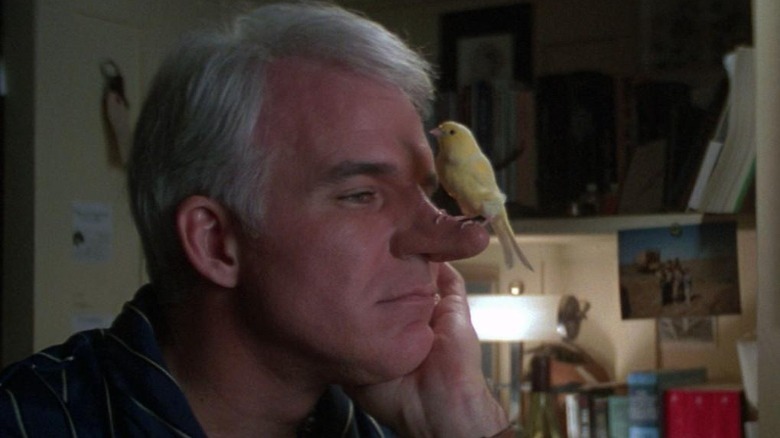 Columbia Pictures
In his first solo screenplay credit, Martin retells the classic story of "Cyrano de Bergerac." In 1987's "Roxanne," Charlie is a fire chief in a small resort town with a comically large nose. Charlie is kind, heroic, smart, and funny, but chronically single — which he chalks up to his nose. He meets the beautiful rocket scientist Roxanne (Daryl Hannah) when she locks herself out of her house, and the two become friends. But Roxanne is more interested in Chris (Rick Rossovich), Charlie's newest firefighter. While Chris is conventionally attractive, he's less than eloquent and unable to woo Roxanne. 
Those familiar with "Cyrano" and its many iterations can guess what's next. Charlie speaks on Chris's behalf and brings him closer to Roxanne. But when Roxanne figures out who she's fallen in love with, conflict and comedic turns ensue. Charlie is a strong performance from Martin, as the character is vulnerable and self-conscious yet never self-pitying. The film is also a testament to Martin's storytelling ability as a writer and performer, earning him a Golden Globe nomination for his performance and a Writers Guild Association nomination for his script.
Little Shop of Horrors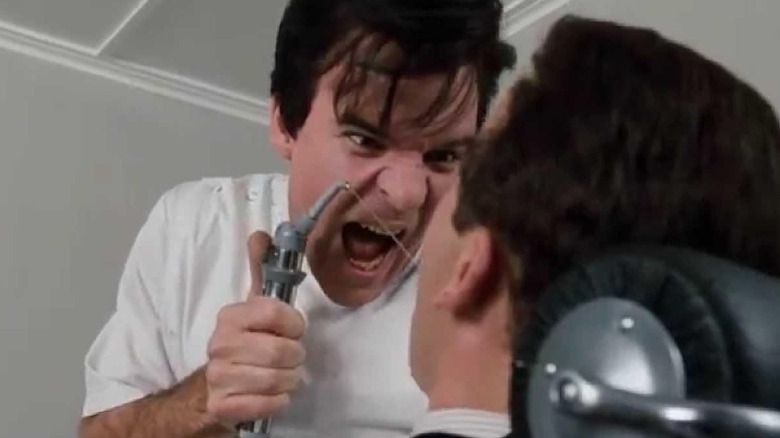 The Geffen Company
Frank Oz's horror comedy musical stars Rick Moranis as the dweeby and sweet Seymour. In 1986's "Little Shop of Horrors," Seymour works in a struggling plant shop alongside his unrequited crush, Audrey (Ellen Green). Seymour launches the shop into unexpected stardom when he buys a baby plant, not realizing it's from outer space and needs blood to survive. As the plant, Audrey II (Levi Stubbs), grows, it gets hungrier. No longer is it satisfied with the blood produced by Seymour pricking his thumb. Desperate to keep his plant happy and fed — and continue impressing Audrey with the store's success — Seymour has no choice but to turn to Audrey's abusive, maniacal dentist boyfriend, Dr. Scrivello (Martin), for Audrey II's next meal.
In a rock-solid, pitch-perfect film, Martin's performance remains one of the more memorable parts. The dentist is an almost purely evil character, but Martin manages to imbue him with equal parts humor and terror. Martin's background in musical comedy lends him the confidence to pull off the tension and levity of his role within the larger story. With incredible music, production design, and performances all around, it's hardly surprising "Little Shop of Horrors" was nominated for best motion picture – comedy or musical at the Golden Globes.
The Jerk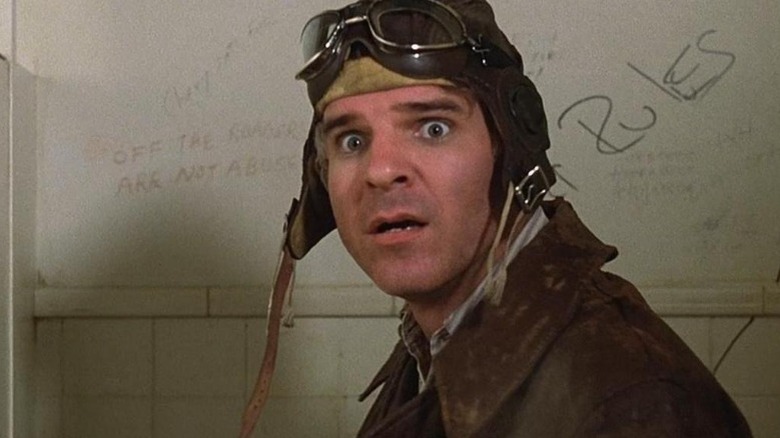 Universal Pictures
"The Jerk" was Martin's debut feature screenplay and breakout starring role. Co-written by Martin, Carl Gottlieb, and Michael Elias and directed by Carl Reiner, "The Jerk" follows Navin Johnson (Martin, at his absolute silliest). Navin is a gullible and somewhat unintelligent man who leaves home on a journey to find himself. While the basic premise doesn't age super well under modern standards — Navin was adopted by a Black family and believes he was "born a poor Black child in the south" — "The Jerk" exemplifies what made Martin a star.
Navin is an impossibly naive man, making nearly every frame of the film filled with humor and jokes. Notably, the film's most famous sequence best shows this: Navin unknowingly outruns a hitman out to kill him. After the hitman shoots cans of oil near him, Navin frantically runs around screaming about the cans — not realizing he's the target. Punctuated by slapstick physical humor and well-timed comedic delivery, "The Jerk" is the kind of dumb comedy that would foretell a generation of similar brilliant-stupid characters like Pee-Wee Herman and Jerri Blank. A naive character like Navin could be hard to root for in a film. But Martin makes his character sympathetic and the butt of the joke — a testament to his unique comedic abilities.