Tales From The Box Office: 8 Mile Gave Eminem The #1 Album, Song, And Movie, All At Once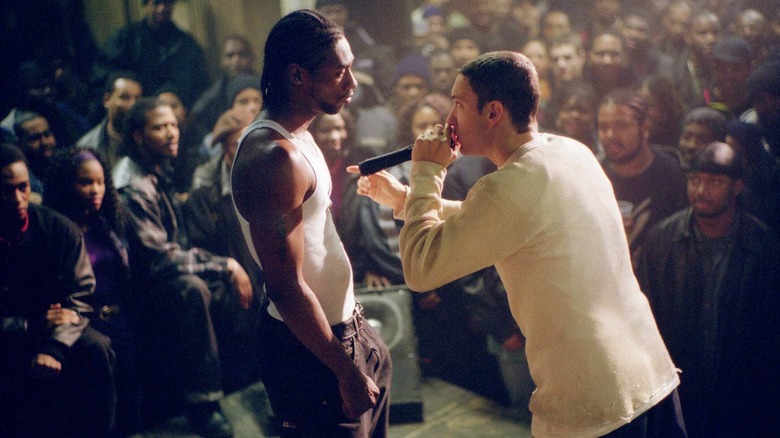 Universal Pictures
(Welcome to Tales from the Box Office, our column that examines box office miracles, disasters, and everything in between, as well as what we can learn from them.)
Anyone who grew up in the late '90s and/or early 2000s can probably tell you what it was like when Eminem, the rapper behind hits such as "My Name Is" and "Stan," had his meteoric rise to fame. The musician from Detroit ascended the pop culture ladder like a rocketship, dominating the airwaves and MTV seemingly overnight, and then for several years. It was remarkable and unique. Many parents hated Eminem. Young people ate up his controversial music like crazy. It's the kind of money-making famous that a room full of ad execs couldn't dream up in a million years if they tried.
Naturally, when someone is that famous, Hollywood is going to come calling at some point. That time came in 2002 when the man they call Marshall Mathers was tasked with headlining his own feature film in the form of "8 Mile," a movie that would go on to prove that this rapper had far more talent than perhaps any of us realized – and that talent could translate to the big screen.
In honor of the movie's 20th anniversary this week, we're looking back at "8 Mile," how it was the exact right movie for Eminem to star in, how it was just part of arguably the greatest year any entertainer has ever had, and what lessons we can learn from its success all these years later. Let's dig in.
The movie: 8 Mile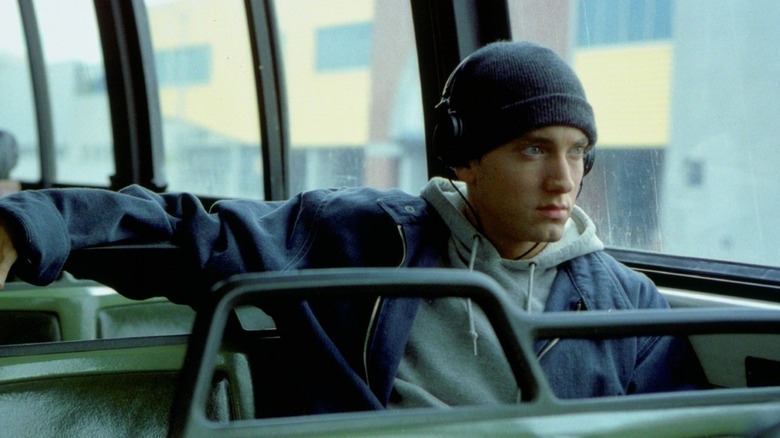 Universal Pictures
"8 Mile" is not necessarily autobiographical, but it bears a great many similarities to Mathers' real life growing up as a poor, aspiring rapper in Detroit. It's not hard to see why Universal Pictures built this movie around him at that particular moment in time. Any studio would have (arguably should have) taken a bit on Eminem in the early 2000s, Universal was just smart enough – and savvy enough – to make it happen. Curtis Hanson, of "L.A. Confidential" fame, was ultimately the one who would guide Mathers through his cinematic acting debut, working from a script by Scott Silver, the man who would go on to write the Oscar-winners such as "The Fighter" and "Joker."
In the film, Jimmy Smith, Jr. (Eminem) is stuck at the wrong end of that road and is living with his mom (Kim Bassinger), barely able to make it to his mundane factory job in his broken down car. But he has dreams of becoming something more and uses his music to get there. Though, in the Detroit rap game, a poor, white rapper is very much on the outside looking in, making him an outcast. The film was named for the common name given to the city limit.
At the time, Eminem had the kind of fame and success that few entertainers of any kind will ever know. We're talking about people like Prince or The Beatles, that kind of famous. So putting his insanely successful music career on hold for a movie was not an easy ask. But, speaking in 2002, Eminem explained that "8 Mile" feeling so much like his life made it worth the gamble.
"I always wanted to dabble but as far as taking it on first hand, it had to be a really good script. The movie is so like my life, neck and neck almost. There are differences. The script was dope enough to put my career on hold for three months."
Opportunity comes once in a lifetime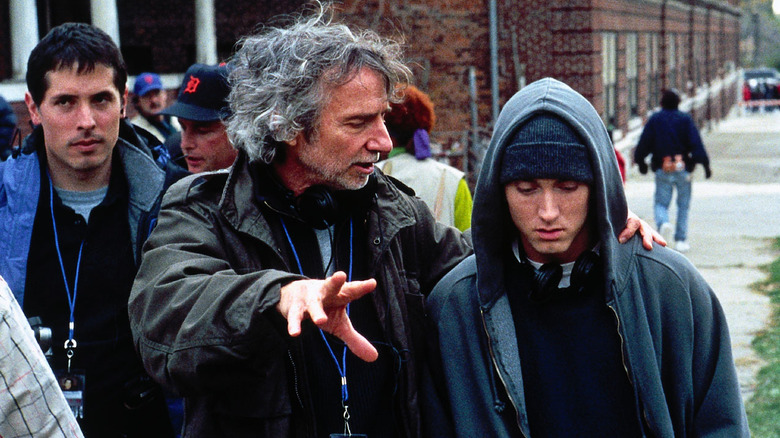 Universal Pictures
A studio does not make a major motion picture with the world's biggest musician at the time and not have him do the soundtrack. It would be like making "Purple Rain" without having Prince do the music – it just wouldn't make a lick of sense. Universal was smart, having Shady and Interscope records do the soundtrack to "8 Mile," with Eminem recording the lead single for the film, "Lose Yourself." Even those who never bothered to see the movie but were alive at the time are undoubtedly familiar with the tune, as it permeated the airwaves almost instantaneously.
Not to put on my music critic hat here, but much of that has to do with the fact that "Lose Yourself," independent of any times that it has to the movie it was crafted for, is an excellent song. It rings like an autobiography of sorts, though the elements of Mathers' life blend with B-Rabbit, his character from the movie, so seamlessly that it's easy to see why he connected to the material in the film. But it also worked as one heck of a bit of promo material, with the single being released on October 28, 2002, about a week and a half before the movie hit theaters. Cue the pop culture explosion.
The financial journey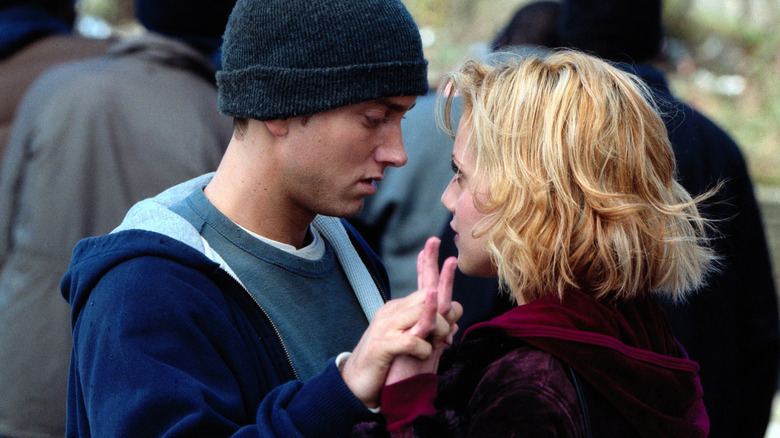 Universal Pictures
Universal Pictures looked incredibly smart, and incredibly fast, in betting so big on Eminem as an actor. "8 Mile" entered theaters on the weekend of November 8, 2002, riding a wave of surprisingly positive reviews, and managed to absolutely trounce the competition. The movie earned a truly impressive $51.2 million, easily topping the charts, with "The Santa Clause 2" settling for a distant second place.
While the film suffered a pretty steep drop in weekend two as "Harry Potter and the Chamber of Secrets" took the crown, Eminem's big acting debut had more than enough staying power to turn it into a hit. "8 Mile" finished its run with $116.7 million domestically to go with a very healthy $126.1 million internationally for a grand total of $242.8 million. All against a reported $41 million budget. But the box office was only part of the equation in this case.
The "8 Mile" soundtrack also sold like gangbusters on the strength of its lead single, "Lose Yourself," which topped the Billboard charts for 12 weeks and went 13 times platinum. The album itself also sold more than four million copies. To top it all off? "Lose Yourself" would go on to win the Oscar the following year. Eminem had the number one movie, song, and album, all at once, with an Academy Award to top it all off. Several artists such as Beyonce have had a number one song and movie at the same time, but having the album go #1 as well? That was the power of Eminem in the early 2000s, reaching its apex at just the right moment. And let us not forget that "The Eminem Show," his smash hit album, came out earlier that year in May and eventually sold more than 20 million copies. Was this the best year any performer has ever had?
The lessons contained within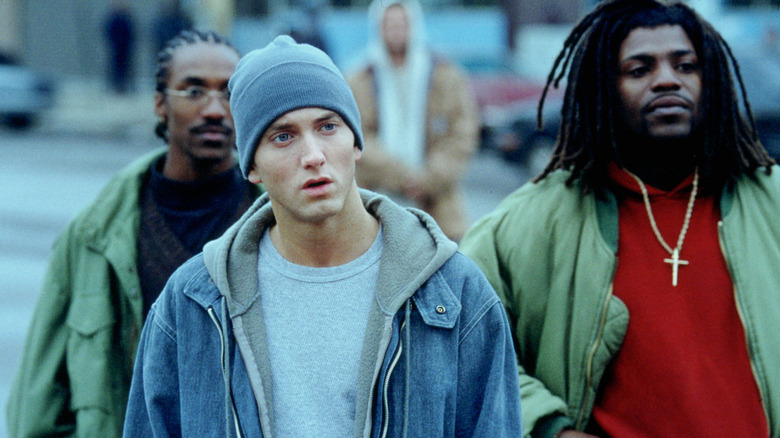 Universal Pictures
The sheer volume of success in every major corner of the entertainment business that Eminem achieved in support of "8 Mile" is nothing shy of incredible. Millions of albums sold, millions of dollars made at the box office, many awards won, and many doubters of the true depth of his artistry silenced. It's the kind of staggering "you had to be there" kind of moment in pop culture that simply doesn't come around all that often.
There is simply no engineering that kind of success. Oftentimes, we still see Hollywood hitching its wagon to the next big star, be it from the world of music, TikTok, or anywhere someone has built up a following. Sometimes these things pan out. Harry Styles has had a pretty damn decent acting career so far with roles in movies like "Dunkirk" and "Don't Worry Darling." Sometimes these things fail spectacularly (we're looking at you, Elon Musk hosting "SNL").
The point is, it's understandable to want to hitch one's wagon to a horse that screams success. But do so in a way that makes sense. Do so in a way that supports that artist and highlights their talents. Do so in a way that gives everyone the best chance to succeed. It's not always going to work, but when a bit of logic and patience is exercised in bridging gaps from other sectors of entertainment into movies/TV, great things can happen. Once in a lifetime, things can happen.