Causeway Trailer: Jennifer Lawrence Is On The Road To Recovery With Help From Brian Tyree Henry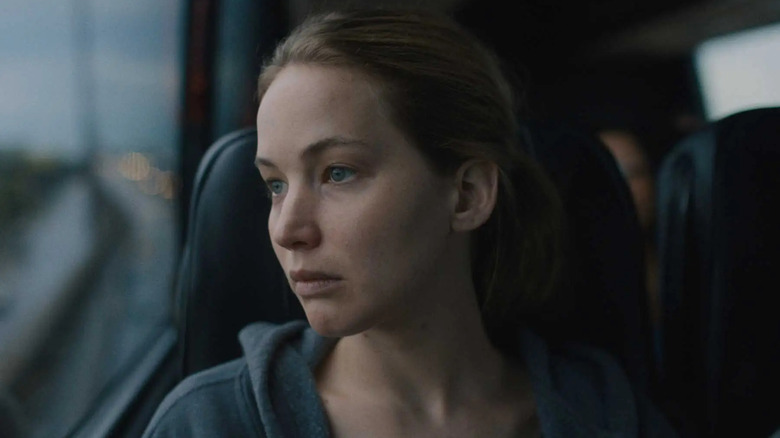 Apple TV+
For her latest return to the big screen, Jennifer Lawrence is getting back to her indie roots.
There was a time in the mid 2010s when Lawrence seemed to average around three movies per year, and alternating between blockbuster franchises ("The Hunger Games" or "The X-Men") and star-studded dramas (like "Silver Linings Playbook" or "American Hustle"). But after her Hollywood hiatus, Lawrence is looking for a change of pace. In her recent New York Times profile, the Oscar-winner revealed that she spent years being steered away from smaller material. In beginning this next chapter of her career, those are the projects that interest her most. Lawrence not only stars but also serves as producer for her upcoming film "Causeway," which has been in the works for the past three years and will be available to stream starting tomorrow.
From first-time feature director Lila Neugebauer (who helmed Broadway's "The Waverly Gallery" and an episode of Netflix's "Maid"), "Causeway" is a portrait of friendship that sees two troubled individuals finding comfort in one another. It's the kind of intimate indie that Lawrence started out in, akin to her 2010 breakthrough "Winter's Bones." She stars as injured soldier Lynsey who returns to New Orleans and finds kinship in Brian Tyree Henry's James, a car-crash survivor.
Much like Lawrence, Henry has spent the past few years on the blockbuster circuit, showing off his movie star chops in Marvel's "Eternals" and David Leitch's "Bullet Train." While I'll take Henry in any project on any day of the week, it's a thrill to see him attached to something a little more understated. I think about his scene-stealing performance in "If Beale Street Could Talk" all the time, and if this packs a fraction of what those films had, we'll be lucky to see it.
Check out the Causeway trailer
Jennifer Lawrence is moving into a house with a dark past? Sounds a little familiar. But "Causeway" is no "House At The End of the Street." Don't expect the pulse-racing drama of a psychological thriller — this is the kind of intimate character study that relishes in slowly revealing its characters.
In "Causeway," Lawrence's Lynsey is on a painful road to recovery. The military engineer has returned from Afghanistan after suffering from a brain injury caused by an IED explosion. On top of her attempts to physically recover, she's also battling post-traumatic stress disorder. Returning to New Orleans only ups her emotional conflict, putting her face to face with childhood memories that she preferred to leave tucked away. When she meets James, the budding friendship between them becomes crucial to moving forward.
"Causeway," which had its world premiere at TIFF in September, has already earned positive reviews and particular praise for Lawrence and Henry's performances. The film is produced by A24 and Apple Original Films.
Lawrence last appeared in Adam McKay's "Don't Look Up" for Netflix. While she originally had plans to team up with the director again for Apple's "Bad Blood," she exited the project after seeing Amanda Seyfried take on the same role as Theranos founder Elizabeth Holmes in "The Dropout."
"Causeway" will premiere in select theaters and globally on Apple TV+ tomorrow, on November 4, 2022.