Jennifer Lawrence Will No Longer Play Elizabeth Holmes Because Amanda Seyfried Already Did It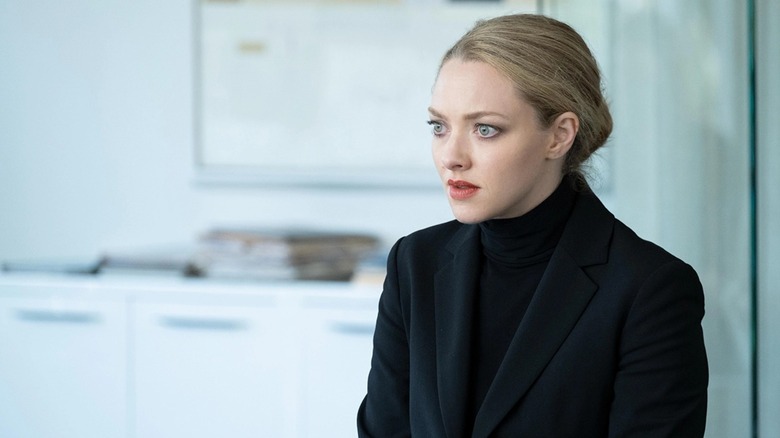 Hulu
If you've been waiting to see Jennifer Lawrence don Elizabeth Holmes' black turtleneck, it sounds like you're out of luck. The actress is no longer set to play the Theranos fraudster in Adam McKay's "Bad Blood," according to The New York Times' Kyle Buchanan. The writer revealed as much in a tweet today after sharing his NYT profile about the "Don't Look Up" actress.
According to Buchanan, Lawrence had a change of heart about taking the role after witnessing Amanda Seyfried's Emmy-winning performance as the biotech star turned convicted criminal in Hulu's series "The Dropout." In a move that's rare in the era of competing true crime retellings, Lawrence conceded that her turn as Holmes wasn't needed after all. "I thought she was terrific," Buchanan quotes her as saying. "I was like, 'Yeah, we don't need to redo that.' She did it."
It's unclear as of publication time whether or not "Bad Blood" will move forward without Lawrence, who was cast in the role way back in 2016. In January, "Don't Look Up" writer-producer McKay told Insider that Lawrence was practicing voice work for the role, but it didn't sound like the project was nearing production at that point. "She's about to have a baby so I'm not going to bug her right now but she's born to play that role," McKay told the outlet. He said he hadn't heard the actor's version of Holmes' voice — which both "The Dropout" and HBO's documentary "The Inventor" posit she purposely deepened – but that "she's been working on it."
We've seen the Theranos story before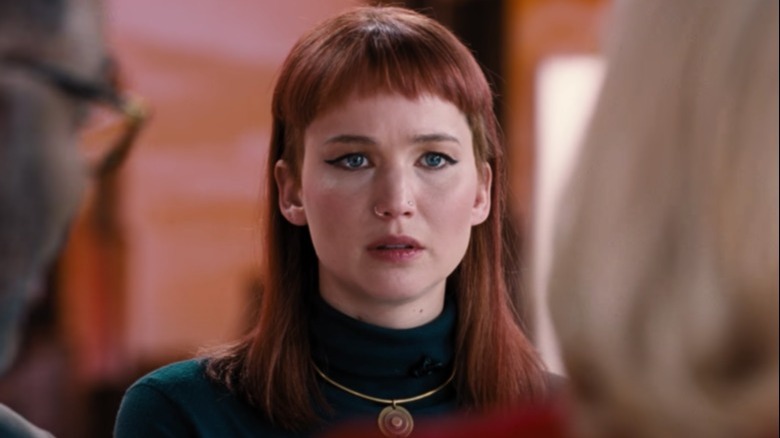 Netflix
McKay's project was set to adapt John Carreyrou's acclaimed book "Bad Blood: Secrets and Lies in a Silicon Valley Startup," which detailed the allegations against Holmes and her company Theranos. Carreyrou himself was directly responsible for making Holmes' misdeeds public, as he wrote a 2015 article for The Wall Street Journal detailing the conditions inside Theranos. 
As for those conditions? Well, the official synopsis for Carreyrou's "Bad Blood" sums them up well:
"A teenage Stanford dropout when she patented her idea for developing portable devices to administer comprehensive tests using only a single drop of blood, Holmes had a meteoric rise in Silicon Valley. She was acknowledged as the youngest self-made female billionaire in the world, helped in large part by her doe-eyed, husky-voiced charisma that attracted the likes of former secretaries of state George Shultz and Henry Kissinger and current secretary of defense James Mattis to her board of directors. Yet the company's purported capabilities and successes were shams, created by Holmes' unwavering but deluded belief in her thesis and reinforced by a workplace run on intimidation, fear, and paranoia."
McKay most recently executive produced another saga based on a bombshell true story, the LA Lakers series "Winning Time." He's also got plenty of projects in the works, including the HBO drama "Big Swiss" and the Amy Adams-led Netflix project "Kings of America." And while we may not see Lawrence as Holmes soon, but you can see her in the A24 war drama "Causeway," which hits theaters and Apple TV+ on November 4, 2022. She'll also appear in the adult comedy "No Hard Feelings," which is set for a June 16, 2023 release.