True Detective Made Interstellar A Tough Role For Matthew McConaughey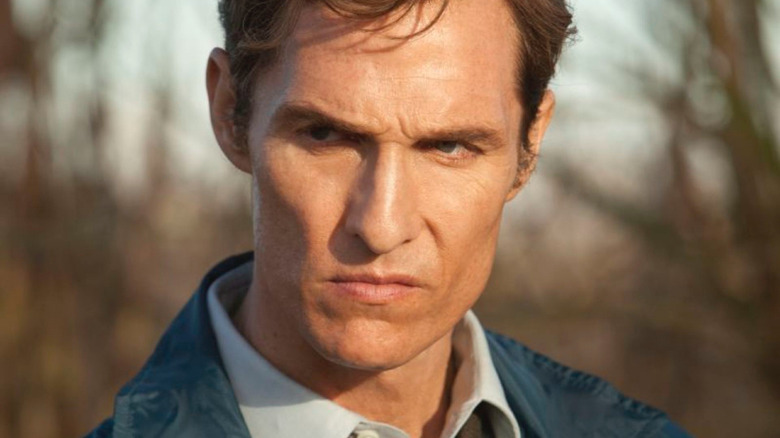 HBO
One of the more surprising actors of the 2010s was Matthew McConaughey, who for the most part wasn't considered a particularly serious actor until Season 1 of "True Detective" came out in January 2014. There he played Rust Cohle, a deeply cynical, troubled guy who repeatedly creeps out and annoys his partner. McConaughey gives a great, Emmy-nominated performance here as a man struggling with a divorce and the death of his daughter, as well as his severe alcoholism and general loneliness. He's an edgy character in an edgy show, which made the switch to playing Cooper in director Christopher Nolan's 2014 film "Interstellar" rather difficult.
"I remember Chris [Nolan] saying, 'He's the Everyman,'" said McConaughey, speaking to Entertainment Weekly in an interview in October 2014. "I remember walking away going, 'Who is the Everyman?!'"
Cooper in "Interstellar" isn't without his demons. His wife has died sometime before the start of the movie, and he spends most of the film dealing with the fact that he's missing out on getting to see his kids grow up. However, he's still much more of a traditional family man than Cohle ever is. He has a wholesome relationship with both of his kids, and his loving bond with his daughter in particular is what drives the narrative. Most importantly, Cooper is meant to be a relatable, straightforwardly heroic man, something Cohle decidedly is not.
'I had to make it personal'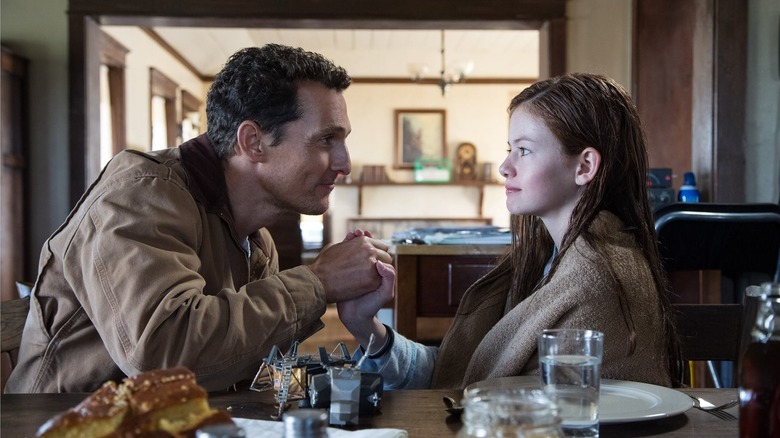 Paramount Pictures
"I basically decided to trust in what I personally feel about it, trust in how I feel about family, trust in how I feel about adventure," Matthew McConaughey explained to Entertainment Weekly. "I had to make it personal. I had to say, 'Guess who the Everyman is in this movie, McConaughey? You.'"
Nobody can argue with the results. Christopher Nolan might have a reputation for being a somewhat cold director, but "Interstellar" is his one film that's absolutely brimming with emotion from start to finish. There's not much of a mystery element to this film; there's just an overwhelming sense of adventure in the first half, followed by a deep longing to go home in the second. A lot of this is due to Hans Zimmer's wonderful score, but maybe most deserving of the praise is McConaughey, who made Cooper's pain feel real even though his circumstances were something none of us will ever have to deal with.
McConaughey's performance is what grounds the movie. Although audiences most familiar with the actor from movies like "Dazed and Confused" were surprised by his two big performances in 2014, his standout portrayal of Cooper was definitely not a surprise to the guy who cast him. "I needed someone who is very much an everyman, someone the audience could experience the story with," said Nolan, speaking at the 2014 CinemaCon. "He's just a phenomenal, charismatic presence in the movie. His performance is shaping up to be extraordinary."