Terrifier 2 Has Entered The Oscar Race, And Is That Really Such A Crazy Concept?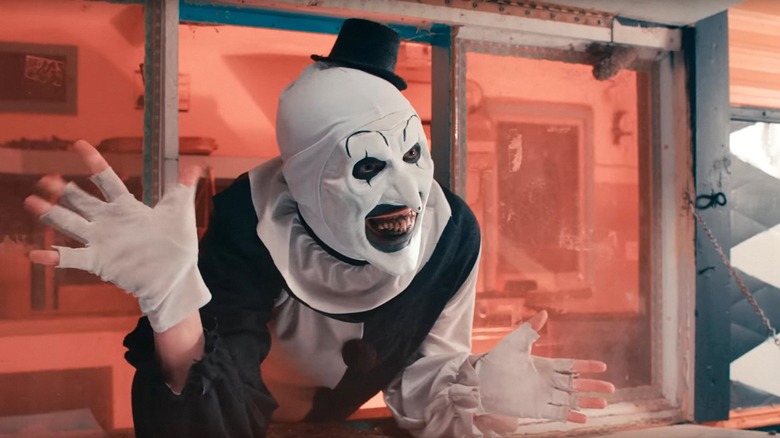 Bloody Disgusting
Art the Clown from "Terrifer 2" is officially campaigning for Oscar gold at next year's Academy Awards. Fans of the demented horror hit have taken to social media to champion the wild practical effects in the film, with some even going so far as to suggest that actor David Howard Thornton should be considered for Best Actor for his mime-like portrayal of Art. To appease horror fans who repeatedly don't see any genre films represented at the Oscars, Bloody Disgusting has decided to put "Terrifer 2" up for consideration to the delight of Academy voters everywhere. 
This is all meant to serve as a publicity joke, but maybe, just maybe, "Terrifer 2" should be taken a little more seriously. The ultra-slasher has made an astounding $8 million at the box office, and it is quite possibly the only unrated horror film to expand to over 1,500 theaters, a feat the indie smash accomplished over Halloween weekend. In any case, having "Terrifer 2" submitted in the Best Makeup and Hairstyling category is a legitimate win for director and effects artist Damien Leone and the entire team at Bloody Disgusting and Cinedigm. Obviously, it's a massive stretch to nominate Thornton as Best Actor, but is it really that crazy to nominate "Terrifer 2" for an Academy Award? The effects are the star of the film, after all. 
In good company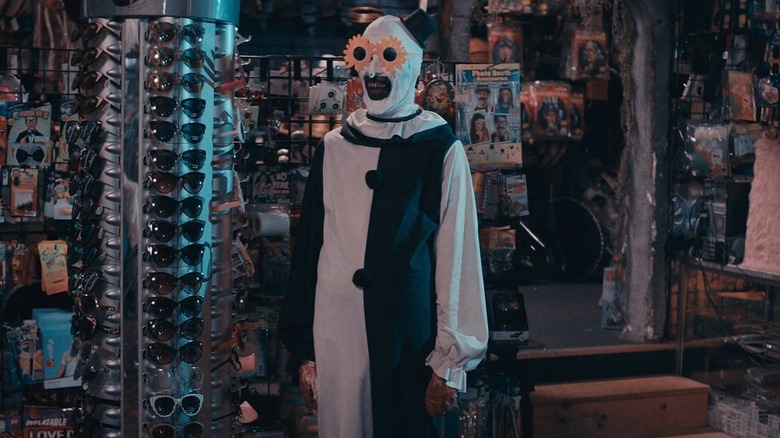 Bloody Disgusting
Makeup effects legend Rick Baker has famously won seven Academy Awards for his work, beginning with his historic win for the mind-blowing transformation in "An American Werewolf in London." Baker studied under the legendary makeup artist Dick Smith ("The Exorcist"), who helped solidify the importance of special makeup effects as a crucial part of the cinematic arts. Smith won his Oscar for the incredible makeup transformation of F. Murray Abraham from a young composer into an old man in "Amadeus." Smith also literally wrote the book on makeup with the "Do-It-Yourself Monster Make-up Handbook," a how-to book manual that went on to influence countless makeup artists. I wouldn't be surprised if Damien Leone has a copy, himself. 
There has been a long gap in the awards recognition for horror, especially in the realm of graphic effects that aren't looked at with the same level of prestige as the traditional applications of makeup used in safer, more palatable period pieces. 2010's "The Wolfman" was the last proper genre film to win Oscar gold in the category, and Luca Guadagnino's remake of "Suspiria" was the last horror film to even have a legitimate chance at being nominated. "Suspiria" actually had a shot, seeing how prosthetics designer Mark Coulier already had two Oscars for "The Iron Lady" and "The Grand Budapest Hotel," but unfortunately for horror fans, "Suspiria" was only nominated for a Saturn Award. "Vice" would ultimately go on to win the coveted prize at the 2019 ceremony. 
So, does "Terrifier 2" even stand a chance? Of course not, but expect it to win one of Fangoria's coveted Chainsaw Awards for sure. Join in on the Oscar race fun anyway by tagging @The Academy on Twitter with the hashtag #OscarsForArt.