Terrifier 2's David Howard Thornton Took Inspiration From Some Comedy Greats For His Art The Clown Role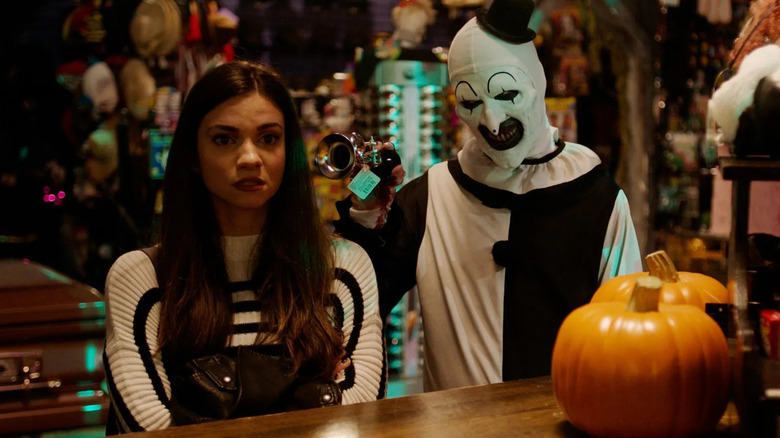 Cinedigm / Bloody Disgusting
"Terrifier 2" marks the latest cinematic appearance of Art the Clown, one of the newer faces in the ever-growing canon of notable slasher villains. Art made his debut in Damien Leone's 2008 short film "The 9th Circle," followed by the 2011 short "Terrifier," later to be adapted into a 2016 feature film. Leone's 2013 anthology film "All Hallow's Eve" also featured an Art the Clown segment. Currently, "Terrifier 2" is playing in limited release and is gathering a good deal of attention for its extreme gore and scrappy can-do success in a theatrical environment typically only friendly to the biggest of blockbusters. 
Art the Clown is a creature that appears on Halloween night to wreak havoc and commit extreme acts of violence. He doesn't speak or even make noises, communicating solely through mime. Even when he laughs or screams, he is silent. At first glance, Art was clearly designed after Paul Beaumont, the clown character from Victor Seastrom's 1924 romantic tragedy "He Who Gets Slapped" starring Lon Chaney. In that film, Paul takes on a clown persona in a circus, giving himself the nickname of HE. As a clown, HE will fall in love with Consuelo (Norma Shearer), the impoverished assistant to the circus' horseback riding performer. Having already fallen in with her boss, Consuelo will rebuff HE's advances. HE will end of dying on stage after a series of mishaps involving a sword and a lion. 
Art the Clown carries with him a darkness that might be extended to the tragedies of HE, along with other notable scary or tragic clowns. Art also clearly take inspiration from "Pagliacci" the opera from the 1890s, as well as Emmett Kelley's "Weary Willie" character, and Pennywise from Stephen King's 1986 novel "It."
The great comedy stars
Cinedigm / Bloody Disgusting
In a recent interview with Alabama.com, Art actor David Howard Thornton — an Alabama native — talked about his silent film-style performance as Art, revealing that he, perhaps appropriately, took a lot of behavioral and movement cues from some of silent comedy's greatest performers. Importantly, he looked to performers who were able to communicate emotions without having to speak. Art may be a horrendous murderer, but he is a comedian first and foremost. Thornton said:
"I took a lot of inspiration from actual serial killers and horror villains, but also took a lot of inspiration from comedy legends, especially those that were great with physical comedy and silent comedy. Like Chaplin and Rowan Atkinson and Doug Jones. And my buddy Stefán Karl [Stefánsson] who I understudied for five years on "The Grinch." He was Robbie Rotten on "LazyTown" and he was a true master of the craft. So that's where I found a lot of inspiration, especially from his tutelage."
Rowan Atkinson created the childlike near-silent buffoon Mr. Bean, and played the role on TV and in two feature films. Doug Jones is a prolific and popular character actor who has played many creatures and monsters in his career including the gillman in Guillermo del Toro's "The Shape of Water," and many monsters and aliens besides. Jones was also a professional mime for many years, and his performances are often communicated through movement.
"Lazytown" meanwhile was an Icelandic children's program from 2004 that ran on Nick Jr. in North America. Robbie Rotten was the plastic-faced, conniving, playful villain of the show. Stefánsson infused the character with an appealing rubbery physicality. 
Art, then, is a strange, bloody combination of comedy, kids' entertainment, and mime. Not a bad place to start for a monster.