Dead To Me Season 3 Trailer: Jen And Judy Reunite To Commit Even More Crimes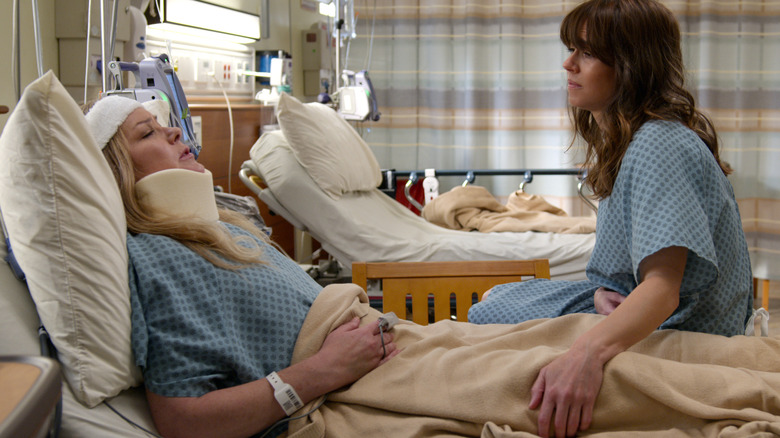 Netflix
"Dead To Me," the adventures of an uptight widow and her free-spirited friend, is officially coming to an end. The hit Netflix dramedy starring Christina Applegate and Linda Cardellini is set to air its third and final season this fall, which promises to go out with a bang that suits the dynamic duo at its center.
The series follows the friendship of Jen Harding (Applegate) and Judy Hale (Cardellini), two women who meet while attending a grief support group. But unbeknownst to Jen, Judy is the hit-and-run driver who killed her husband. Though their personalities initially clash, the two grow closer over time, and eventually, Jen invites Judy to move in with her. And thus begins a domino effect that sees the women wrapped up in a dangerous saga of crime.
By the season 2 finale, the duo had come completely full circle — with another car accident to cap off their karmic cycle. After murdering his twin brother Steve (James Marsden), the pair were struck by a drunk-driving Ben (also James Marsden). Thankfully, the third season picks up immediately after the accident and shows that the two women have survived — though Jen is confined to a neck brace. That turns out to be the least of their worries though, as the FBI has arrived to poke around in Steve's murder case. There's only one logical next step for Jen and Judy to take, of course — it's time to commit even more crimes.
Watch the Dead To Me trailer
With its third season, "Dead To Me" is answering the age-old parable — how many hit-and-runs can two incredibly suspicious individuals be involved in before the FBI takes notice? Evidently, the answer is two. Though it might have less to do with the hit-and-runs and more to do with the murder. Ominous lines like "The truth's going to come out, it always does," don't spell great news for the friends, but we've seen them dodge danger enough times to believe they'll make it through. Probably.
The conclusion of "Dead To Me" has been eagerly anticipated for a few months now: production on the series was delayed by COVID-19, and also paused when Applegate received a multiple sclerosis diagnosis in 2021. But Applegate herself was determined to complete the series and opened up about this in a recent New York Times interview, saying:
"I had an obligation to Liz and to Linda, to our story. The powers that be were like, 'Let's just stop. We don't need to finish it. Let's put a few episodes together.' I said, 'No. We're going to do it, but we're going to do it on my terms.'"
Though "Dead to Me" is nearing its end, series creator Liz Feldman already has another project in the works with Netflix. Based on the title, the half-hour series "No Good Deed" will likely check a lot of the same darkly-comedic boxes. It will focus on three different families competing to buy the same 1920s Spanish-style villa and shares the same executive producers: Will Ferrell, Jessica Elbaum, and Brittney Segal.
Until then, there will be 10 new episodes of "Dead to Me" for all your binging needs. The third season is set to hit Netflix on November 17, 2022.