Sean Connery Helped Kevin Costner 'Survive' Acting Opposite Robert De Niro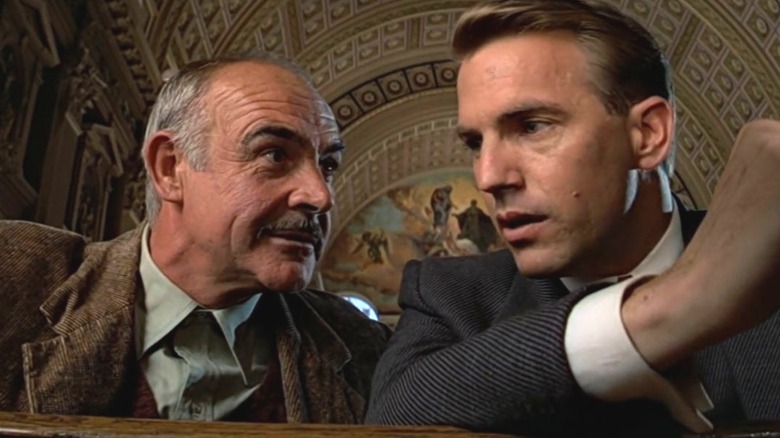 Paramount
Before "The Untouchables" made Kevin Costner a bankable star, the only points of reference directors and casting agents had to gauge his acting potential were two early films, the coming-of-age road trip movie "Fandango" and Lawrence Kasdan's bombastic Western "Silverado." Brian De Palma saw something in Costner's cocksure portrayal of Jake in "Silverado" and thought he might be able to add a spark and an edge to federal agent Elliot Ness. 
After landing the role, Costner had the unenviable task of going up against Robert De Niro's blazing-hot energy as Al Capone. In a now-famous Hollywood story, Bob Hoskins was originally set to play Capone until De Niro accepted the part, forcing De Palma to pay $200,000 to Hoskins to not appear in the film. Costner landed $1 million for the role, which was a big gamble for a production that already had a $25 million budget. Costner's star was definitely on the rise, and he was about to be acting alongside two cinematic icons in De Niro and Sean Connery.
Elliot Ness was something of a boy scout in the film, which didn't leave Costner a lot of room to maneuver inside such a strait-laced role. He had to be reserved but also completely consumed with capturing Capone by any means necessary. Costner was also tasked with being on camera for the majority of the film, whereas De Niro made a lasting impression as Capone with less than four minutes of total screen time. Both actors only appeared together in two scenes in "The Untouchables," but that didn't stop Costner from being a little apprehensive about acting with such an unpredictable actor like De Niro. 
Sean Connery helped Costner survive De Niro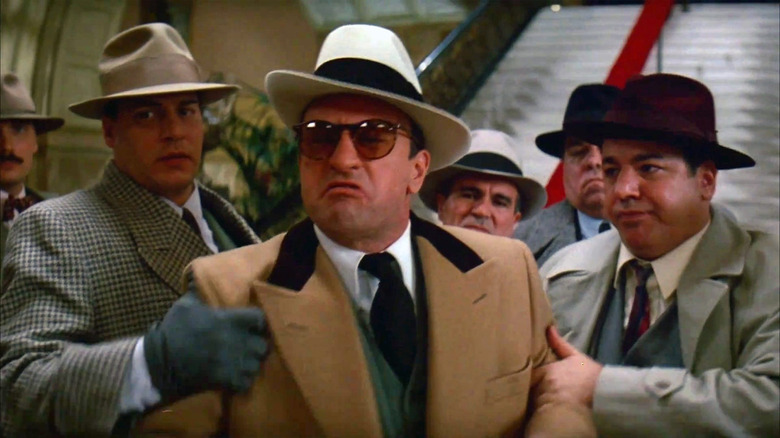 Paramount
During a conversation with Entertainment Weekly for the film's 30th anniversary, Kevin Costner remembered his encounters with Robert De Niro's outrageous version of Capone and how Connery came to his aid:
"I had trouble with some of the scenes with [De Niro] because my character was very straight-arrow, and Robert was able to jump off the page. I was trying to survive with my straight-arrow language against someone who was throwing a level of street language at me that had a level of improv to it. So it was hard for me to survive in some of those scenes, and Sean talked to me a little bit about it."
Connery, who won his only Oscar for his role, also credited the amazing dynamic he had with Costner and the rest of the team including Charles Martin Smith and Andy Garcia. As he told EW, "All the actors were very experienced and professional. Everybody played an important element in the film." 
The bond with Connery, in particular, "was very real" according to Costner, and that connection is evident in one of the film's most pivotal scenes when Connery's hard-edged Irish cop, Jim Malone, gives Ness a lesson in Chicago-style justice. "He sends one of yours to the hospital, you send one of his to the morgue," instructs Malone. "That's the Chicago way, and that's how you get Capone." Connery saw that famous quote as the heart of what "The Untouchables" was really about, explaining, "The essence of the movie [was] about street violence," a hard truth that Ness learns on the courthouse rooftop when he unceremoniously murders Nitti (Billy Drago), one of Capone's top soldiers in cold blood.